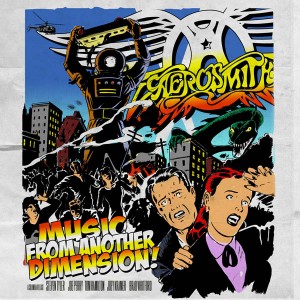 AEROSMITH TO RELEASE 'MUSIC FROM ANOTHER DIMENSION' ON NOVEMBER 2nd 2012
MARKS BAND'S FIRST STUDIO ALBUM OF ALL-NEW MATERIAL IN 11 YEARS
ALBUM'S FIRST TWO SINGLES SIMULTANEOUSLY IMPACTING RADIO THIS WEEK: "WHAT COULD HAVE BEEN LOVE" AND "LOVER A LOT"
There has been a witch's brew boiling for 10 years, and America's greatest rock band is about to blow the cover off.
On November 2nd, Steven Tyler (vocals), Joe Perry (guitar), Brad Whitford (guitar), Tom Hamilton (bass) and Joey Kramer (drums) will release MUSIC FROM ANOTHER DIMENSION through Sony Music Australia.  It marks the band's 15th studio album and their first studio album of all-new material in 11 years. The album was recorded in Los Angeles and at the band's studio in Massachusetts; it was produced by Jack Douglas, Steven Tyler and Joe Perry, with the exception of three tracks produced by Tyler and Marti Frederiksen.
MUSIC FROM ANOTHER DIMENSION's first two singles will be released simultaneously to radio this week, "What Could Have Been Love" and "Lover A Lot".  The album features 15 new tracks, including two songs that audiences in North America were treated to on the first leg of the band's triumphant, sold-out "Global Warming Tour": "Oh Yeah" and "Legendary Child."
MUSIC FROM ANOTHER DIMENSION presents AEROSMITH in ferociously fine form and at the peak of their powers.  They're the only band of their stature with all-original members and who are playing better than ever have before.  The album abounds with one highlight after another, including "Out Go The Lights," "Oh Yeah," "Luv XXX," "We All Fall Down," "Street Jesus" and "Can't Stop Loving You," on which Tyler duets with Carrie Underwood.  The album also includes "Freedom Fighter" which features Johnny Depp on backing vocals.  See the full track listing below.
AEROSMITH wrapped their U.S. tour August 12 in Bristow, VA. The dates included the band's triumphant, sold-out return to the legendary Hollywood Bowl (August 6) in Los Angeles, where Depp joined the band onstage.  A new leg of fall dates will soon be announced to support the release of MUSIC FROM ANOTHER DIMENSION.
"It's not that it took ten years," STEVEN TYLER says, "but that we were busy getting ready!"
"This is the album we wanted to make since the band got back together in 1984," JOE PERRY says. "Can't complain about number one singles or album-driven sold-out world tours, as we blaze the Aerosmith trail with our fans.  But this is the record that when the five of us are in a room yelling turn up the volume, that room could be 1325 Commonwealth Avenue (a reference to the band's first apartment where they lived and wrote their first song)."
A deluxe version of MUSIC FROM ANOTHER DIMENSION will include:
* Four live performance videos:  "Rats In The Cellar," "Train Kept A Rollin," "Oh Yeah" and "Same Old Song and Dance"
* Exclusive interviews with the members of AEROSMITH band members
* Three exclusive new bonus tracks:  "Up On A Mountain," "Oasis" and "Sunny Side of Love"
The MUSIC FROM ANOTHER DIMENSION track listing is as follows:

LUV XXX
Oh Yeah
Beautiful
Tell Me
Out Go The Lights
Legendary Child
What Could Have Been Love
Street Jesus
Can't Stop Loving You
Lover A Lot
We All Fall Down
Freedom Fighter
Closer
Something
Another Last Goodbye

AEROSMITH are a living piece of American music history, having sold over 150 million albums worldwide and been inducted into the Rock and Roll Hall of Fame.  They are the recipients of countless awards including four GRAMMYs, eight American Music Awards, six Billboard Awards and 12 MTV Video Music Awards among many other honors.  Proving that they can cross genre-boundaries with ease, these rock legends have even taken home a Soul Train Award for Best Rap Single for their remix of Run DMC's "Walk This Way." With scores of multi-platinum albums, AEROSMITH continues to inspire generations to get their wings, get a grip and just push play. It is no wonder why they are one of the most beloved bands of all time.
SINGLES: WHAT COULD HAVE BEEN LOVE AND LOVER A LOT – TO RADIO AUGUST 30TH
ALBUM: MUSIC FROM ANOTHER DIMENSION – AVAILABLE NOVEMBER 2ND 2012
THROUGH SONY MUSIC ENTERTAINMENT AUSTRALIA
www.aerosmith.com | www.aeroforceone.com
https://twitter.com/#!/Aerosmith | www.youtube.com/theofficialaerosmith