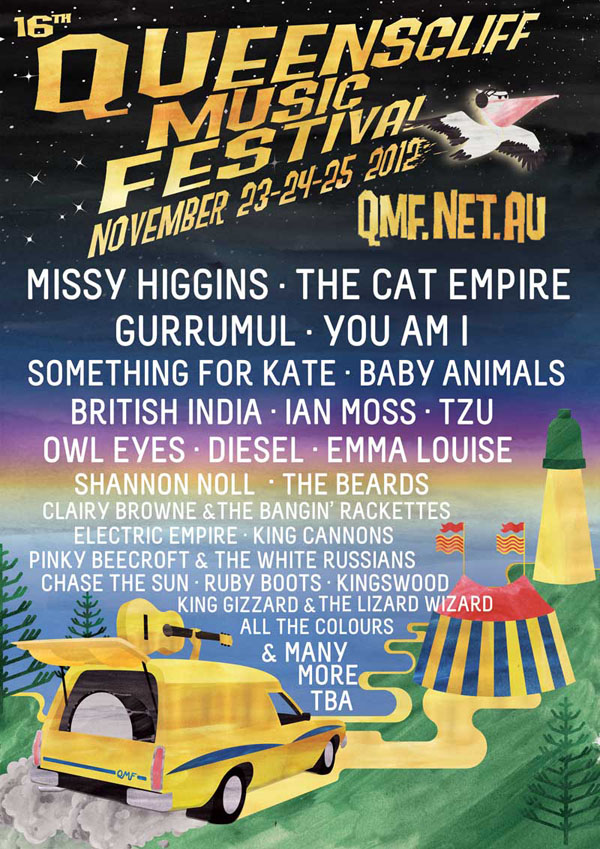 Queenscliff Music Festival hits Olympic heights with their second lineup announcement for 2012.
Not since the lighting of the Olympic flame in London has there been so much anticipation for a single three-day event, running November 23rd, 24th and 25th! Requiring more clandestine negotiations than a Flag Bearer reveal at the Opening Ceremony, it's time to unveil those garish uniforms and step out on the Parade of Nations – 'cause the 16th Annual Queenscliff Music Festival's Second Lineup Announcement for 2012 is finally here!
First up on the winners' podium for QMF are Mia Dyson, The Fauves and Jordie Lane. Packing a compelling voice and bluesy picking, Mia Dyson brings a brand new album – the stark and soulful 'The Wonder' (due in August) – to delight Queenscliff festival-goers. The Fauves are firm crowd favourites and self-appointed "best band in Australia", still scooping 6 out of 5 for album reviews after all these years. That'll come in handy for our medal tally. Critically acclaimed singer/songwriter Jordie Lane shrugs off his Nudie suit (he just played Gram Parsons in Grevious Angel) to thrill audiences with his particular take on folk and alt-country music in the best locale the surf coast has to offer.
High performance funk & soulsters Deep Street Soul will join Triple J favs Loon Lake, indie-infused soul from Ngaiire and scorchin' garage rock duoJackson Firebird will bring the Athlete's Village party atmosphere to  a head in Queenscliff. Money For Rope, Lloyd Spiegel, and the delightfully-namedButterfly Boucher (from Missy Higgins' band) are all set to time-trial with punk rock Eurodiscovites, The DC3.
Medalling with honours will be swamp rockers Howlin' Steam Train, and that slice of badass called Kira Puru & The Bruise alongside Halfway To Forth(banjo-driven brothers of Diesel). Keshie's high-vibing happy music, raucous blues rockers The Joe Kings, Tom Richardson Project and The Bakers Digest will surely bring down the stadium.
Add to the mix, the following outstanding musical athletes: Juan Alban, Sweethearts, Shaun Kirk, Wishful (Paul Kelly's daughters), Luke Legs & The Midnight Specials, Lily & King, ukulele lady Al Parkinson, Alister Turrill, Catherine Sanzaro & Izzy Losi (2011 QMF Perpetual Scholarship Winner),Jamie Pye, Inertia Brass Band, Yirrmal and the Yolngu Boys (Gurrumul's kin), Tides of Welcome and Tane (2011 QMF Busking Competition Winner) and you have a medal tally worth crowing about.
Medal Winners already announced to date on the QMF list are: Missy Higgins, The Cat Empire, Gurrumul, You Am I, Something For Kate, Baby Animals, British India, Ian Moss, TZU, Owl Eyes, Diesel, Emma Louise, Shannon Noll, The Beards, Clairy Browne & The Bangin' Rackettes, Electric Empire, Kind Cannons, Pinky Beecroft & The White Russians, Chase The Sun, Ruby Boots, Kingswood, King Gizzard & The Lizard Wizard and All The Colours.
55 acts, 150 performances across 5 stages in the festival precinct as well as on the "QMF Family Express" historic train and music stages in the towns unique and beautiful venues – The Queenscliff Inn, Vue Grand Hotel, Lombardys on Hesse and Stoked on Hesse.
For those living on the Mornington Peninsula, the Sorrento-Queenscliff Ferry is offering festivalgoer's a great deal – take your car on the ferry to the Festival and your friends ride for free.
2 and 3 Day Tickets are on sale now at www.qmf.net.au for a total cost of $204 (includes B/F)
Camping available for just $38 per person for the whole weekend.
Single day tickets are available now.
All tickets on sale now from http://www.qmf.net.au