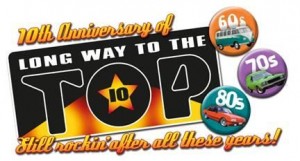 Still Rockin' After All These Years . . .  Over 17 rock legends from the 60s, 70s and 80s.  Melbourne – Sydney – Newcastle – Brisbane
It has been a decade since the record-breaking Long Way to the Top rock music extravaganza blazed its way around Australia.  Over two hundred thousand ecstatic Australian fans revelled in the opportunity to relive the music that defined their generations.
In October, proving you can't keep a good thing down, 17 legends of Australian rock will reunite for the A Long Way to the Top 10th Anniversary Concert, hitting arenas in Melbourne, Sydney, Newcastle and Brisbane from Friday 5 October.
"Well before CDs, itunes and You Tube, Australians were devoted to live concerts, vinyl singles and LPs, and of course un-missable shows like Bandstand, Sounds and Countdown," says Michael Chugg.
"A Long Way to the Top honours the music that changed us, both individually and as a nation.  It was the soundtrack to our youth and we lived for it and by it."
"This is a big and happy trip down memory lane, an action packed show with the big artists playing their big hits, one after the other.  It doesn't get any better than this."
Where the 2002 tour included music released up to the 70s, the 10th anniversary show features bands that had massive hits in the 80s, notably Mi-Sex, Dragon and Noiseworks.
This reunion tour will celebrate a major landmark in Australian live music and act as a performance legacy to one of its instigating producers, the late and great Billy Thorpe, who passed away in 2007.
"Billy Thorpe was an icon, a freakishly talented bloke who had a huge impact on music history in this country," says Michael Chugg.
"We miss him terribly and this reunion tour of A Long Way to the Top was a good opportunity to recognise the man, the musician and our mate.  We've brought Ian Moss on board to perform this special part of the show.  How we are going to re-create 'Billy in the room' is a moment not to be missed."
The concert will feature songs such as Bye Bye Baby, I've Been Everywhere, Needle in a Haystack, Dear Prudence, I Remember When I Was Young, Little Ray of Sunshine, I Hate The Music, Fire & Rain, Real Thing, Are You Old Enough, Take Me Back, Over the Rainbow and Most People I Know Think I'm Crazy
The original tour took its inspiration from an ABC TV documentary series.  When screened in August 2001 it became the most successful television series documentary ever on Australian music and when released on DVD, A Long Way to the Top became the highest selling Australian music DVD in history.
A 3 DVD/CD set compilation of live performances from the 2002 "LWTTT – Live in Concert" will be released by ABC Music on Friday 10 August to coincide with the ticket-on-sale.  Extra backstage interview material and a hilarious 'Behind the Scenes' documentary – Rockumentary if you Will! – are also included.
A re-broadcast of the original series will be run on ABC 2 from Sunday 12 August for six weeks.
Starring: Axiom, Brian Cadd, Dragon, Marcia Hines, Col Joye, Masters Apprentices'Jim Keays, Dinah Lee, Mi-Sex, Russell Morris, Ian Moss, Noiseworks, Doug Parkinson, Little Pattie, Glenn Shorrock, Spectrum, Lucky Starr, Chain's Matt Taylor & Phil Manning, & John Paul Young
Produced by Amanda Pelman & Michael Chugg for Chugg Entertainment
Director Ted Robinson
Musical Director: Jamie Rigg
Long Way To The Top – on sale Friday 10 August
TOUR DATES
 Friday 5 October                         Melbourne, Rod Laver Arena                    Ticketek 132 849
Saturday 6 October                    Sydney, Entertainment Centre                 Ticketmaster 136 100
Tuesday 9 October                     Newcastle, Entertainment Centre             Ticketek 132 849
Friday 12 October                       Brisbane, Entertainment Centre               Ticketek 132 849