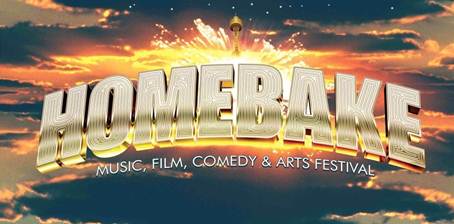 "It's the end of the world and we know it, and I feel fine" – REM
A famous line from a (in)famous song and yet if only the Mayans could have chosen it as a theme for their much hyped Doomsday prophecies.  And so Ladies and Gentlemen, like the Mayans, we here at HOMEBAKE HQ have been planning and preparing for quite some time, placing the finishing touches to an annual announcement reminding one and all that summer is looming and that it's also the official start to the great Australian summer festival period.
With all the action, excitement and glamour, Australia's most famous antipodean all-star event can possibly muster (and with tongue firmly planted in cheek), if time is due to stand still, we've decided to change the goalposts in 2012 announcing our very special 17thversion counting down to …
HOMEBAKE Music, Film, Comedy & Arts Festival 2012 The Global edition!
With Sydney city's historic Domain once again coming alive with the sound of music, film, laughs and more, HOMEBAKE returns in 2012 playing host to a virtual swag of national and internationally famous local superstars, once again presenting an eclectic and talented selection of the finest artists borne out of the Southern Hemisphere.  However, taking the gloom out of doom, we've decided to change the rules for our most 'timeless' edition in tune with our theme this year and whilst we ask you to excuse all the puns, we're proud as punch to present our biggest 'party in the park' including…..
We wanted something 'Atomic' and for the first time ever in Sydney's Domain, the world's most successful female fronted pop group with over 40 million album sales and more international hits than most, (including the aforementioned Atomic, Rapture, The Tide is High, Call Me, Heart Of Glass, Hanging on the Telephone, Dreaming…and the list goes on and on) we're granting honorary HOMEBAKE visa's to the iconic BLONDIE, fronted by the one and only, enigmatic and charismatic, Deborah Harry.  Forming initially as a new wave/post punk band in New York City, Blondie went on to become one of the world's most famous international bands scoring charting hits through to this day.  With a history spanning post punk, new wave, pop, disco, rock and even being one of the first bands to incorporate rap,BLONDIE continue to be one of the most celebrated and remixed acts in the world (even favoured by the most famous of DJ's). We here at HOMEBAKE HQ are truly honoured to welcome BLONDIE to our stage for what should be one of the biggest sing-a-longs ever to be witnessed in the Domain on December 8th.
The surprises don't stop there ….   Ladies and Gentlemen, Boys and Girls, prepare yourselves for the one and only, the inimitable…. TIM MINCHIN. Triple threat? Pfft! Quadruple threat? Puh-lease! Quintuple Threat? HELL NO! Joining HOMEBAKE for the very first time is none other than he of the skinny jeans, "guyliner" and einstein-esque hair-do, sextuple threat (appropriate!) – Comedian, actor, singer, pianist, writer and composer (breathe) – TIM MINCHIN. Tim has been performing his hugely popular unique brand of musical comedy since starting out in South Melbourne's Butterfly Club in 2005. Since then Tim has amassed a legion of fans worldwide with a staggering list of sold out performances across the UK (O2 Arena, Royal Albert Hall etc), North America and of course Australia including multiple sell out gigs at The Sydney Opera House, Brisbane Powerhouse and Perth's Majesty Theatre. Tim also wrote the music and lyrics for Matilda The Musical with the Royal Shakespeare Company is running on the West End and soon to open on Broadway and did win great critical acclaim and a stack of awards. Add to that a recurring role on hit US TV show Californication and the upcoming role of Judas in the UK arena tour of Jesus Christ Superstar, and it's easy to see why Tim remains one of Australia's most successful international exports ever, and which is why we are elated Tim has aptly chosen to join us at HOMEBAKE for in 2012!
Their album, State of the Art, was the biggest selling Australian Hip Hop album of all time holding the number one spot for two weeks and winning two ARIA Awards and with their latest album, Drinking From the Sun, debuted at No. 1 and it's only fitting that HILLTOP HOODS join us for our final countdown on HOMEBAKE 2012. Their success has not been limited to Australia though; the Hoods have proven they can take their sound to the far corners of the globe touring everywhere from Switzerland to South Korea, appearing at such festivals as Glastonbury and T in the Park.  They also shared a stage with Eminem on his recent sold out Australian tour which speaks volumes of the trio's popularity and their ability to translate to a wider audience.  Welcome to the biggest party in the park, HILLTOP HOODS!
Talk about achieving huge international success….It's been an exhilarating couple of years for our next HOMEBAKE alumni and things certainly haven't slowed down for the reigning princess of the Australian music scene, KIMBRA.   The milestones just keep coming for the Kiwi songstress from the release of her debut album, Vows attaining much critical acclaim and commercial success, reaching the top 5 in the charts in both Australia and New Zealand, not to mention debuting at No. 14 on the American Billboard Chart, to three of the hit singles from the album, Cameo Lover, Good Intent and Two Way Street, making it into the prestigious Triple J's Hottest 100 of 2011. Then there was the honour of winning the ARIA Award for Best Female Artist and of course the over whelming success of a wee little ditty called Somebody that I Used to Know.  Perhaps you've heard it? The duet with Gotye has become a worldwide phenomenon topping the charts in 11 countries and catapulting KIMBRA into the spotlight on a global scale, where she has well and truly electrified audiences with her powerhouse vocals and engaging live performances. KIMBRA's star is rapidly rising and we can't wait for her to shine her light on the HOMEBAKE stage in December.
One half of Australia's most successful brother/sister act, making his debut at HOMEBAKE this year is one of Australia's most acclaimed young artists, ANGUS STONE. For the past seven years, he's been travelling the world together with his famous sister as Angus and Julia Stone, during which time he's played to spell-bound audiences in sold-out shows at iconic venues like London's Royal Festival Hall and Paris's Le Trianon. Together, the Stones have sold close to a million records around the world since the release of their debut EP,Chocolates and Cigarettes, in 2005. Now, ANGUS STONE is setting out on his own with his sophomore solo record, Broken Brights, which has taken him to the far-sailed corners of the globe. He's recorded in a rustic dwelling nestled in the Swiss Alps, beneath Australia's bright-lit cherry blue skies along the coastline, to a ramshackle log cabin with a view over the lush Indian countryside. What he says about going solo could easily sum up the experience of listening to Broken Brights: "It's a whole different trip." And we can't wait for Angus to bring this year's HOMEBAKE audience along for the ride!
And of course, there's the other half of Australia's most successful brother/sister act ….Gracing the HOMEBAKE stage with her haunting voice is one of Australia's most celebrated and acclaimed female singers today, JULIA STONE. After selling out shows in London, Paris, Berlin, Amsterdam, LA, New York and Sydney, we welcome Julia back to the HOMEBAKE stage but this time she returns alone, as a solo artist showcasing her individual talent with her second offering since deferring from the incredible success of Angus & Julia's By The Horns. Described by jmag as "Emotionally fraught, stunningly beautiful, chilling and evocative … [it] will give you goosebumps", JULIA STONE has truly come into her own as an artist on this record displaying a whole new depth and vulnerability. We are preparing ourselves to be captivated when Miss Stone takes the stage. We suggest you do the same.
Currently placing the finishing touches to brand new music, BIRDS OF TOKYO and their insistent, bittersweet, rock sounds have resonated deeply with Australian critics and fans.  Following two acclaimed albums, the indie band's self-titled third studio release spent over eight months in the Australian Top 20 and was certified double platinum.  It also picked up an ARIA Award for Best Rock Album in 2010.  Early in 2011 the band's anthemic breakthrough hit Plans ranked #4 in Triple J's Hottest 100 while the follow up single, Wild At Heartreached #1 on the country's National Airplay Chart and won the band an APRA Award. BIRDS OF TOKYO also received the publicly voted Rolling Stone Readers Choice Award and ARIA Award for Most Popular Australian Artist.  Currently working on their much anticipated follow up album the band have been on a journey of exploration and reinvention, and with the first tastes of their imminent offering set for release later this year, we can't wait to hear what comes next and welcome them for their first ever HOMEBAKE performance!
Seriously, this man could well be 'the voice' of Australia…..Oozing some good old fashioned soul and charm, New York based DANIEL MERRIWEATHER returns to Australia and HOMEBAKE later this year to set the mood with his signature R'n'B/pop/soul and a smattering of hip hop sound. Undoubtedly Australia's leading man of soul, having taken home the 2009 ARIA Award for Best Male Artist, Daniel has also made his mark on the international scene with his 2009 debut album Love & War achieving platinum sales in the UK and Europe, and with appearances on The Late Show with David Letterman, Late Night with Conan O'Brien, Late Night with Jimmy Fallon, the MTV VMAs and Radio 1 Live Lounge to name but a few. With a new album on the horizon Daniel returns to our shores from his adopted home in the US, and what better way to welcome him home than at the biggest party in the park!
Speaking of Australian superstars, his platinum break-out hit, Black & Gold charted top 20 in 14 countries and earned him a Grammy Nomination (plus over sixteen and a half million YouTube hits). His self-titled album debuted top 5 in the UK and earned Gold certification and further praise from the world's media. He has collaborated with Basement Jaxx, Mark Ronson, DJ Mason and DMC, remixed Kimbra, OK Go and Sky Ferriera and has written songs for the likes of Adam Lambert and Natasha Beddingfield. His live performances found him touring with the likes of Adele and Robyn, eventually, headlining his own tour and playing festivals around the world including Glastonbury and Coachella. Now armed with his new album Return to Paradise, we welcome SAM SPARRO on board the HOMEBAKE bus for 2012.
Of course you knew it … what would HOMEBAKE be without surprise legends. According to Bob Geldof "Rock music in the seventies was changed by three bands — The Sex Pistols, The Ramones and THE SAINTS". We tend to agree, good sir! And we are honoured to be welcoming the punk legends and ARIA Hall of Fame members along for what will be a legendary HOMEBAKE appearance. Since their formation in during the punk years THE SAINTS have been through many incarnations, all of which have included co-founder and lead singer Chris Bailey, who together with Peter Wilkinson, Caspar Wijnberg and Jane Mack make up the band today. With fifteen albums to their name, not to mention Bailey's solo discography, THE SAINTS will have a little something for everyone at their HOMEBAKE slot, and with such an iconic status they're sure to win over even more fans.
And with another new album …. SOMETHING FOR KATE are one of Australia's most consistently original and successful acts, comprising singer/songwriter/guitarist, Paul Dempsey, bass player, Stephanie Ashworth and drummer, Clint Hyndman. The band have achieved 5 platinum and gold selling albums, 4 Top 10 albums, taken out numerous awards for Best Live Band, Best Male Vocalist, Best Album, Best single from Rolling Stone Magazine, the Australian Music Industry Critics Awards, The Age and Triple J to name just a few. In addition, Paul Dempsey found time to release his debut solo album Everything Is True in 2009, which entered the ARIA charts in the top 5, surpassed Gold status and was declared Album of the Year by iTunes amongst many other accolades. The band now return with their brand new album Leave Your Soul To Science set for release this September. It's a truly adventurous, eclectic and inspired set of songs which demonstrate once again why SOMETHING FOR KATE are one of Australia's most respected and enduring acts, and signals an extremely exciting and much anticipated return to the HOMEBAKE stage in 2012.
It's been a few years although those superstar pioneers of Australian electronic are making their long awaited return to the HOMEBAKE stage! SONICANIMATION are arguably one of Australia's pioneering premiere live/crossover electronic acts.  It all started in the mid 1990's, when friends Adrian Cartwright and Rupert Keiller decided to go against the then 'rock grain' and casually began jamming together. After Adrian attended his first rave the future was set. Stabbing guitar, whirling synths and family-size beats showcase SONICANIMATION's sound and style. Combining diverse musical fashion, lyrical wit and a quirky sense of humour has created the up-beat music that Australian audiences have come to love. It's been a long time since mega hits such as Love Lies Bleeding and Theophilus Thistler were heard echoing out of The Domain, too long, but that is set to change in just a few short months!
They are superstars in their native New Zealand …. Record-breaking tours, scene-setting appearances at festivals like Glastonbury and The Big Chill, sold-out performances across Europe, worlds-colliding collaborations with Symphony Orchestras, multiple music awards, four EPs and five LPs – three with platinum sales – and an army of fans who return to relive the experience time and time again: the towering achievements of SHAPESHIFTER, the future-shocked soul outfit who hail from Christchurch New Zealand, were built by a living, breathing band of musicians, with all the form-changing sonic possibilities live instrumentation offers.  We welcome them for their first ever HOMEBAKE appearance in 2012.
And even more superstars from New Zealand….From bedroom practices to small living room concerts for friends and family, to playing flat-warming's, parties and eventually local bars to two double platinum selling singles Rise Up 2.0 and Don't Forget Your Roots, one platinum selling single Only To Be and a double platinum Number One self -titled debut album all in the course of a few short years, SIX60 are easily one of New Zealand's hottest properties. Blending soul, rock, dubstep and drum and bass, the five-piece have amassed an impressive following with over 120,000 fans on Facebook, a number which is guaranteed to swell substantially in The Domain this coming December!
In just over two years JINJA SAFARI have gone from forming their band, to winning Triple J's Unearthed competition, to performing sold out headline shows all over the country and winning spots on juggernaut UK festivals, The Great Escape and Bestival, to being named by one of the world's most influential music-sites, MTV Iggy, as "game changing artists". And now to top it off they join little old us at HOMEBAKE of course! With their sound described as "cosmic pop safari" and with a reputation of dynamic unpredictable live show,JINJA SAFARI are undoubtedly set to soar, we suggest you catch them while you can!
Bandleader Lance Ferguson and his nine piece Melbourne outfit THE BAMBOOS have come a long way since forming in 2001. Initially inspired by the instrumental raw funk of the late '60s and early '70s, they made waves internationally and were quickly labelled as one of the greatest funk and soul bands of our time. Ever evolving, the current sound of THE BAMBOOS masterfully blends an array of influences from soul, blues and pop to psychedelia with their fifth long player Medicine Man. "I'm proud of the arc of the evolution of the band and I think it's a natural progression of songwriting", says Ferguson "We still wear our influences on our sleeves, but it's definitely music for now." We are also proud, to welcome THE BAMBOOS along for their debut HOMEBAKE performance, and you never know which special guests may join them!
As the frontman of one of Australia's most enduring rock bands as well as being a successful solo artist and thirteen time ARIA Award winner, our next addition to HOMEBAKE 2012 is a man who genuinely needs no introduction. With three albums of his bands ten offerings debuting at #1 on the charts and with multiple platinum and gold awards for commercial sales he is also one of Australia's most successful artists and a legitimate icon of Australian music, he is of course, our friend, TIM ROGERS (in full performance mode). In recent years Tim's achievements have reached beyond just good old fashioned rock'n'roll – he's worked on the score to several films, as well as acting in the odd one, in 2009 he made his stage debut in the production of Woyzeck, while in 2011 he co-wrote The Story of Mary MacLane by Herself, which enjoyed successful seasons in Melbourne and Sydney, he's even written for the likes of The Age newspaper and The Monthly magazine.  But this December Tim makes his return to the HOMEBAKE stage, this time bringing with him, a full band and special guests and of course his latest album Rogers Sings Rogerstein. Welcome home Tim!
For SAN CISCO, there has been very little waiting around. The four-piece have followed their own path since emerging from Fremantle, Western Australia, a few years ago. From humble beginnings of weekend jams to being nominated for a 2011 Unearthed J Award, the band have a natural chemistry, growing organically into their own mould to create their sophomore EP, Awkward, the title track of which landed at #7 on Triple J's Hottest 100 for 2011. SAN CISCO have set themselves apart from their counterparts with the depth of their song-writing and their bright catchy hooks and they are definitely on our list of one's to watch, which we will, with you, at HOMEBAKE this year!
It's been a whirlwind 12 months for EMMA LOUISE with sold out shows, international notoriety and an endless list of accolades owed to her intoxicating voice, an honest delivery and, of course, boundless coverage of her single Jungle which landed a coveted spot on Triple J's Hottest 100 for 2011 at  No. 23. To say that life has changed dramatically for Emma in the last 12 months would truly be an understatement. It all began with the release of her debut EP – Full Hearts and Empty Rooms – a four-track snapshot into the musical mind of a fearless and an incredibly talented young singer/songwriter. In 2012, however, it's all about making plans and eyeing the creation of her debut album and her debut performance at HOMEBAKE 2012 of course!
We could say they are distant cousins of Tame Impala although four albums in and Perth psychedelic rock collective POND have well and truly stamped their footprints – of the non-carbon variety of course –  on the world with Beard, Wives, Denim. NME referred to it as "…quite possibly the best album released so far this year" following that up with the accolade of "hottest new band in the world". Of course, we here at HOMEBAKE HQ have long been familiar with the utter awesomeness that is POND, and have longed for the day when we too can bask in the glory of their song. Our prayers to the universe have finally been answered and not a moment too soon!
And over to the new kids on the block …. Since being Unearthed by Triple J in 2010, Brisbane based BALL PARK MUSIC have racked up a stack of accolades.  To highlight just a few; two songs in the 2011 triple j 'Hottest 100' with It's Nice To Be Alive and All I Want Is Youwhile snagging the prize title of Unearthed Artist Of The Year at the J Awards in 2011.  The band is continually building an army of fans for their music and from stellar live performances and multiple headline sold out shows in all metro markets nationally.  For the uninitiated BALL PARK MUSIC have fast become one of Australia's must see musical outfits, and where better to become acquainted than at the biggest party in the park!
And more internationally lauded Australian artists ….  Fusing elements of IDM, hip-hop, indie pop and ambient post-rock into an entirely original brand of organic electronic, Sydney outfit SEEKAE are one of the country's most talked about live acts. With a mix of live instrumentation and pre-programmed electronics that makes use of everything from drum machines, synthesizers and samplers to melodicas, guitars, drums and glockenspiels SEEKAE create a unique, unpredictable, wholly intoxicating show each and every time they take to the stage. We can't wait to see what creations they come out with at HOMEBAKE come December 8!
Without a doubt, Australian two-piece, DZ DEATHRAYS are one of the most hotly talked about bands both in Australia and internationally throughout the past year.  After signing to Melbourne based record label I OH YOU in early 2011, they've been releasing and touring relentlessly, introducing themselves to the world as one of the most rockin' new bands on the scene. With UK music tabloid NME continually praising their musical wares, their live show is one of their strongest assets, with most people leaving venues around the world dragging their dropped jaws behind them. Having released their critically acclaimed debut album Bloodstreams earlier this year DZ DEATHRAYS are set to soon take off overseas again to showcase the album with a myriad of festival and tour dates before heading home and joining us in The Domain.
Now these guys are truly unique and amazing …. Having supported the likes of Bruno Mars, B.O.B, George Clinton and Lupe Fiasco, Melbourne hip-hop duo DIAFRIX are easily one of the country's most buzzed about acts, and with their sophomore album Pocket Full Of Dreams set to drop in September it's only a matter of time before that buzz turns to thunder. One listen to their infectious upcoming single, tribal club banger Helicopter and you'll be winding your hips like you're dancing for tips! Taking influence from array of musical genre's from vintage reggae to deep house, dancehall to 90's NYC rap and indie-rock to neo-soul DIAFRIX are bringing a truly unique and fresh sound to Aussie hip-hop, and to HOMEBAKE 2012.
Bringing their incredible lush, haunting and stunning sounds to the HOMEBAKE stage this year is Melbourne four-piece, HUSKY. Coming off the back of a massive 2011 which saw the band play national sold out headline tours in Australia, following the release of their debut album Forever So, as well as support slots for some world-class acts including Gotye, Devendra Banhart, and Noah & The Whale.  Already 2012 marks an exciting new chapter for the band – taking their music international. With showcases including SXSW and CMW, a national tour of Germany, support duties for The Head and the Heart on their US tour along with the imminent release of Forever So in Europe and North America we're thrilled the lads have managed to squeeze a special HOMEBAKE performance in amongst the madness!
Representing Australia's vibrant hip hop scene are Adelaide collective FULL TOTE ODDS (better known as FTO). The talented five man crew, made up of Levelheaded, Slats, Eslev, DJ Hacksaw and Ross Read have created a unique vibe cleverly combining hip hop with a diverse array of traditional styles including Motown, Northern Soul, breakbeat  and pop. They've already caused a serious groundswell of reaction courtesy of their radio hit, Southern Wind and most recent track, What's Going Down, and with a forthcoming LP Place Your Bets set for release this year, our money is on FTO making waves at this year's HOMEBAKE.
And the entertainment buck doesn't stop here! Alongside the music is our hugely popular HOMEBAKE Cinema Pavilion (featuring award winning and nominated short films by upcoming Australian/NZ producers and directors expertly programmed by producer/actor extraordinaire, KIERAN DARCY-SMITH of Two Hands, The Cave, September, The Square and Animal Kingdom fame – as well as director and co-writer of the recently released Australian film, Wish You Were Here, starring Joel Edgerton, Teresa Palmer and Felicity Price. This year will also see a few special musical performances in amongst the films to be announced.
And what would a doomsday theme be without the laughs! With its inaugural appearance in 2011 the hugely successful HOMEBAKE Comedy Stage  (presented by the ever popular Sydney Comedy Festival), returns in 2012 and will feature a stack of Australia's most beloved comedians as well as the very best emerging artists in a rollicking showcase of world-class comedy. Full details to be revealed shortly.
Each and every year HOMEBAKE embraces a number of charities and causes and despite our having a bit of fun with the theme this year, we welcome the extraordinary incentive and initiative known as – You Can! Founded via the Sony Foundation Australia, together with CanTeen, You Can is working to improve survival outcomes for young Australians with cancer through their 'You Can' campaign. You Can aims to raise $15 million, through mobile phone recycling, to build youth cancer centres of excellence in Australia. These centres will address the need for specialised care for Australia's 'forgotten generation', 15 – 30 year olds cancer patients. Further information can be found here – http://youcan.org.au/. Stay tuned for further You Can details at HOMEBAKE 2012 coming soon.
Once again, it's a massive start to our global edition year and 'atomic' inspired line-up – our first HUGE names announced with more to come – and totalling over fifty combined artists, performers and comedy acts. HOMEBAKE Music, Film, Comedy & Arts Festival 2012 – 'The Global Edition' is destined to be one of the most memorable, entertaining and above all, fun festival events kicking off the summer period and will also offer a variety of extra attractions and activities including multimedia, our famous international food fare, a plethora of market and information stalls, roving performers, surprises and much, much more. It will be a massive day packed with serious talent Australia (and NZ, and the world) has to offer plus much more and it's still the best value for money festival in town. Please make sure to purchase tickets early to avoid disappointment (and hiked prices!!). Stay tuned for more special announcements and 'money can't buy' competitions via our presenting partners and don't forget the triple j unearthed competition whereby one lucky band gets to perform amongst a 'classic' line-up of superstars at HOMEBAKE 2012.
Proudly presented by triple j, Channel [V], Max and Drum Media
HOMEBAKE Music, Film, Comedy & Arts Festival 2012 The Global Edition
Saturday December 8th, 2012 – The Domain, Royal Botanic Gardens, Sydney City, NSW – Gates open at 11.00am
TICKETS ON SALE 9.00am THURSDAY AUGUST 16TH FROM TICKETEK,
OZTIX & MOSHTIX – see ticketing info below
CHECK WEBSITES FOR MORE INFO: www.HOMEBAKE.com or http://www.facebook.com/HOMEBAKEfestivalofficial
HOMEBAKE Music, Film, Comedy & Arts Festival 2012 – The Global Editio
Taking the gloom out of doom as we celebrate the Mayan 'end of the world' with the biggest party in the park!
It's the Global Edition starring Explosive Performances by….
(Via the USA, the legendary & iconic multi million selling hit makers….the 'atomic') BLONDIE,  (direct from huge sold out shows worldwide & a starring role in Californication) TIM MINCHIN, HILLTOP HOODS, KIMBRA, (together but not together)ANGUS STONE, JULIA STONE, BIRDS OF TOKYO, DANIEL MERRIWEATHER, (finally returning home to OZ) SAM SPARRO, (the legendary) THE SAINTS, SOMETHING FOR KATE, (a special 'best of' return by electro pioneers) SONICANIMATION,  (NZ's multi-platinum megastars) SHAPESHIPTER, SIX60, JINJA SAFARI, THE BAMBOOS, TIM ROGERS of You Am I (in full performance mode), SAN CISCO, EMMA LOUISE, POND, BALL PARK MUSIC, SEEKAE, DZ DEATHRAYS, DIAFRIX, HUSKY, FULL TOTE ODDS ……plus many more to be announced including the creme of comedy stars, short films, & our triple j Unearthed Winner!
Featuring…FOUR STAGES (Main Stage, The Big Top, The Dome, the new Rowland S Howard Stage) + more!
THE HOMEBAKE CINEMA PAVILION, (Curated by Kieran Darcy-Smith / Blue-tongue), The Brand New HOMEBAKE COMEDY STAGE (Presented by Sydney Comedy Festival), MULTIMEDIA, INTERNATIONAL FOOD FAIR, ROVING ACTIVITIES & PERFORMERS, MARKET STALLS, ARTIST SIGNING TENT, YOUTH & COMMUNITY INFORMATION & AWARENESS STALLS & more!
HOMEBAKE supports You Can – http://www.youcan.org.au
TICKETS ON SALE THURSDAY AUGUST 16th – 9.00AM – OVER 18's ONLY
Only $99.00 incl gst + Booking Fees according to selected ticketing agency (see below)
Tickets available from:
* Ticketek phonecharge: Ph 132 849 or web: www.ticketek.com.au
* Purchase tickets online via HOMEBAKE direct – at www.HOMEBAKE.com.au or Tel: 1300 762 545
   Nb: this service is provided by Oztix Australia – http://www.oztix.com.au/
* Moshtix: Ph 1300 438 849 or web: www.moshtix.com.au
PLEASE BE ADVISED THAT HOMEBAKE IS AN OVER 18's EVENT – YOU MUST BE OVER 18 (EIGHTEEN) YEARS OF AGE TO PURCHASE A TICKET – Relevant Government authorised photo ID required on entry and if you wish to drink alcohol – ie; passport or drivers licence.
Visit the website – www.homebake.com and http://www.facebook.com/homebakefestivalofficial
NB: Please be aware of all conditions associated with purchase of ticket to HOMEBAKE. These conditions can be viewed at www.homebake.com or via ticket outlet.
Check out our teaser video here (starring AFI and Logie awarded actress, Emma Lung)