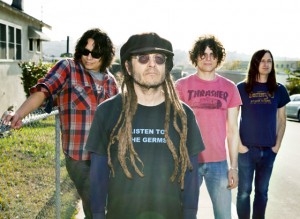 It's not surprising that OFF! are getting attention from people all around the globe so soon after forming. After all, their front-man Keith Morris originally sang for the first incarnation of Black Flag, and went on to form Circle Jerks shortly after. What could be surprising (for some) is that Morris and co. have delivered an album (their debut self-titled one) that feels just as urgent and passionate as the releases he played on more than 30 years ago.
OFF!'s self-titled album is available in stores and via iTunes now via Australian alternative label UNFD, and in conjunction with US based Vice Records. A limited edition Australian pressing of their now sold out 12″ LP is available for preorder at UNFD's online store: http://store.weareunified.com/12/off.html
Having already toured last December, OFF! will now make their return to Australian shores as part of BIG DAY OUT 2013. The newly announced dates are part of the quartet's ongoing world tour in support of their debut self-titled full length that dropped this Spring, a vitriolic concoction of hardcore intensity that distills 16 songs into as many minutes and has earned fervent praise from LA Times, Rolling Stone, Chicago Tribune, and countless others. The Summer dates will hit Brisbane, Sydney, Melbourne, Adelaide and Perth, with the band bringing its maelstrom of "dark party" anthems to festival stages.
The announcement arrives on the heels of the band's most recent music video, a double clip starring Kids in the Hall alum Dave Foley for the songs "Borrow and Bomb" and "I Got News For You". This week, Noisey's premiered the extended director's cut of the "Borrow & Bomb" chapter of the video on their YouTube channel: http://noisey.vice.com/musicvideos/off-borrow-and-bomb-official-directors-cut
OFF! also did a live Google + chat- that is now available to watch online if you missed it:http://noisey.vice.com/noisey-show/off-is-answering-your-questions-live
OFF! is available via iTunes, UNFD's webstore and all good record stores today – Friday 27th July. Full Big Day Out dates are below:
BIG DAY OUT
SUMMER 2013
TICKETS ON SALE at 
www.BigDayOut.com
FRI 18 JAN – SYDNEY
SUN 20 JAN – GOLD COAST
FRI 25 JAN – ADELAIDE 
SAT 26 JAN – MELBOURNE
MON 28 JAN – PERTH
The Debut Album – OFF! is available now via UNFD.