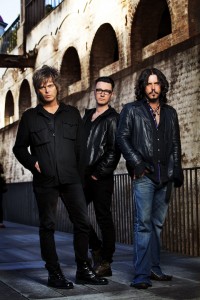 Since announcing their Australian tour earlier in the year, the demands from THE TEA PARTY's supportive fan-base for a LIVE DVD have been heard.
 Whilst the band are recording a Double Live Record (cd & vinyl) during their July 2012 Oz tour, fully funded by their fans and available only through http://www.pledgemusic.com/projects/theteapartylive, it seems fitting to have an accompanying Live DVD also.
 With three Sold-Out shows already knocked over by the Canadian rockers, for the lucky folk catching the show at THE HORDERN PAVILION on Saturday July 21, to be part of this special recording & filming, you'd better be prepared to make some noise!
 Just what fans can expect to hear & see on these recordings are favourites such as The River, Sister Awake, The Bazaar, Save Me, Temptation, Fire In The Head, The Requiem, The Messenger, Winter Solstice, Lullaby, Psychopomp, The Badger, Shadows On The Mountainside, Sun Going Down, Heaven Coming Down, Release, Zahira / Halcyon Days, Correspondences … and a few surprises thrown in to boot.
 "However good they were on record The Tea Party were always a more moving and visceral experience live. Twenty years on from their early-'90s breakout, Jeff Martin, Stuart Chatwood and drummer Jeff Burrows still know how to fill a room with poetry, passion and pure prog power. On stage, their "Moroccan roll" anthems are bigger and more enveloping and they deliver them with such swagger and aplomb that it's almost impossible not to be swept up." – INPRESS, July 2012
For more info, go to http://www.facebook.com/theteapartyofficial  
THE TEA PARTY – AUSTRALIAN TOUR – JULY 2012 Presented by FasterLouder
SATURDAY JULY 14 – THE PALAIS, Melbourne ***SOLD OUT*** – Ticketmaster.com.au or phone 136 100
SUNDAY JULY 15 – THE HI FI, Melbourne ***SOLD OUT*** – www.Thehifi.com.au / www.moshtix.com.au or phone 1300THEHIFI – 1300 843 443
TUESDAY JULY 17 –  THE TIVOLI, Brisbane ***SOLD OUT*** – Ticketek.com.au or phone 132 849
SATURDAY JULY 21 – HORDERN PAVILION, Sydney – Ticketek.com.au or phone 132 849
TUESDAY JULY 24 – THEBARTON THEATRE, Adelaide – Venuetix.com.au or phone 08 8225 8888
THURSDAY JULY 26 – METRO CITY, Perth – Oztix.com.au and oztix Retail Outlets or phone 1300 762 545