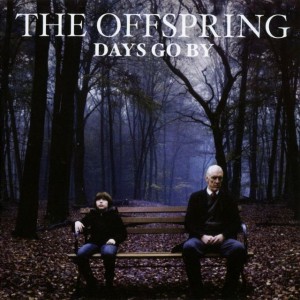 In Summary:  "Will The Offspring ever change the world with their music?  No.  Is this album something that should be enjoyed by as many as possible though?  Hell yes."
I remember hearing The Offspring for the first time in 1994 when they asked us to 'Come Out And Play' and we had to 'keep them separated… 'and from there they've managed to stand the test of time, giving us hits along their career, proving they're pretty fly for a pack of white guys.  The main reason I'm here, other than to throw in quotes or song titles is to talk about The Offspring's new album 'Days Go By.' Now, The Offspring aren't everyone's kettle of fish and it's fair to say have become somewhat of a novelty band, but they do have some great pop punk rock songs outside of the those that have helped them forge their career, so let's see how the balance is on this new release…
With once again with legendary rock producer Bob Rock, yes, that Bob Rock who has worked with bands such as Bon Jovi, Metallica, Motley Crue and many more, should be able to put a great spin on the new album as he did on their 2008 album 'Rise and Fall, Rage and Grace.'  Always loving what Bob does, let's listen and see what we're in for.
Off to a strong start with 'The Future Is Now' I love the vibe they've set up, it's a straight forward rocker with a nice catchy little chorus, although there is no doubt at all its Dexter singing, his vocals are so unique that you instantly know it's an Offspring track.  They waste no time with 'Secrets From The Underground' again, rockin' as they come, well as rockin' as The Offspring come anyway.  I like this one, complete with guitar solo, I mean, seriously, I keep saying it but it's the way to my heart.  The breakdown here is well done and this would be frantic to hear live!  Title track 'Days Go By' is up next and I can't help but get that Foo Fighters' Times Like These' vibe from it but in a complimentary way, the riff just hits that same groove and the song has that great middle of the road rock feel.  I am enjoying this album so far, I was hesitant, but here we are three in and it's pretty damn good!
Again… this is rockin' am I sure I'm hearing the same band that gave us these novelty type tracks previously?  'Turning Into You' is awesome, I know that's a general word, but it is.  I know bands that would love to write a song like this, nice work guys, I'm already singing along second chorus in, good sign.  I can hear this on the radio, it would work. 'Hurting as One' takes on more of that speedy punk vibe in the song but with a great musical vibe to it.  Not to mention the trademark 'oh oh oh oh oh's' you all know from previous works of these guys.
Oh, here it is… the curveball. 'Cruising California (Bumpin' In My Trunk)' this is happy, I like this, it sounds NOTHING like the last five songs at all, where did this come from?  I want to not like this, but I can't.  Dexter half raps / talks through the verses and he can do it, not many can.  Builds in to a big chorus, but as I giggle along to it and it's cute little keyboard and autotuned 'California' reference, you can see this as one of those Offspring songs that they're known for.  This has divided fans, but I dig it.  'All I have Left Is You' is another stand out here, starts off slow in the verses and gives us a big chorus each time, I love that formula of a track and this works.  I mentioned Bob Rock before and you can hear his influence on the sound, particularly in this track, it sounds great.  In fact this is my new favourite on the album.  Try and top it next five songs… I dare ya!
'OC Guns' hmm… this just does not work for me, I don't understand it, is it Mexican?  Yeah I'm not digging this one, skip it, this to me doesn't fit the feel of the album at all, but maybe that's their ploy and their ability to throw in these filler tracks.  I can't see this one redeeming itself.  Next.  See, now this is how you do it, 'Dirty Magic' has a dark intro reminiscent of a 'H.I.M.' track, and I love it, the complete and utter contrast to the last song is amazing.  Oh yeah, you're forgiven for the last track, this rocks!  More guitar solos = happy Troy.  Listen to this one twice instead of the last one at all.  OK, well the title of the next one is fun, namely 'I Wanna Secret Family (With You)' and lyrically as silly as you'd think it would be, but musically, great!  Again, they can get away with it, when you've been writing songs for so long and songs like this, you have it down. Back to the frantic punk sound with 'Dividing By Zero' is second to last and as good as it is, I'm looking forward to hearing the last track with the longest name ever, 'Slim Pickens Does The Right Thing And Rides The Bomb To Hell' I'm pretty sure if they just sang the title that it'd hit the 3:30 radio single time limit, but what it is is actually kick ass.  This song actually sounds like the best parts of all the previous Offspring hits have been taken and merged into this, I like it.  I'm glad the album ended this way, and what a great way to finish it with such a high energy closer!
Regardless of what you think of The Offspring, you may see them as the 'Pretty Fly For A White Guy' band or any of those hits they had, but pick up this album and skip those and you have one solid pop punk rock album, I love what I just played, bar a few tracks, but they serve their purpose.  This will get spun for many more days that will go by.  Yeah, I just did that.  Will The Offspring ever change the world with their music?  No.  Is this album something that should be enjoyed by as many as possible though?  Hell yes.  Hey Ho, Let's Go…
Essential Information
From: USA
For fans of: Pop Punk Rock
Release date: 26 June 2012
Record label: Sony Music Australia
Producer: Bob Rock
Website: http://www.offspring.com
Track listing:
The Future Is Now
Secrets From The Underground
Days Go By
Turning Into You
Hurting As One
Cruising California (Bumpin' In My Trunk)
All I have Left Is You
OC Guns
Dirty Magic
I Wanna Secret Family (With You)
Dividing By Zero
Slim Pickens Does The Right Thing And Rides The Bomb To Hell