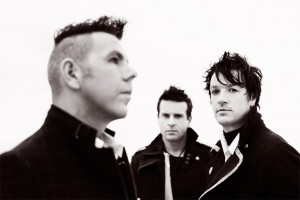 It's all systems GO here at TLE HQ, tickets for The Retrospective Tour are ON SALE NOW and what a morning it has been so far! Here is your warning, get in super quick as tickets are selling EXTREMELY FAST! Die hard TLE fans have already had their chance to snap up tickets and now is your turn to secure yourself a seat in the hottest house going 'round! There are now only limited numbers of 'BIG RED TICKETS' available in all states expect Melbourne which have already completely SOLD OUT – full ticketing details and outlet information can be found below.
As a special thank you to hometown fans and due to unprecedented demand for tickets to The Retrospective Tour THE LIVING END are stoked to announce TWO extra special encore performances of their debut album 'THE LIVING END' in Melbourne.
THE CORNER HOTEL – MELBOURNE VIC
Friday 21st of December 2012 &
Saturday 22nd of December 2012
Playing their entire debut album IN FULL
TICKETS ON SALE NOW via
Due to the enormity of the tour already there will be no additions of extra shows in any other cities except Melbourne.
So if you haven't already grabbed yourself some tickets to catch TLE in this once in a lifetime live experience, get to it so you don't miss out!
love,
TLE HQ
xx
THE RETROSPECTIVE TOUR
Seven shows in a row / One album in full per night
General tickets and 'The Big Red Ticket' on sale now!
THE ROSEMOUNT HOTEL – PERTH WA
Tickets via: Oztix – thelivingend.oztix.com.au / 1300 762 545 / Oztix Outlets
Thu Nov 01 – State of Emergency
Fri Nov 02 – Modern Artillery
Sat Nov 03 – The Ending is Just the Beginning Repeating
Sun Nov 04 – Roll On
Mon Nov 05 – The Living End
Tue Nov 06 – The Living End
Wed Nov 07 – White Noise
THE GOV – ADELAIDE SA 
Tickets via: Oztix – thelivingend.oztix.com.au / 1300 762 545 / Oztix Outlets
Moshtix – moshtix.com.au / 1300 GET TIX / Moshtix Outlets
Venuetix – venuetix.com.au / 08 8225 8888
Sun Nov 11 – Roll On
Mon Nov 12 – The Living End
Tue Nov 13 – The Living End
Wed Nov 14 – White Noise
Thu Nov 15 – State of Emergency
Fri Nov 16 – Modern Artillery
Sat Nov 17 – The Ending is Just the Beginning Repeating
THE HI FI – SYDNEY NSW 
Tickets via: Oztix – thelivingend.oztix.com.au / 1300 762 545 / Oztix Outlets
The HIFI Box Office / thehifi.com.au / 1300 843 443
Wed Nov 21 – White Noise
Thu Nov 22 – State of Emergency
Fri Nov 23 – Modern Artillery
Sat Nov 24 – The Ending is Just the Beginning Repeating
Sun Nov 25 – Roll On
Mon Nov 26 – The Living End
Tue Nov 27 – The Living End
THE ZOO – BRISBANE QLD
Tickets via: Oztix – thelivingend.oztix.com.au / 1300 762 545 / Oztix Outlets
Sat Dec 01 – The Ending is Just the Beginning Repeating
Sun Dec 02 – Roll On
Mon Dec 03 – The Living End
Tue Dec 04 – The Living End
Wed Dec 05 – White Noise
Thu Dec 06 – State of Emergency
Fri Dec 07 – Modern Artillery
THE CORNER HOTEL – MELBOURNE VIC
Tickets via: Oztix – thelivingend.oztix.com.au / 1300 762 545 / Oztix Outlets
The Corner Box Office / cornerhotel.com / 03 9427 9198
Tue Dec 11 – The Living End
Wed Dec 12 – White Noise
Thu Dec 13 – State of Emergency
Fri Dec 14 – Modern Artillery
Sat Dec 15 – The Ending is Just the Beginning Repeating
Sun Dec 16 – Roll On
Mon Dec 17 – The Living End
Fri Dec 21 – The Living End NEW SHOW JUST ANNOUNCED 
Sat Dec 22 – The Living End NEW SHOW JUST ANNOUNCED