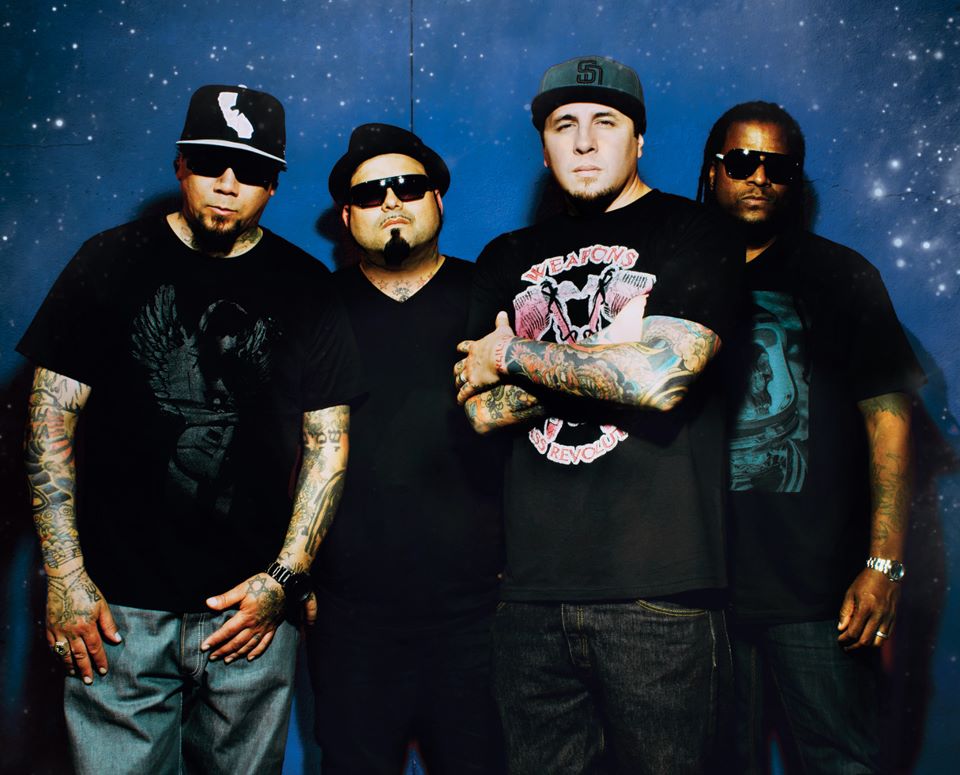 "When we get together and start jamming we have no more outside influences, it's just us four and that's the way it started twenty years ago in a garage we were just kids jamming and I think that's just how we wanted this record to be and we just started to write music."
Four years since their last release, P.O.D. are back with 'Murdered Love' a collection of rockin' tunes and a return to their trademark sound.  Sure you may know P.O.D. for songs like 'Alive' or 'Youth of the Nation' which were massive back in 2001 but with this new album, given the chance; we could expect some new hits.  Have a listen, you'll dig it.
P.O.D. front man Sonny Sandoval took some time to talk about the new album 'Murdered Love' with us, how it was put together, as well as a look back at a couple of their biggest hits.
Over to you Sonny…
It's been four years between your last album and this one, was it a conscious decision to take this long to make this album or was it a needed break?
It was a well needed break ha ha, I don't think we planned it being that long, but I think once we set out it was just more of a personal thing to get away from the industry and music and I've been blessed to be a part of this band and I think for me it was more about loving it so much that I was willing to lay it down if it wasn't what I thought it was supposed to be.  So for me, just taking time to be a daddy and husband and part of my community and when I felt it was right to make some more music, it just kind of happened.
Tell us about the title 'Murdered Love' and where that came from?
Murdered Love stems from the day that they murdered love and it was you know, again like we said, we took so much time off we were thinking of putting out just a little heavy EP out. Marcos had this idea of the day that they murdered love, speaking about the crucifixion and just the very moment that Christ died and the scriptures say that the clouds went black and the ground split open and the religious veil cut in half and it was just desperate moment and a desperate time not really knowing the outcome of the situation.  So we were like why don't we just do a heavy, crazy EP, put it out for free just for fun, and once we started the record it just kind of ended up being the title track.
Song wise, what was the writing process for these tracks?
I think that all kind of comes last, it just stems from us four all sitting in a room and going through riffs and just jamming, it really is just a natural process, you just start to jam and you're like, hey that feels good, or that's awesome or that sucks, you know?' Or you just kind of flow with it, once you have the structure and all the main parts, then I sit with it and the music just inspires the lyrics and the melodies and then I bring it back to the guys and say 'Hey this is what I'm thinking' and you just kind of tear apart and add from there you know?
There are so many elements musically on this album jumping from metal to reggae to rap to an almost 70's feel at times…
Ha ha ha yeah…
Was that the intention when creating it or was it a case of that's just how it played out?
It's just how it played out, it's never the intention, if you listen to our demos from twenty years ago, we had a DJ back then, we were influencing loops and beats, way back then because it's just the music we love.  We come from the hard-core punk scene and the metal scene, here in South San Diego the genres of music just run wild through the neighbourhood so we've always had a love and appreciation for all that stuff and it's just something that comes natural when we jam you know?  We never want the record to sound the same, like twelve songs on the record to sound like one song you know?  Plus as I said, we started when we were teenagers and I've watched the guys progress in their craft and art in twenty years, you know, they love what they do.
What do you think it is that keeps P.O.D. relevant in today's ever changing music industry and tastes?
You know what, in taking that break you really do just get away from that industry completely, so I'm not hip on what's trendy or hot, if I like something I like something, but most of the stuff is all bubble-gum and cookie cutter and it does nothing for me. So I don't have nothing to keep up with, you know what I mean, when we get together and start jamming we have no more outside influences, it's just us four and that's the way it started twenty years ago in a garage we were just kids jamming and I think that's just how we wanted this record to be and we just started to write music.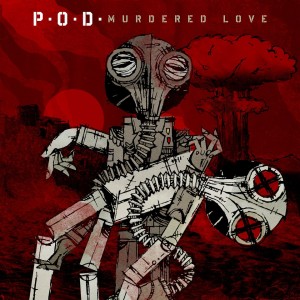 You've worked once again with Howard Benson on this album, first time since 'Payable on Death' in 2003, what was he able to bring out of the band on this album that you feel may have been missing on previous releases?
Well you know we're his first gold and platinum record, so we've got love for him and he's got a special spot in his heart for us, his career took off as well as ours and he's been able to go on and do platinum records over and over since then.  You know, when we took our break, he was with us and said well when you guys decide to do a new record, I want to do it and I think he just gets us and allows us to be us and he's an outside ear and amazing at what he does.  I think it's just really natural with him, he can be mister superstar producer to all these new bands, but to us it's kinda like we're all just old friends you know what I mean? Ha ha and we've learned so much from him and we're not afraid of him like he's not afraid of us, to just speak his opinions and feelings and we fight and make up like a married couple ha ha, that's what makes the music awesome.
Last time we saw you here in Australia was with Disturbed and Alter Bridge in 2008, what are your memories from that tour?
Oh that was an awesome tour man, I was just shocked to see how well that Disturbed has done, I remember them coming out to our shows before they were even a band back in the day you know what I mean ha ha, I guess when you've been in the business this long you just watch all these young guys come up and skyrocket to the moon.  We've always had love down in Australia and even New Zealand, two of my favourite countries, and that was just an awesome tour to be a part of.
When do you think we can expect to see you back?
Um… actually with this record taking off, so many opportunities are opening up and so I would definitely hope we'd be back there by the beginning of next year, I know we plan on being busy and staying busy and its never for us to turn down Australia, trust me.
That would be around Soundwave time, that could be good…
Dude… I hope so man… ha ha
A track like 'Alive' which was huge for you back in 2001, what was it that you feel connected with people to make it the song that it was?
Obviously our record released on 9-11 here in The States and that song was already top of the radio charts and the number one video on MTV, and obviously with the tragedy of 9-11, it was a desperate situation where people were looking for answers you know  I think with that song, what I'm most proud about it was it was pre 9-11, it was a song that was already offering hope and saying 'hey I'm just grateful to be living, I'm not taking life too fast and I'm not taking this life for granted' and obviously with 9-11, that song really resonated, especially amongst Americans.  You know, we've always tried to offer that in our music, and continue to put positive vibes in our music, so whoever is listening to it is never going to walk away depressed or empty, but hopefully moved and touched what we do.
On the other side of that, a song like 'Youth of the Nation', written over 10 years ago now, the content was relevant to issues at the time, but if you were to try and write that song now, what do you think would be the main focus of it?
You know like I said we always write for the moment and what we're going through and even at that time it was almost trendy, at least here in The States that were going in and pulling off these school shootings you know what I mean?  I think just being a part of rock and roll, I feel like I'm young and even though I'm getting older and just being a daddy I just relate to kids in general.  I feel for what the young person goes through today and even though that song was kind of based around the school shootings, we have songs on the record like 'Beautiful' or 'I Am' that just get down the flesh of what we do as people, but at the end of the day we're still trying to give hope.
Looking back over the last twenty years as a band, if you could pick just one, what would you consider being the defining moment?
Aww man… that's tough, there's so many cool moments.  Well first of all, recording a song with Santana and then actually playing the Latin Grammy's here in The United States, that was huge, I was like wow, we're on TV at the Latin Grammy's playing with one of our heroes. That was amazing.
I'll give you another one…
Um, I would have to say, New Year's Eve on the Pontiac Garage stage, it was on top of a roof overlooking Times Square and there must've been a million people in New York City and we played on top of the roof it was amazing ha ha ha.
Well, thanks for your time Sonny, this album is great and I hope it relights a fire for you and hopefully we'll see you down here soon!
Thanks man, I appreciate that.
Essential Information
From: San Diego, CA, USA
Band members: Sonny Sandoval – Vocals , Marcos Curiel – Guitar, Traa Daniels – Bass, Wuv Bernardo – Drums
Website: http://www.payableondeath.com/
Latest release: Murdered Love (Razor & Tie, Shock Records)