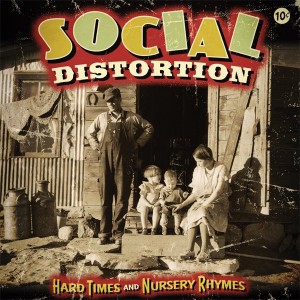 Southern California rock 'n' roll heroes Social Distortion have debuted a brand new video on Rollingstone.com for their song "Gimme The Sweet And Lowdown" from their latest album, Hard Times And Nursery Rhymes. The animated video was created by Olya & Vira Ishchuk (known as "The Mad Twins") and loosely celebrates the life of front –man Mike Ness.
To watch the new video, please go to Rolling Stone.com or go here: http://www.rollingstone.com/music/videos/premiere-social-distortion-get-personal-in-gimme-the-sweet-and-lowdown-20120730
"Working with Olya & Vira Ishchuk (known as "The Mad Twins") was a great experience," Mike Ness told Rolling Stone. "I mean, to not give any direction whatsoever and have an incredible video delivered to you speaks volumes. Olya & Vira created this animated piece on their own time as a gift to us, and they nailed it – we didn't change a thing. Being able to capture the true essence of the song without our input shows The Mad Twins' artistry, and how talented they truly are. When I was writing "Gimme the Sweet and Lowdown," the idea behind it was a lifestyle gone wrong due to making really bad life decisions. I never intended for it to be autobiographical, but now with this visual, I realize that it actually is more about me than it seemed when I wrote it."
Since their formation in 1979 in the working class Southern California suburb of Fullerton, Social Distortion have a recharged rock 'n' roll sound merging outlaw country, classic punk and swaggering blues. The band's latest release Hard Times and Nursery Rhymes has been rousing success with critics and fans alike.
 Watch Social Distortion's video for "Machine Gun Blues" here:
For more information:
www.socialdistortion.com
http://www.epitaph.com/artists/artist/278/Social_Distortion