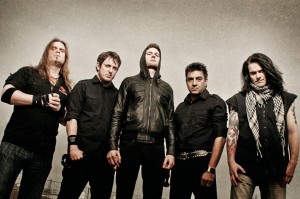 From Bio: Seven Deadly is an evolution, a phoenix rising from the ashes and speedily rising to dizzy heights.  Here is a band that's honed its craft and learnt valuable lessons already at such an early stage in their career with an army of fans already gathered, expecting and eagerly anticipating what's next to come.
Melding modern day sound and dynamics with a respectful nod to the classics and throwing in a powerful dosage of imagination, Seven Deadly are a unit hell bent on succeeding with a blitzing blend of thrash, groove and melodic metal.
We loved what we heard, and hope you will too.  Check out our newest Best Thing You've Never Heard… Seven Deadly.
Let's start with the basics first – for those that aren't aware of the band, with its former members of Panic Cell and Denounce, what was it that brought the band together and what is the inspiration behind the band name?
The new band started with Panic Cell finished.  3 Panic Cell members + 1 member of Denounce + 1 new frontman = Seven Deadly.  The band name stems from the fact at least ¾'s of the band have committed one or more bad deed 😉
Can you please introduce each member of your band and give us a rock 'n' roll fact or myth about each of them?
Archie Wilson – vocals/samples "The overlord, nuff said"
H Virdee – guitars "Nicknamed the Pharoah, H is the party"
Dayve Irving – guitars/b.vox/keyboards "Perfection mixed with liquor = Mr Irving"
Bobby T – bass "Mastermind, has aspirations of world domination "
Rob Hicks – drums "Possibly possesses 2 of the fastest feet in the world today"
Here's a scenario, you're a call centre operator and in 20 seconds you have to try and convince someone to listen to your new EP 'The Allegiance', before they hang up on you, what do you tell them?
20 seconds?  It's time to throw that party at your house guys, we're at the front door now with all our gear…let us in and show us where to plug in!
Together for just under a year at this point, what is it that gels so well with the band that makes it sound like you've been doing it forever?
Time, experience, love, passion and Jagermeister
In terms of your song writing, what do you consider to be the most important ingredients that make up a Seven Deadly song?
Big hooks, big riffs, great vocals…things that stick in your brain.  We work with the worm…
Both lyrically and musically, who or what inspires/influences your music the most?
Inspiration comes to us in lots of guises…normally after a few drinks!  Seriously though, we're influenced by anything that grabs us, musically and topically past and present!
Social media being a major thing for promotion of bands and artists these days leads me to asking about the idea behind essentially giving your EP away via Facebook, what was the reasoning behind doing this?
The music market is saturated with bands.  Some great, some not so great but for the majority all bands are using the same tools to market and sell their products.  It's early days for Seven Deadly, we're in what we call a "investment and growth" period i.e we're more concerned with raising our profile and interacting with our growing fanbase than making money. Build, build, build…
I guess the next question is, can we expect an album from Seven Deadly any time soon?
We're locked away writing the 1st album write now – it's all under the radar but we expect to be the ones to leak the treats and get feedback from everyone before we commit to the final product.  Eta is spring 2013.
Touring wise, what have you got planned at the moment?
All very low key – we're dipping our toes in the water with live shows.  For now we're keeping a mystique about the band and focusing on other key matters.  Touring is high on the agenda but not the most important thing for now.
For those that haven't yet seen you perform before, what can people expect from one of your live shows?
Loud, heavy, singalong, interact….party time basically.  We're continuously refining our stageshow to keep things fresh and interesting for the audience and us.
I love that only four shows in to the bands existence you were headlining one of the stages at Download festival in the UK, what kind of expectation does this put on the band, and more importantly, how did the show go?
Download Festival 2012 was amazing, for a band like us so early on in our career to be headlining one of the stages was simply mind blowing.  The whole experience really kicked us up a gear and got us in front of thousands of new fans.
Now, for a bit of fun and it will soon be all the rage, we saw Tupac appear as a hologram at Coachella, if you could have any artist no longer with us perform on stage with you as a hologram, who would it be and why?
Bon Scott – the ultimate party animal.  Ronnie James Dio – the king of metal.  Bill Hicks – nuff said!
Lastly, here's a chance to gaze into your magic mirror.  In the next year, Seven Deadly will have:
1. A new album and music video released
2. A worthy run of music festivals, playing as vast as possible
3. Happiness – we're happy now but you can never have too much of the stuff!
Essential Information
From: UK
Sounds like: Metal – Thrash Metal – Melodic Metal
Band members: Archie Wilson – vocals/samples, H Virdee – guitars, Dave Irving – guitars/keyboards/backing vocals, Bobby T – bass, Rob Hicks – drums
Websites:  www.sevendeadly1.com  www.facebook.com/sevendeadly1  www.twitter.com/sevendeadly1 www.youtube.com/sevendeadlytv
Comments
comments