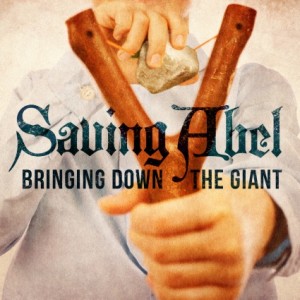 In summary: "These guys have made a really good rock record that has something for everyone and here's hoping that everyone will give it a chance. It deserves it."
Here in Australia, it's easy to remember Saving Abel for one song, that one being 'Addicted' as really, that's the only one that got any love down here, well for those playing at home and who haven't been keeping up with their Saving Abel, I'm about to tell you all about their third, yes, third album entitled 'Bringing Down The Giant'.
From the opening heavy riff leading off the album's title track 'Bringing Down The Giant' I had the feeling I was going to be into this album, this is the heaviest track I've ever heard from Saving Abel and one that I'm instantly digging.  Great chorus, great groove, great music stops and great message!  It was the obvious choice for the lead single and I liked it so much that I just put it back on. A metaphor for many things I'm sure, and it's up to you to make up your own mind on how you want to take a title like 'Bringing Down The Giant' I know I've got my idea on it.  'Michael Jackson's Jacket' is a cleverly written track with seriously, around 526 MJ references, I should know, I counted… well, not really, that was a guess, but a fun rock song nonetheless and when it kicks into 'Amazing' I can tell this album is going to be a great balance, this could be all over commercial radio and given the chance would be a hit.  Here's hoping it may.
OK, here we go, let me just check that I'm listening to the same album, yep, here we have a lovely little musical into called 'Pine Mountain (The Dance Of The Poor Proud Man)' full of banjos, bluegrass and those cool mouth things that go 'boinnnng' but this is different, and not sure how it fits on this record until I hear the song that it is the intro for.  Here we have 'You Make Me Sick' that continues the bluegrass feel until it blew my speakers up when it kicked in to overdrive, it got heavy and that's fine by me.  Bringing it back down with 'Pictures Of Elvis' for a middle of the road rocker, again, I wish this band could get the credit they deserve, these are great songs so far, singer Jared Weeks has the perfect voice for every style I've heard so far, from balls out rock to these ballad-esque type songs, maybe this will be the album to get them back out there again.  Here's hoping.
Songs like 'New Loser' and 'Me and You' show once again that these guys can write great catchy songs, in fact, and I need to check my facts, but pretty sure they may own a bait and tackle shop, because otherwise where would they get all these hooks from?  See what I did there?  I'm loving 'Me and You' actually, this is close to my favourite so far.  Ahh here's one of those songs that makes me think of Summer and a top down, cruising down a dirt road kind of song, not sure why, but it sounds like that, this one is 'I'd Do It Again' and it's pretty cool.  I was happily tapping along to that one. 'Bittersweet' and 'Those Who Wait' are great album tracks, again that diversity of styles works, but it's taken this long in to the album to find my favourite song on it.  I give you 'Parachute' and hands down the catchiest, probably most well written on the album, great concept and great feel to it both musically and lyrically, that trumps everything I have just listened to, plus it has a bitchin' middle 8 and that's the way to my heart.  Love that song and that should be a single!  You hear me Saving Abel?  That should be a single.
Closing out the album is 'Constantly' another middle of the road rocker, would I have preferred a big huge closer?  Probably?  But I'm not a producer, so what do I know?  It is a very good song, and oh wait, I typed too soon… here we go, yep, as I predicted with my producer hat on, it rocks out big time to finish the song and I am content. I thank you Saving Abel and actual producer Skidd Mills for doing what I wanted the song to do!
Look, I know I keep saying it, but the balance on this album is great, it covers such a wide range of musical styles and it works.  From hard rockers, to acoustic driven tracks and like I said, bluegrass, but the thing is, I can't not like it.  Credit where it's due, these guys have made a really good rock record that has something for everyone and here's hoping that everyone will give it a chance. It deserves it.
Check out our great chat with Saving Abel's Jason Null here…
Essential Information
From: USA
For fans of: Rock
Release date: 17 July 2012
Record label: eOne
Producer: Skidd Mills
Website: http://www.savingabel.com
Tracklisting:
01 – Bringing Down the Giant
02 – Michael Jackson's Jacket
03 – Amazing
04 – Pine Mountain (The Dance of the Poor Proud Man)
05 – You Make Me Sick
06 – Pictures of Elvis
07 – New Loser
08 – Me and You
09 – I'd Do it Again
10 – Bittersweet
11 – Those Who Wait
12 – Parachute
13 – Constantly