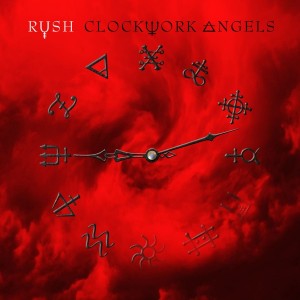 In 25 words or less: "I can see why they've been around for so long and will be for much longer.  Clockwork Angels, yeah, check it out."
Now this may shock a lot of people but this is in fact the first Rush album I've ever listened to. Yeah. I know right? So here's me losing my virginity to their newest album and well, their nineteenth, titled 'Clockwork Angels' Here's hoping I can get this band, this album and this prog rock concept that has made Rush who they are for approx. 55 years I think it is… I kid, I kid because I don't know Rush that well.  Ha ha I just looked it up, it's actually 44 years, wow, I knew they'd been around for a while but that's just awesome.  So, back to the album… Within moments of the opening track and first single 'Caravan' I'm liking what I hear, this is some great music, I mean that in the guise of musicianship, obviously with that much time in the business you have to be good, and this is already showing me they are.
I'd heard that Geddy Lee's vocals were in essence 'grating' or 'annoying' to some people but I'm not getting that at all, I'm digging it.  Two tracks in at a total of 11 minutes I get the feeling I'll be here for the next three hours but it doesn't feel like that long in listening, the songs are smooth and just there.  They don't drag, there's no indulgence, they're just well created.  I'm absolutely loving the title track at this very second, that being 'Clockwork Angels' what a classy song, I think the only thing it was missing was a tambourine break.  I loved that one.  Oh but wait, hello 'The Anarchist' you sound pleasing to my ears… and in conclusion of that track, yes you were in fact pleasing.  I mentioned before I'm not too up on the prog rock scene but five tracks in and ninety minutes down, I get it, I like it.  OK, what else have you got Rush?
Hold the phone, a 3:14 song?  Is this a radio track?  Did they run out of prog?  Here's me just saying how much I like the lengthy tracks and you go and give me this?  A great song called 'Halo Effect' that should've been 12 minutes longer?  That was actually a truly great song, almost power ballad-esque if you can say that.  You know, for a three piece band, Rush kinda kick ass, these chunky riffs and driving drum and bass lines all complement each other. It's fun to be sitting here rockin' along to these tunes, oops just caught myself humming along to 'Seven Cities of Gold' I like this one, has a very 70's style groove to it.  Then we jump straight to a more upbeat track called 'The Wreckers' can't fault it, won't fault it.  I always know I like a song when I make up the video for it in my head and this one had that ability to do that.  Oh and it's a good video, it had a Viking in it.
'Headlong Flight' was the second single lifted from the album and you can hear why, that was a beast of a track at just over seven minutes, you got the best of everything and more.  A short interlude for 'BU2B2' and now only two tracks to go… 'Wish Them Well' is killer, musically I'm totally loving the underlying guitar progression in the track, it hits a groove that works so well, with a great solo piece mid song once again showcasing the bands' talents.  I'd almost put this as my favourite on the album, yeah I know, big call this late in, but I'm calling it.  The last track would want to be something pretty special I tell ya…
So here we have the closer, 'The Garden' and at exactly seven minutes long, wouldn't have been my choice for the last track, it's a very mellow driven song, it's good, but not my favourite.  I really would've loved that punch to take us out, although I love the piano in it, I feel like I've gone out on a ballad, was pumped up for the whole thing and in the end I'm mellowed out.  Oh Ok, here we go, guitar solo, it's getting better but still, I sit by my comments of the mellowness.
OK, so, 7 hours later it's dinner time now, best be off… in summary, I enjoyed my first Rush experience, I can see why they've been around for so long and will be for much longer.  Clockwork Angels, yeah, check it out.
Essential Information
From: Canada
For fans of: Prog Rock
Release date: 8 June 2012
Record label: Roadrunner Records Australia
Producer: Rush, Nick Raskulinecz
Website: http://www.rush.com
Track listing:
1. Caravan   5:40
2. BU2B   5:10
3. Clockwork Angels   7:31
4. The Anarchist   6:52
5. Carnies   4:52
6. Halo Effect   3:14
7. Seven Cities of Gold   6:32
8. The Wreckers   5:01
9. Headlong Flight   7:20
10. BU2B2   1:28
11. Wish Them Well   5:25
12. The Garden   6:59