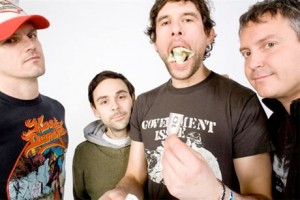 PROPAGANDHI TO RELEASE SIXTH STUDIO ALBUM IN SEPTEMBER
Celebrating three decades of life in the political and musical hinterlands, Propagandhi will release their sixth studio album, Failed States, on September 7th.  The album's first single "Failed States" debuts today and can be heard now by going here –  http://soundcloud.com/epitaph-records/propagandhi-failed-states/s-msLZw
Failed States willfully careens between brazen metallic tendencies and the ragged punk rock roots of Propagandhi's earlier work, further raising the lyrical and musical bar set by their critically-acclaimed 2009 release, Supporting Cast(e).
"Our goal is always to create a no-holds-barred, forward-thinking, tip-of-the-hat to the giants — Voivod, Rush, NoMeansNo, SNFU, Sacrifice, Razor, Guilt Parade – that have gone before us," says vocalist and guitarist,  Jesus H. Chris.  "We are in their debt and take the mission seriously. Even when we're singing about liking Kurt Russell as Captain Ron, we take the mission seriously. Failed States is our most formidable – and to me personally, our most surprising — attempt at conjuring the numinous from the quotidian. Yes, I had to look those words up."
The result is one of the band's most forward thinking and musically varied albums to date.  Failed States is not simply proof of Propagandhi's continued dedication to pushing their musical boundaries, but an evocative (and provocative) meditation on human nature, meaning and life under an expanding, planet-wide technocracy. Ranging from dynamic, progressive rock of "Note To Self" to the accelerated heaviness of "Duplicate Keys Icaro (An Interim Report)" and blazing thrash cuts like "Hadron Collision" and "Things I Like," Propagandhi has created a truly monumental sixth album.
Stay tuned to www.propagandhi.com and www.epitaph.com to hear new music from Failed States and for news about Propagandhi!
###
Failed States Track Listing:
Note to Self – 5:56
Failed States – 1:54
Devil's Creek – 2:32
Rattan Cane – 3:06
Hadron Collision – 1:37
Status Update – 1:05
Cognitive Suicide – 3:42
Things I Like – 1:59
Unscripted Moment – 4:10
Dark Matters – 3:16
Lotus Gait – 3:15
Duplicate Keys Icaro (An Interim Report) – 4:34