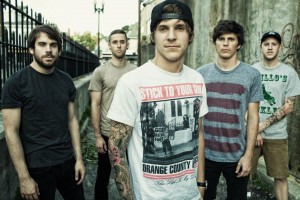 OUR LAST NIGHT TO RELEASE NEW ALBUM

AGE OF IGNORANCE OUT 24/8/2012
Stream First Single "Liberate Me"  / Watch Video Trailer
Post – hardcore upstarts Our Last Night have perfected a potent mix of sonic power and unforgettable melodies that make their new release Age Of Ignorance, an absolutely lethal force in modern rock. Songs like "Liberate Me"  and "Age Of Ignorance" burn with an intensity sure to ignite any pit into delirious cathartic pandemonium. The new record, produced by David Bendeth (Breaking Benjamin, Paramore, Set Your Goals) hits streets August 24th via Epitaph Records.
Fans are  invited to stream the  first anthemic single "Liberate Me" from Age Of Ignorance by going to:  http://soundcloud.com/epitaph-records/our-last-night-liberate-me-2/s-OWJpE
Hailing from the musical wilderness of New Hampshire, Our Last Night has battled their way to the top of the scene with an undeniable mix of unbridled determination and youthful talent. The end result is a sound packed with non stop hardcore energy and emotion. In live setting, the band has been winning over crowds from coast to coast with their exhilarating high flying sweat drenched performances.
Watch the dramatic video trailer for the record by going to: 
Watch the lyrics video for "Liberate Me" here: