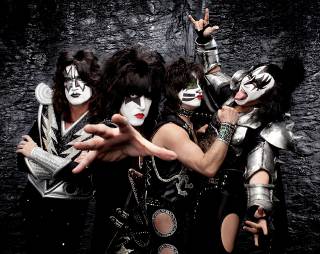 "The music is all hard-edged — they call it "thunderock" — and throughout their electrical storm solid craftsmanship prevails." – Rolling Stone, 1978
"Nice to hear some things never change." Spin, 2009
"We're a real, flesh-and-blood rock and roll band with people who've spent 40 years doing what we believe in." – Paul Stanley, 2012
Rock legends KISS return with Monster, the 20th studio album in their historic career, set for release in October through Universal Music Enterprises. The 12-track, straight-ahead rock 'n' roll album features collaborations among all four members—including co-founders Paul Stanley and Gene Simmons and longtime members guitarist Tommy Thayer and drummer Eric Singer—in an album that shows the band at the top of its game. And that's saying something, considering their illustrious, 40-plus year history—28 U.S. gold albums, the most gold records for any American rock band, 40 million sales in the U.S., and a total exceeding 100 million worldwide.
Monster is the group's first studio album since the band's 2009 smash success, Sonic Boom, and was also produced by Paul Stanley with Greg Collins at Conway Studios in Hollywood, CA, and The Nook in Studio City, CA.
The band's first single, the full-throttle, autobiographical rocker "Hell or Hallelujah," will be available digitally on Tuesday, July 3.  Stanley calls the album's lead track, "a battle cry that encapsulates the entire record… one way or another, we're going to do it our way."
Monster represents KISS' nod to the music that first inspired them to pick up their guitars and flame-throwers and don makeup to entertain millions. The group goes back to their own beginnings with the Who-like "Freak," while Gene lives up to the title track's declaration on the raucous rock of "Back to the Stone Age" and the bludgeoning "The Devil is Me." Even guitarist Thayer takes a turn on his own with "Outta This World," a tribute to his KISS "spaceman" character, while drummer Singer provides the vocals (and the back story) for the arena anthem "All for the Love of Rock & Roll."
"There are no symphony orchestras, boy choirs, keyboards, outside producers or songwriters on this album," promises Gene Simmons. "The best thing we did was to turn inwards to ourselves. Tommy and Eric have revitalized this band, with a work ethic and the talent to back it up. This is a real band effort. KISS has become a behemoth. We're going where no bands have gone before."
On July 4, the band will perform at The Forum in London, the concert will serve as a benefit for the British "Help for Heroes" organisation, which raises money for its wounded, sick and injured troops. The band owes its own debt of gratitude to the English, admitting that Monster is influenced by the country's great, legendary rock groups who influenced and inspired them to pick up their instruments in the first place.
"We're all Anglophiles in this band," says Simmons. "America may have invented rock and roll, but England knew what to do with it. They gave us the Beatles, the Stones, Led Zeppelin and the Who."
More info at:  www.kissonline.com
First single "Hell or Hallelujah" available July 3.
Album "Monster" available in October.