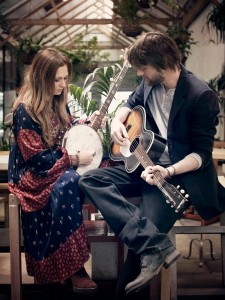 Five years ago, Rattlin Bones became the must-have album for 2008, with Australian audiences embracing the first musical collaboration of Kasey Chambers and Shane Nicholson and sending the album to the top of the ARIA charts.  After a brief hiatus where they returned to their respective solo careers, Kasey and Shane finally found time to write and record together again and today announce their return to touring as a duo, in support of their new album Wreck & Ruin.
Wreck & Ruin is a glorious follow up to Rattlin Bones, with songs inspired by Kasey and Shane's passion for country music that is in many ways 'traditional', but not always conventional. Wreck & Ruin will be released on Friday September 7th, 2012 through Liberation Music.
With a stellar band of musicians joining them on tour and of course their warm and often irreverent on-stage banter, Kasey and Shane's live shows are always a very special treat. The superb set list ranges from old favourites to the brand new, drawing material from across their 12 collective album releases.
Kasey Chambers and Shane Nicholson's 'Wreck & Ruin Australia 2012′ tour will be one that the whole family will enjoy and is sure to delight fans past, present and the future.
Kasey Chambersand Shane Nicholson – WRECK & RUIN Australia 2012 Tour
With special guest: Harry Hookey
Tickets on saleWednesday August 1st, 2012 
WED 24 OCT             LIGHTHOUSE THEATRE, WARRNAMBOOL, VIC
Box office: 03 5559 4999 www.lighthousetheatre.com.au
THU 25 OCT              PLAYHOUSE, GEELONG PERFORMING ARTS CENTRE, VIC
Box office: 03 5225 1200 www.gpac.org.au
FRI 26 OCT                REGENT MULTIPLEX, BALLARAT, VIC
Box Office: 03 5330 5555 www.regententertainment.com.au

SAT 27 OCT              THE REGENT THEATRE, MELBOURNE, VIC
Ticketmaster 136 100 www.ticketmaster.com.au
TUE 30 OCT              CIVIC THEATRE, WAGGA WAGGA, NSW
Box office: 02 6926 9688 www.civictheatre.com.au
WED 31 OCT             CANBERRA THEATRE, CANBERRA, ACT
Box office: 02 6275 2700 www.canberratheatrecentre.com.au
THU 1 NOV                SHOALHAVEN ENTERTAINMENT CENTRE, NOWRA, NSW
Box office: 1300 788 503 www.shoalhavenentertainment.com.au
FRI 2 NOV                  YORK THEATRE, SEYMOUR CENTRE SYDNEY, NSW
Seymour Centre Box office 02 9351 7940 www.seymourcentre.com
SUN 4 – 11 NOV        CRUISIN COUNTRY – FIJI
Enquiries & info: www.cruisincountry.com.au
FRI 16 NOV                EMPIRE THEATRE, TOOWOOMBA, QLD
Box office: 1300 655 299 www.empiretheatre.com.au
SAT 17 NOV              MONCRIEFF ENTERTAINMENT CENTRE, BUNDABERG, QLD
Box office: 07 4130 4100 www.moncrieff-bundaberg.com
SUN 18 NOV              a day on the green; SIRROMET WINES, Mt COTTON QLD
Ticketmaster: 136 100 www.ticketmaster.com.auor www.adayonthegreen.com.au    ****ON SALE NOW
FRI 23 NOV                WRESTPOINT CASINO, HOBART, TAS
Tixtas 1300 795 257 www.tixtas.com.au
SAT 24 NOV              COUNTRY CLUB, LAUNCESTON, TAS
Tixtas 1300 795 257 www.tixtas.com.au
SUN 25 NOV              COUNTRY CLUB, LAUNCESTON, TAS
Tixtas 1300 795 257 www.tixtas.com.au
WED 28 NOV             HER MAJESTY'S THEATRE, ADELAIDE, SA
BASS 131 246 www.bass.net.au
THU 29 NOV              NAUTILUS THEATRE, PORT LINCOLN, SA
Box office: 08 8683 5088 www.civichall.com.au
FRI 30 NOV                MIDDLEBACK THEATRE, WHYALLA, SA
Box office: 08 8644 7300 www.countryarts.org.au
SAT 1 DEC                NORTHERN FESTIVAL CENTRE, PORT PIRIE, SA
Box office: 08 8633 8500 www.countryarts.org.au
SUN 2 DEC                CHAFFEY THEATRE, RENMARK, SA
Box office: 08 8586 1800 www.countryarts.org.au
WED 5 DEC               ALBANY ENTERTAINMENT CENTRE, ALBANY, WA
Box office: 08 9844 5005 www.albanyentertainment.com.au
THU 6 DEC                CIVIC CENTRE, ESPERANCE, WA
Box office: 08 9083 1566 www.esperanceciviccentre.com
FRI 7 DEC                  GOLDFIELDS ARTS CENTRE, CURTIN KALGOORLIE, WA
Box office: 08 9088 6900 www.goldfieldsartscentre.com.au
SAT 8 DEC                MUNDARING WEIR HOTEL AMPHITHEATRE, WA
MUNDARING WEIR, WA Bookings: 08 9295 6098 www.mundaringweirhotel.com.au
SUN 9 DEC                DRAKESBROOK HOTEL, WAROONA, WA
Bookings: 08 9733 1566 www.bocsticketing.com.au
New album WRECK & RUIN released through Liberation and in stores Friday 7th September 2012 featuring the new single Adam & Eve @ radio & on itunes July 23rd,2012
For further Artist and Tour information
www.kaseychambers.com | twitter.com/kaseychambers | facebook.com/kaseychambersmusic
www.shanenicholson.com | twitter.com/shanenicholson | facebook.com/shanenicholsonmusic