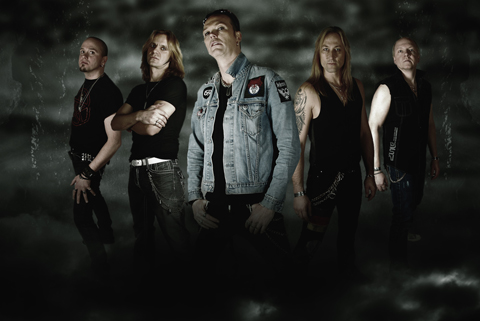 For over 20 years, Jaded Heart have been one of Germany's most successful ever rock bands and new album Common Destiny will only strengthen their reputation worldwide.  On this their 11th studio album, Jaded Heart combine the power metal'esque riffs of previous album Perfect Insanity, with more stadium rock sized chorus's that hark back to the bands earlier days.
We tracked down Michael Mueller and Peter Oestros via email to chat about the powerful new album, Common Destiny.
Hey guys, thanks for taking the time to do this interview with May The Rock Be With You here in Australia!  Congratulations on your new album Common Destiny which has been out for a few weeks now, how have the Jaded Heart fans around the world responded to it so far, from what you've heard/seen?
Peter: Thank you very much! The response among our fans, magazines, websites etc has been absolutely amazing this time! I'm the kind of musician that reads every review I fall over.  After some releases you get used to good and bad reviews, but every one I've read about Common Destiny has been very good!  I guess when you read a bad one you say "I dont care", but the good ones seems to be important…ha ha!
When I listen to the album, I hear a bit more of the old school Jaded Heart stadium rock vibe in the songs, than on your last album Perfect Insanity which was a darker, more aggressive album. Was this something you guys had really focussed on delivering with this album?
Peter: I really like the songwriting process and the final result of Perfect Insanity.  It was a very honest album at the point of our career.  We all wanted to do a more metal oriented album and the result is exactly what we wanted.  The first discussions we had about making a new album took place on the tourbus during the Perfect Insanity European tour.  We all agreed that we would like to focus more on strong melodies, but keep the metal edge on the music.  This time we really worked hard to find the right vocal lines on each and every song.  It's a very interesting process and makes great fun to produce the songs by ourselves, as we do.
Let's talk about the album title 'Common Destiny' and the album cover, what is the concept behind both of these and does this feed through into the lyrics of the songs as well?
Michael:  Axel came up with the title. It´s our "common destiny" to play in this band.  We all are very passionate when it comes to our music and to be a member of Jaded Heart.  You know, we all found friends, even we live in different countries.  We are a nice little family.  It´s hard work to keep it all together, the  cover stands for it!
How did the song writing take place for this album, was that something significantly different to your past couple of albums?
Peter: We worked as we have been doing since I joined the band back in 2006 when we did Sinister Mind.  I do all the riffing and structures of the songs, and Johan and I work together with the vocal melodies.  The big difference with Common Destiny compared to the other albums is that we did a lot of different versions on each and every song.  In the end we had the traditional "Sweden weekend", when the whole band have a couple of days at Johan's beautiful summer house outside Stockholm to listen, discuss and record even more ideas.  This time we had around 25 songs on demo.  We used to vote democratic which 12-13 songs that should be recorded. Its always a big discussion about which song and why! ha ha
With band members based in both Germany and Sweden, where did the recordings take place and who did you use on this album as far as production etc?
Peter: The recordings on the last two albums have been similar.  We record drums, bass and rythym guitars in "Kid room studios" in Germany together with Michael Voss (Mad Max, Michael Schenkers Temple of rock etc.). Chris Lausmann (Bonfire etc.) did the mixing as before with a superb result. That guy really knows how to squeeze the best out of every song!
Did you have any special guests involved in the recordings or song writing?
Peter: The bassplayer from Helloween, Markus Grosskopf did the bass solo on "Higher" and an old friend of mine Fredrik Folkare from Swedish death metal legends Unleashed did the guitarsolo on "No More Lies". They both did an amazing job!
I've picked out a few of my favourite songs from the album, can you give us your comments and thoughts on these songs:
Saints Denied – Peter: I wrote this song in the very beginning of the writing process, I think it was my third idea I had for over 2 years ago.  The feeling reminds me about the song "Hero" on Sinister Mind.  A straight forward metal riff that sticks to your head. It's a challenge to try to write these kind of "monkeyriffs" as I call them, easy to bang your head too but hard to write. Guitarists are often trying too hard to accomplish some intellectual, introvert rubbish riff that is damn hard to play and that nobody can remember afterwards.  The excellent songwriter and a friend of the band Erik Mårtensson from Eclipse and W.E.T among others did help us with the melodies on this one.
Are We Mental – Peter: Nice that you like the song. We weren't really sure to have this one on the record for a while, but it grew stronger during the process.  A double bass drum "power metalish fist in the air" chorus.  I like the dynamics in it.  Soft verse with some very melodic vocal lines, a furious bridge and this sing along chorus.  Johan sings great on this one.  Erik Mårtensson, who also does choirs on the album, did some fantastic backing vocals.
Life Is Beautiful – Peter: This track has got a strange story behind it. I did fight really hard to NOT record it for the album, though I wrote it.  The demo version with my vocals was stuck in my head, and I couldn't stand it for a long while!  I did write the key intro as well, and I "hated" it even more than the rest of the song. ha ha.  The German's did insist to have it though and I did fight until the end to skip it.  In the end, the reactions from fans & journalists have been totally vice versa.  A lot of people, including you, seems to love it, and maybe you´re right.  I´ve started to like it myself now. Johan does it very very good and the band plays like hell.  I should listen more to my German friends. I think that's the consensus here! ha ha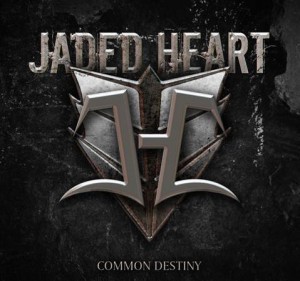 You have released a video for first single With You, for people who have heard this song, but not yet the whole album, do you feel this song is a pretty good indication of the album as a whole?
Peter: Yes!  This is what it is all about on this record.  Metal with very melodic melodies. "Melodicmetal" if you want.  A very agressive intro and middle part (some death metal harmonies moving minor chords around) and a very, almost AOR, chorus.  This album is all about hard riffs and big choruses!
With a massive following in Japan and obviously all through Europe, what touring plans do you have during 2012 in support of the album?
Peter: Nothing is confirmed yet, but we are working with a new booking agency called All Access and there are plans for another European tour through fall/winter 2012.  Japan would be nice as well. Why not Australia? We could do a tour together with our friends in LORD!
Speaking of touring, what does a Jaded Heart setlist look like these days?  Do you still play a bunch of the older songs, or is it mostly made up of material from your last three or four albums?
Peter: We didn't really discuss which songs to play right now, but on the previous tour we focused on songs from Helluva Time, Sinister Mind & Perfect Insanity. We did really old ones as well on earlier tours.  I wouldn't have any problems to play some really old songs on the next tour.  It depends on if we are going on a headline tour or as a support.  We´re planning on going on a headline tour now, so in that case we have a long set to play with…I would say that you never know what happens then!
For over 20 years now, you have been one of the biggest rock bands in Germany, how much do you feel the rock and metal scene has changed since the day Jaded Heart begun, to where it is now?  Is rock and metal music still as popular in Germany today, as it was back in the early 90's for example?
Michael: It is back!  We have so many young bands around, playing a mix of 80s rock and metal. The shows are mostly packed and all those teenagers are practicing guitar or bass these days. They all want to be like Slash, Randy Rhoads or Nikki Sixx.  The new generation of Heavy Fans has arrived!
Ok, last question, looking forward, what's one thing as a band you guys really have set as a goal to achieve, that hasn't yet been done in the 20 year history of the band so far?  Maybe to do a tour of Australia with Lord, for example haha….
Michael: Yes! Australia would be a blast! Feel free to contact promoters to bring us over!  One big goal was to go to Japan. Ok..next goal would be to go there again.  And the chances are really good to go to Japan again next year.  A tour through the US would be nice too .. ;o)
Essential Information
From: Germany
Band members: Johan Fahlberg, Michael Mueller, Peter Oestros, Henning Wanner, Axel Kruse
Website: www.jadedheart.de
Latest Release: Common Destiny (May 2012, Fastball Music)
Comments
comments