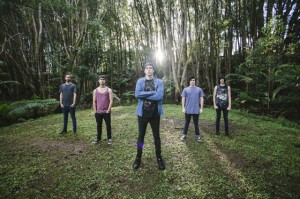 July 24, 2012 – Following from the July 13th announcement of UNFD signing Byron Bay outfit In Hearts Wake, the Melbourne based label has now released the music video for the band's first single 'TRAVELLER (The Fool)' on their YouTube channel. The track is also available on iTunes. The official music video was written and produced by vocalist, Jake Taylor and is one of the most outstanding low budget clips you're likely to see.
Already a favourite amongst their peers and underground fans, the band has done a remarkable job of following in the footsteps of Byron Bay's hardcore legends, Parkway Drive. They have spent the last few years releasing a slew of EPs and a split record with The Bride, whilst touring through regional and capital cities over the last few years. It is through their hard working ethic that the band became one of the most adored artists within the hardcore community.
Their debut album, "Divination" was recorded in Michigan, USA by Josh Schroeder at Random Awesome Studio during the first half of 2012. The album features guest vocalists (names which will be released soon) and will come with a Special DVD featuring the 'Divination Diaries' and the incredible film clip for their first single, 'TRAVELLER (The Fool)', which vocalist Jake Taylor wrote, directed and produced. "Divination" will be out on August 31 in Australia and New Zealand – right before the band's national tour supporting label-mates, Dream On Dreamer.
EXCLUSIVE "DIVINATION" PRE-ORDER BUNDLES AVAILABLE AT UNFD'S WEBSTORE:
http://store.weareunified.com/in-hearts-wake/
In Hearts Wake – Divination will be released on August 31, 2012 via UNFD