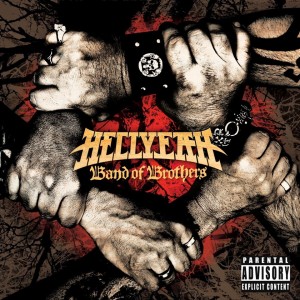 In summary: 'This album is like someone has finally turned on the blender and made a Pantera, Mudvayne, Damage Plan and Nothingface cocktail, and called it a Hellyeah. This album kicks ass.'
It's been two years since Hellyeah's last release, being 'Stampede' and now they're back, this time they've taken a turn, and by turn I mean the volume knobs have been turned up and they have made one hell of a metal record with 'Band of Brothers'.  From the first second of pressing play and 'War in Me' melting my face off, I knew I was in for a something heavy and I was well OK with that, in fact my old rock neck injury is sure to be in trouble listening to this album, but, I'm ready.  Of course when you have members of successful metal bands in the same band you'll hear shades of their past endeavours and that's completely evident here on the opening track and the album as a whole, oh and I refuse to make a '50 shades of (Chad) Gray' gag, too easy at the moment, but you get what I mean.  On 'Band of Brothers' you can hear elements of every band, in particular the driving drums of Pantera and melody, riffs and vocal traits of Mudvayne, it's like someone has finally turned on the blender and made a Pantera, Mudvayne, Damage Plan and Nothingface cocktail, and called it a Hellyeah, and hell yeah it works.  Sure they have made two albums previously, but this one actually sounds like the record they wanted to make. This is absolute rockin' metal.
I'm only three songs in, and title track 'Band of Brothers' is not only a great choice for the album name and first single, but musically and lyrically I dig it, I actually believe they believe what they're singing and it's what makes Hellyeah an actual band of brothers.  This is a great track and a favourite for me on the album. 'Rage / Burn' is an absolute killer, 'Drink Drank Drunk' is about as close as you'll get to material from Hellyeah's first two albums for that, I don't know, party element?  Regardless, it's heavy, although not my favourite on the album as there is too much of everything else to love. They break it down big time with 'Between You and Nowhere' in an acoustic driven track, hell, let's call it the ballad on the album, and it's damn good, I had no idea they could do this sort of thing ha ha. Back rockin' with 'Call It Like I See It' taking on a mix of clean vocals with Chad's growl is a great track melodically as does 'Why Does It Always' including some harmony guitars in there, always a winner.  Taking on the topic of the West Memphis Three, is 'WM Free'which is close to the most brutal on the album both musically and lyrically and a topic that has been written / sang about a lot over the years.  Kudos to Hellyeah for adding to the awareness of a story that a lot of people still may not be aware of.
Riff wise, I love the sound of 'Dig Myself A Hole' it's very reminiscent of their previous bands but with a new spin, and chorus wise I like this, it's catchy and a great way to round out the record along with 'What It Takes To Be Me' where they reassure us that "Their home's on the road' along with Vinnie Paul sounding like he's out on a run using his drum pedals as sneakers and is truly a good ending, that's unless you get bonus track and where my main intrigue lies with a song called 'High and Dry' yes THAT 'High and Dry', a Def Leppard cover on a metal album.  I can't say I've ever heard a Def Lep track given this treatment but it's done well, it almost sounds like it was written to be played this way and I commend Hellyeah for doing it, even if Chad really wasn't too keen on the idea (read about that here).
So, honestly, I can't even compare their last two records to this one, it's different, it's a fuckin' metal!  I need to hear this played live in its entirety right now.  If Hellyeah can keep making albums like this then expect them to be around for quite some time.
Can I get a Hellyeah!
Check out our interview with Chad Gray HERE…
Essential Information
From: USA
For fans of: Rock and Metal!
Release date: 13 July 2012 (Australia) 17 July (USA)
Record label: Sony Music Australia / Eleven Seven Music
Producer: Jeremy Parker
Website: http://hellyeahband.com
Track Listing
1. War In Me
2. Band Of Brothers
3. Rage/Burn
4. Drink Drank Drunk
5. Bigger God
6. Between You And Nowhere
7. Call It Like I See It
8. Why Does It Always
9. WM Free
10. Dig Myself A Hole
11. What It Takes To Be Me
12. High and Dry – Bonus Track