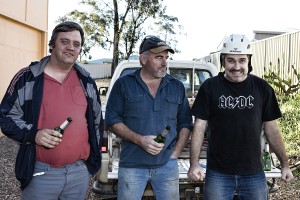 COSMIC PSYCHOS FANS URGED TO CONTRIBUTE TO UPCOMING DOCUMENTARY FEATURE
COSMIC PSYCHOS: BLOKES YOU CAN TRUST
For 30 years, the Cosmic Psychos have blazed a trail of empty beer cans and busted ear drums around the globe with their quintessential Australian drawl and pounding punk rock songs.
 Taking sonic inspiration from a bulldozer that founding member Ross Knight drove on his family farm, the Cosmic Psychos forged a unique sound that resonated with punk rock fans everywhere – leaving a permanent and significant mark on Australian and international music history.
 The Cosmic Pyschos Documentary Blokes You Can Trust follows the enigmatic and entertaining Ross Knight – farmer, father, weightlifter, front man and the bloke who rides the bulldozer.
 With production of Blokes You Can Trust already 70% complete, Syndicate Films have urged fans to dig through their archives for live footage, video interviews and photos from all eras of the band's career.
A fundraising drive has been established via online crowd-funding platform Pozible (www.pozible.com/cosmicpsychos) for anyone wishing to contribute to the film's production costs. Syndicate Films and the Cosmic Psychos have ensured there are some spectacular incentives to encourage hardcore fans to dig deep. One package even guarantees generous supporters a 3-course dinner for four mates cooked by the Psychos themselves!
Premiere screenings of Blokes You Can Trust are expected to be scheduled for early 2013.
 For more information or to contribute footage/photos etc. contact:
Matt Weston | matt@syndicatefilms.com.au | 0419 525 351 | www.syndicatefilms.com.au