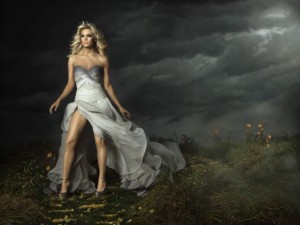 Tonight I'm once again at the Sydney Opera House, an iconic venue I've been lucky enough to attend a number of concerts now, and every time the artists are more than 'blown away' (pun intended) by being able to have the opportunity to do play here. None more than tonight's performer the gorgeous and extremely talented Carrie Underwood.
With artists the likes of Keith Urban and Taylor Swift taking this 'new' country pop / rock style genre to heights and selling out arenas all over Australia and the world, the country music of old is still there but it's a thing of the past and saved for the veterans of that industry.  This new modern updated country sound is more main stream than anything and if people could just realise that this 'C' word is not a dirty one and there is some amazing music around, and Carrie Underwood is definitely a part of this new breed.  Here is a complete package, she has the look, her voice is pristine, her eight piece touring band is so tight, and the songs are completely relatable.  I knew tonight was going to be great as while heading to my seat Bon Jovi's 'Livin' On A Prayer' is being blasted throughout the room, good start…
Taking the stage to the sold out Opera House, the band launches in to her newest single 'Good Girl' and it didn't really slow down from there.  Hearing this song which is in my opinion already rocked up, well, hearing it with three guitars in a live environment, let's just say this one rocked and hard.  Thank you for also bringing back a guitar solo, they are missed!  The set tonight comprised of a cross section of all of her four albums, obviously focusing on her newest release 'Blown Away' which the crowd were completely in to, once again showing this genre is picking up speed and that's a good thing. The biggest reactions came from the likes of 'Wasted' which kicked off her debut album and one of my personal favourites, 'Last Name' was amazing, I've never seen lighting take over the Opera House like that, it was a spectacle, and gave the song a real kick.  Along with the lighting there were smoke machines that gave us that eerie feeling through her big ballad 'Just A Dream'.  Her voice just shines through; it's a treat to listen to.
Her cover of Randy Travis' 'I Told You So' was prefaced with a story of how she would listen to her sisters' albums and that's what gave her the drive to become what she is now, thanks Randy.  She delivers this song like it was the last one she'd ever sing.  Sure that leans back to the traditional country side a little, but I dug it.  The crowd were on their feet for 'Cowboy Casanova' while we were then able to sit and take in a great acoustic section of the set.  Crowd participation was in full swing with a great clap along for 'Nobody Ever Told You' and a few more, but then wasting no time, it was time to 'Undo It' which brought the energy back up.  Then the customary story about Australia and our amazing music scene and tonight an interesting tribute in the form of a cover of the INXS classic 'Never Tear Us Apart' which was very well done, countrified a little substituting a slide guitar in place of the saxophone solo, it worked.  Of course the crowd loved it, how could you not.
"Everybody has that one song that they'll have to sing for the rest of their lives, and this is mine" as her first hit 'Jesus Take The Wheel' began, I always liked this song, but tonight in a live environment and when she absolutely belted out 'How Great Thou Art' mid song, now, I'm not a religious man, but Hallelujah… I actually got goose bumps.  That's a rare thing.  I hope she keeps singing this song forever.  It was getting close to the end of the night and you could see people waiting for a song, it came, and 'Before He Cheats' was special for a couple of reasons.  The crowd pretty much sang every word of the song back to Carrie and the smile on her face was something to see.  I don't think she ever expected this kind of reaction and she was herself 'Blown Away' see, it just works for so many occasions…
Encore.  Now, I'm a big softy at heart, and when she started the song that I'd been waiting for all night, 'I Know You Won't' I was a happy camper.  This is one of her massive ballads, on the albums it has power, but live with a band, wow, I could've left at that point, but no… one to go.  Of course we are left with the album's namesake and the pun I've been using throughout this review 'Blown Away' which was a perfect end to a perfect night of live music.  I haven't heard many sing better than Carrie Underwood and regardless of how she got her start or regardless of what you think of these reality shows (she won American Idol remember). This girl has talent and I'm so glad I got to witness that tonight. Wow. If you're scrunching up your nose about this, maybe open your mind a little and check out this modern country vibe, you may be surprised what you find.
Essential Information
Venue: The Sydney Opera House
Date: July 2 2012
Supports: None
Website: www.carrieunderwoodofficial.com
Set List:
Good girl
Flat On The Floor
Wasted
Two Black Cadillacs
So Small
Temporary Home
Last Name
Just A Dream
I Told You So
Leave Love Alone
Cowboy Casanova
Nobody Ever Told You
Quitter
Do You Think About Me
One way ticket
Undo It
Never Tear Us Apart
Jesus, Take The Wheel
Cupid's Got A Shotgun
Before He Cheats
I Know You Won't
Blown Away