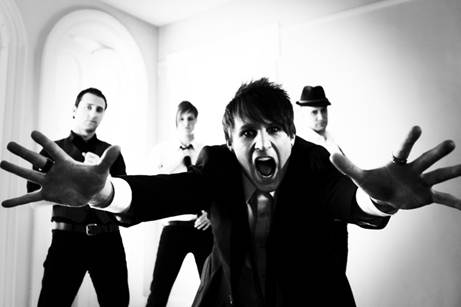 3 PILL MORNING CRACKS BILLBOARD "NEXT BIG SOUND" CHART
Label debut "Black Tie Love Affair" out now via A2Z/Page 2 Music/eOne
MINNEAPOLIS, MN – The Midwest's fastest growing hard rock act, 3 Pill Morning, has cracked Billboard's "Next Big Sound" chart for July, entering at #15 on their list of 'the 15 fastest accelerating artists across the Internet most likely to become the next big sound.' This comes as little surprise to a band who released its record label debut, Black Tie Love Affair, earlier this month via A2Z/Page 2 Music/eOne, wrapped up a summer tour with heavyweight act, Sevendust, released a music video for the infectious single, "Skin" (veiw below) and has another hit, "Rain," pumping on active rock stations around the country.
"From our perspective, Black Tie Love Affair is the album that will put 3 Pill Morning on the map to stay," said vocalist, Jeff Stebbins. "We've been a band for a long time and our expectations for this release are light years beyond what we've pushed for before. Our plans are simple, tour, tour, tour, and always be writing and pushing to beat anything we've done before."
Black Tie Love Affair can be ordered now, including CD, vinyl and CD/vinyl bundle packs, through the official 3 Pill Morning website: http://3pillmorning.com/, and digitally via iTunes: http://itunes.apple.com/us/album/black-tie-love-affair/id543651144.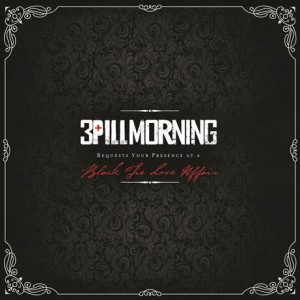 The Black Tie Love Affair tracklist is…
 1. Rain
2. Skin
3. Nothing's Real
4. Loser
5. I Want That For You
6. So Good To Leave
7. Take Control
8. Daddy's Little Girl
9. Revolution
10. Drive By Lies
 Black Tie Love Affair was recorded in winter 2012 with producer/engineer, Jon King (Augustana, Future Leaders of The World, Throwing Gravity, Darling Parade), at his Page 2 Studios in Nashville, Tenn.
 Darcy Fray at I Am Thinker supplied cover artwork for the release.
 The band's label debut will look to build on the success of 2011's independently released, Take Control, which broke into the national spotlight behind the hit single, "Loser," a mainstay on the Active Rock Top 100 chart for over five months.
 Check out the music video for "Skin" below:
 Stay tuned to the official 3 Pill Morning website: www.3pillmorning.com and Facebook page: www.facebook.com/3pillmorning for the latest information, and be sure to tune into the music video for the aforementioned, "Loser," on YouTube:http://youtu.be/fvEpLhQBBzw.
 3 Pill Morning is…
Jeff Stebbins – Vocals
Ryan Walch – Guitar / Keys
Charlie McCoy – Bass / Vocals
Trent Laugerman – Drums
 3 Pill Morning on tour… 8/18 – Glen Flora, WI @ Northwoods Rock Rally