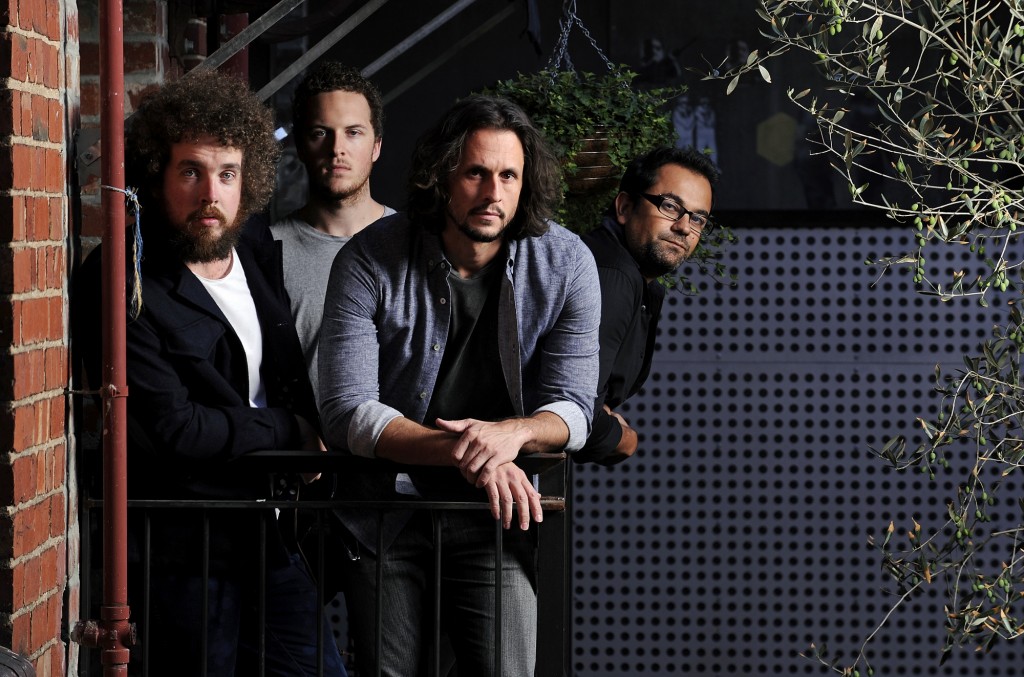 To coincide with the recent release of the brand new single 'LET YOU GO', ZOOPHYTE are proud to announce they will be joining Australian legends INXS on stage for selected shows and a slew of regional headline shows.
Following the success of the brand new single 'LET YOU GO', Melbourne band ZOOPHYTE will hit the road for a slew of dates through QLD, NSW and VIC with further dates in both SA and WA yet to be announced. LET YOU GO has seen solid support from media nationally with steady spins from regional radio and the Triple M Network.
"If this track is indicative of what Zoophyte's been up to on hiatus, then the upcoming album Somewhere Elsewhere will be a cracker. Tight with a killer hook and catchy chorus it should be all over radio" – MX Citybeat
"Pleasing chorus harmonies will have you humming along in no time and singer Cam Lee is a natural vocalist expressing vulnerability without sounding like a sissy" – Inpress Magazine
The video premiered exclusively on ToneDeaf on Friday April 13 and within One week edged close to 1000 views on the site. Within an hour of ToneDeaf posting the video it went viral not just nationally but internationally, being picked up by media outlets and reposted nationally.
 CHECK OUT THE VIDEO HERE: http://www.zoophyteband.com/2012/let-you-go-official-video-clip/
 With its soaring vocal hooks, catchy melody and uplifting guitar dynamics, 'LET YOU GO' is the first taster from the band's forthcoming album SOMEWHERE ELSEWHERE.
 Recorded at Melbourne's Woodstock Studios and mastered by legendary engineer Bob Ludwig (Nirvana, Radiohead, AC/DC) SOMEWHERE ELSEWHERE is the highly anticipated follow-up to ZOOPHYTE'S 2007 debutand is due for release late August 2012 . With line-up changes and sonic restructurings, fans can expect a very different band this time around.
 "The old format of the band was a five-piece and we were all into different styles and types of music," says frontman Cam Lee, "But now, everyone is on the same track and it feels like a new band. It's a much bigger, larger sound; we use a lot of delayed guitars and everyone sings – there's definitely a stronger, rockier edge to our sound."
'LET YOU GO' available digitally now
http://www.myspace.com/zoophyteband
http://www.facebook.com/zoophyteband
ZOOPHYTE TOUR DATES
Wednesday June 13 NOWRA NSW Shoalhaven Entertainment Centre (with INXS)
Saturday June 16 MUDGEE NSW The Entertainment Centre (with INXS)
Sunday June 17 NARRABRI NSW Crossing Theatre (with INXS)
Wednesday June 20 FORESTER NSW Club Forster (with INXS)
Friday June 22 COFFS HARBOR NSW Cex Coffs (with INXS)
Saturday June 23 LISMORE NSW Lismore Workers Club (with INXS)
Sunday June 24 JACOBS WELL QLD Harrigans Calypso Bay (with INXS)
Friday June 29 MELBOURNE VIC The Espy
Friday July 6 HEPBURN SPRINGS VIC The Palais
Saturday July 7 SAN REMO VIC Westernport Hotel
Friday July 13 CAMPBELLTOWN NSW Campbelltown RSL (with INXS)
Saturday July 14 WOLLONGONG NSW Waves (with INXS)
Sunday July 15 PENRITH NSW Evans Theatre (with INXS)
Wednesday July 18 LAUNCESTON TAS Launceston Uni Bar
Thursday July 19 MELBOURNE VIC The Prague Thornbury
Friday July 20 GEELONG VIC Bended Elbow