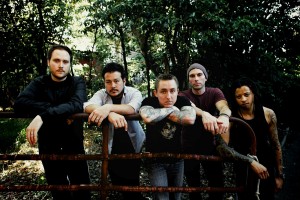 June 13, 2012 – "When Yellowcard decided to take a break in 2008, I had never felt so uncertain about my future," recalls vocalist/guitarist Ryan Key, about the story behind the title of their new album, Southern Air. "I decided the best thing for me to do was leave Los Angeles and relocate to the East Coast to be closer to my family. I landed in a small college town in Northeast Georgia called Athens. It was such a crucial and developmental chapter in my life for which I will be forever grateful." Southern Air will be released via Hopeless Records / UNFD on August 17, 2012 in Australia and New Zealand. Shortly after its release, the bandwill return to Australia to play three special Spring-time shows in September, hitting Brisbane, Melbourne and Sydney.
"I learned so much about the future I thought I was so uncertain about," he explains in reference to the previous album, When You're Through Thinking, Say Yes. "I saw more clearly the things that really mattered, and really moved me. With a renewed energy and passion for music we reentered the studio to begin working on my fifth full-length record with Yellowcard. The band was firing on all cylinders and the music was reflecting that energy in every way. WYTTSY was, in a way, our return to ourselves.
"After touring 30 plus countries in nine months in support of When You're Through Thinking, Say Yes, we decided to take the momentum we had and start writing songs again at the start of 2012," he continues. "Personally I think getting back on the road and in a way realizing my dreams a second time, coupled with looking back two years later on my time back East, was all the fuel I needed to write what has become known as, Southern Air. "
Once again featuring the crisp production of longtime producer Neal Avron, Southern Air is the sound of band who has not only returned to form but is expanding and growing in confidence with the help and support of the people who welcomed them with open arms – the fans.  The propulsive and immediate opening track "Awakening" reveals a fiercely confident and assured band, one that now stands on firm ground after the resounding success of their previous album.  "This record has such an overwhelming sense of self awareness and positive energy that I credit completely to my ability to reconnect with my Southern roots," Ryan explains.  "The title, along with much of the lyrical content, takes me to Georgia State Highway 316, or A1A through Neptune Beach, FL, where I am driving with the windows down belting the words along to my favorite songs. I feel like a lot of the album is saying thank you to my family, friends, and fans, for supporting us all of these years."
From the rhythmic attack of "Surface of the Sun" to the rousing anthem "Here I Am Alive" to the ballad "Telescope" (which serves as a memorial to Ryan's Aunt Stephanie who passed away last year) to the epic album closing title track, Southern Air is the sound of a band who has found the voice and energy that fueled their fire from the beginning. "There is a sense of passion for these songs that we all share like never before," Ryan concludes. "Each of us poured our hearts into this one entirely. The result is ten songs that we hope continue to inspire people around the globe as we all continue on this amazing journey together. Everyone needs to breathe some Southern Air from time to time."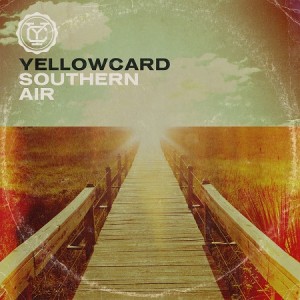 SOUTHERN AIR – Track Listing
:
1. Awakening
2. Surface Of The Sun
3. Always Summer
4. Here I Am Alive
5. Sleep In The Snow
6. A Vicious Kind
7. Telescope
8. Rivertown Blues
9. Ten
10. Southern Air
Track 4: Additional Vocals by Tay Jardine (of We Are The In Crowd)
Track 7: Additional Vocals by Alex Gaskarth (of All Time Low), Tay Jardine (of We Are The In Crowd) and Cassadee Pope
(of Hey Monday)
Don't miss the opportunity to rock out with
Yellowcard
and their special guests Heroes for Hire when they return to Australia this September.
Frontier Touring presents
YELLOWCARD
With Special Guest HEROES FOR HIRE
SEPTEMBER 2012

TICKETS ON SALE
TUE 18 SEP – THE TIVOLI, BRISBANE (18+)
w/ HEROES FOR HIRE and NINE SONS OF DAN
Ticketek.com.au
| Ph: 132 849

THUR 20 SEP – THE HIFI, MELBOURNE (18+) – NEW SHOW!
w/ HEROES FOR HIRE and FOR OUR HERO
Moshtix.com.au
| Ph: 1300 438 849
FRI 21 SEP – THE HIFI, MELBOURNE (18+) – SOLD OUT!
w/ HEROES FOR HIRE and FOR OUR HERO
Moshtix.com.au | Ph: 1300 438 849
SAT 22 SEP – UNSW ROUNDHOUSE, SYDNEY (AA)
w/ HEROES FOR HIRE and THE NEVER EVER
Ticketek.com.au | Ph: 132 849
Yellowcard
's new song "Always Summer" is available on
iTunes
Southern Air
was produced by
Neal Avron
and features guest vocals from
Alex Gaskarth (All Time Low), Cassadee Pope (Hey Monday), and Tay Jardine (We Are The In Crowd).
It will be released via
Hopeless Records / UNFD
on
August 17, 2012
in Australia and New Zealand.