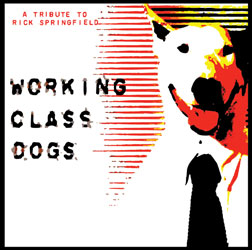 In 25 words or less: Rick Springfield rules!
Tribute albums – now aren't they always an interesting proposition, there sure have been some shockers released over the years, others just unnecessarily bastardise some true classic songs, then there's the flip side….who are these albums for the listening pleasure of?  In the case of the cynical out there reading this, you might be chortling to yourself along the lines of "a 20 song tribute album for Rick Springfield, what 20 different versions of Jessie's Girl"?  Well the fact of the matter is that over his time, Rick Springfield has had SEVENTEEN Top 40 hits throughout his career, yes that's right, SEVENTEEN!  This release has been in the works for a while now with different labels involved and different time periods in which the tracks have been recorded, but it has now ultimately been released by MelodicRock Records in association with Angelmilk Records and Fastlane Records.  Featuring some of melodic rock and AOR's biggest names, as well as some killer new/unheard talent, this is certainly a tribute album most definitely well worth checking out.
Firstly, how AWESOME are Waltham?  Every day I keep my fingers crossed that we will one day see a new Waltham album, but for now we've got them blasting off this tribute with Light Of Love, a killer version.  American Anthem get Jessie's Girl out of the way nice and early and it's certainly a much rawer version than the original, but all the familiar elements are in tact…thankfully that means one of the best air guitar solo's out there is there in all it's glory!  Handsome Devil, a band that I wasn't previously familiar deliver Love Somebody in a similar raw, bang, crash manner to the previous track, gotta say this is one of my favourite versions on the tribute.  Gary Schutt of Jeff Scott Soto band fame makes it 4 kick ass songs in a row with Carry Me Away.  I Get Excited is one of my own personal favourite Rick Springfield songs and Falling Grace definitely don't disappoint with their version complete with some super vocal harmonies.
Rick's own live backing band appear on the Tom Cinefro sung version of Kristina, whilst elsewhere we have long-time collaborator Jeff Silverman appearing alongside the man with the golden pipes, James Christian (House Of Lords) on the original Springfield/Silverman tune Right Planet Wrong World, "glorious" is word that came to mind for this one!  The Springfield version of Souls is awesome enough, but Eric Martin (Mr. Big), has certainly put his unmistakable stamp on the song, along with a little guitar wizardry from Vinny Burns.  I've been aware of American pop rockers 7th Heaven for a little while now, but hearing them again delivering Affair Of The Heart serves as another reminder for me that I need to seriously check these guys out. Things start to change up a little bit towards the end of the disc, with Brand New Machine bringing a sleazy version of Calling All Girls, Paul Sidoti guitarist from the Taylor Swift band tackles What Kind Of Fool Am I, with a Tom Petty'esque country twang.  With a few more obscure tracks included towards the end and some versions that don't quite match the quality of delivery of earlier songs, the momentum has dropped off by the time you get to the last 3 or 4 songs, but the first 11 songs set a truly cracking pace!
With virtually all these songs staying true to the Springfield versions, albeit with more ROCK, this tribute is just testimony to what a whole bunch of us already knew, Rick Springfield really is one of the finest exponents of pop rock of our time.  If this release brings some much deserved exposure to the amazing catalogue of songs Springfield has released throughout his career, then it has served it's purpose.  There's also some awesome artists on this release in their own right, so make sure you go check them out and support their original releases!
Essential Information
For fans of: Rick Springfield and pop rock!
Release date: 15th June 2012
Record label: Melodic Rock Records
Purchase your copy right here: www.melodicrockrecords.com
Website: www.rickspringfield.com
Track Listing (Artist/Title and audio sample):
01) Waltham – Light Of Love
02) American Anthem – Jessies Girl
03) Handsome Devil – Love Somebody
04) Gary Schutt – Carry Me Away
05) CJ Szuter – I Get Excited
06) The Meddling Kids – I've Done Everything For You
07) Tom Cinefro & The Rick Springfield Band – Kristina
08) Eric Martin & Vic Rivera – Souls
09) Hardway w/Thom Griffin – Stranger In My House
10) James Christian & Jeff Silverman – Right Planet Wrong World
11) 7th Heaven – Affair Of The Heart
12) Steve Newman & Vinny Burns – Human Touch
13) Brand New Machine – Calling All Girls
14) Keith LuBrant – Rock Of Life
15) Paul Sidoti – What Kind Of Fool Am I
16) Mitch Malloy & Vinny Burns – Tear It All Down
17) Barely Pink – Don't Talk To Strangers
18) Fig – Wasted
19) Clay Howard – Beautiful You
20) Endway – Living In Oz