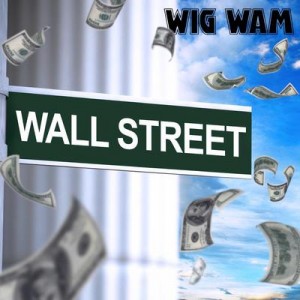 It's been interesting following the fortunes of Norway's Wig Wam who initially blasted onto the scene back in 2005 with their entry into the Eurovision song contest with In My Dreams.  Similarly over in Sweden, there was The Poodles who followed a similar trajectory.  Both bands have struggled to shake their Eurovision moniker and quite frankly, also to be taken seriously given significantly in their earlier years, an over the top image.  Whereas The Poodles delivered what I consider to be their finest album yet last year with Performocracy, Wig Wam on new album Wall Street in an apparent attempt at being taken serious both lyrically and musically, have fallen flat.
Expectations were definitely pretty high after hearing first single and opening track Wall Street, which cannot be denied, it sounds like classic Wig Wam who are capable of delivering some mega Scandi rock.  Even once you get past the 30 second bass intro of OMG! (Wish I Had A Gun), there's a pretty nifty little rock song waiting for you.  But from then on, I didn't really find anything that matched the Wig Wam I love.  We have the somewhat uninspiring ballad Victory Is Sweet, and a few patchy musically diverse tracks – there's the Def Leppard styled rocker The Bigger, The Better, a largely piano based ballad in Tides Will Turn and the guys deliver some electro rock on One Million Enemies and funk rock swagger with Try My Body On.  The album isn't necessarily terrible, it's just after repeated listens, nothing truly leaps out as being classic Wig Wam.  Wrong Can Feel So Right and Natural High, on the other hand, which are both acoustic driven rockers, deliver some hooks and choruses I can grab onto, stand outs along with the opening two tracks.  Interestingly, the album finishes up with a guitar instrumental track, sounds cool, but an interesting way to end the album it is.
I've given this album a bunch of spins over the last month or so and it's grown on me more than the first couple of listens but I think when I need a hit of Wig Wam, I'll be heading back to Hard To Be A Rock N' Roller and Wig Wamania for my fix, two absolute classic albums of uber fun Scandi rock.
Essential Information
For fans of: Latter day Wig Wam
Release date: 18 May 2012
Record label: Frontiers Records/Riot! Entertainment
Website: www.wigwam.no
Track listing:
Wall Street
OMG! (Wish I Had A Gun)
Victory Is Sweet
The Bigger The Better
Bleeding Daylight
Tides Will Turn
Wrong Can Feel So Right
One Million Enemies
Try My Body On
Natural High
Things Money Can't Buy