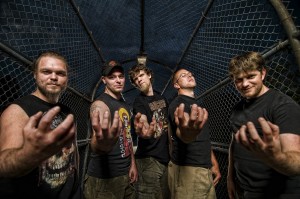 From Bio: A band of friends and brothers, the five members behind Tribune have been together since 2004, making it their mission to create challenging yet accessible metal. With an EP and demo behind them, the music has become both heavier and more melodic from release to release and now, Tribune is set to unleash its latest album, Elder Lore/The Dark Arts, showcasing the raw sound that captures the band in its natural live element.
Mixing thrash / progressive rock metal with melodic vocals, the album will feature new material along with classic fan favorites. "We want people to be impacted by the vision, effort and creativity put in to make a new and unique style that is genre defying," said the members collectively when asked what they hope listeners will take away from Elder Lore/The Dark Arts.
Genre defying. Accessible. Iconoclastic. This can only be Tribune.
We asked some questions of Tribune front man Bryan Baker and he obliged with some answers.  Check them out…
Let's start with the basics first – for those that aren't aware of the band, what brought the band together and what is the inspiration behind the band name?
The guys in the band were friends first and became band mates later.  I've known Terry and Shawn for over 20 years, and through Terry, Shawn and I were introduced to Jason and Ryan.  We decided to start playing music together because we all really wanted to be in a metal band.  The band name was my drummer Jason's idea.  The Tribune was the defender of the plebeian people in ancient Rome, and something about a figure that protects the interests of the people appealed to us.
Can you introduce each member of your band and give us a rock 'n' roll fact or myth about each of them?
Terry Anderson plays guitar, and he often frightens people due to his imposing height, but he is actually quite mild-mannered.  Shawn Culley also plays guitar, and seems quite unassuming, but don't fuck with him, because he has his black belt in Taekwondo.  Jason Brown plays the drums, and we had trouble getting him past the border on our last tour because he has the same name as someone with a restraining order against him.  Ryan O'Shea plays bass, and is really good at spinning fire, and has even spat fire at our shows before.  My name is Bryan Baker and I do the vocals, and unlike most metal dudes, I don't drink alcohol.
You have twenty seconds in an elevator to try and convince someone to listen to your new album 'Elder Lore / The Dark Arts', what do you tell them without resorting to threats or violence?
I tell them that it's heavy metal, but that a lot of people have told me that even though they don't normally like metal, they really dig our stuff.
With the album out now for a little while, what has the reaction been to it so far?
The reaction to it has been mostly positive, with the few negative comments usually complaining about how it's too "all over the place."  Clearly those people would prefer it if we simply sounded like another band they already like.  We, however, are pretty pleased with how the album's turned out.
In terms of your song writing, what do you consider to be the most important ingredients that make up a Tribune song?
Variety is important.  We don't like our songs to sound too much like one another.  Diversity is also important.  We listen to a lot of different music, and we sort like to blend all of our influences together when we write.  Flow is super important.  Each song has to "feel" right.  If after playing it a few times it seems like a part is sticking out too much or doesn't belong, that part gets removed or re-worked.
Both lyrically and musically, what or who inspires/influences your music the most?
Lyrically, I'm often inspired by stuff I've read.  I read a lot, so I've always got plenty to work with that way.  I also write lyrics with political or personal themes.  I like to switch it up.  Musically…while I can't say what specific ideas influence the other guys when they're writing their parts, I can say that we all dig bands like Clutch, Opeth, Down, Corrosion Of Conformity, Iron Maiden, Metallica, The Black Dahlia Murder, Death, Slayer…I could go on and on.
The video for Succubus is such a cool idea; I can honestly say I've never seen a video shot in a playground before. It's so heavy, yet so playful.  What was the idea behind doing it this way?
I think this was Shawn's idea, but as soon as he came up with it, we were all stoked to do it.  Basically, we love heavy metal, but are super tired of seeing the same old clichéd metal videos.  You know, the "metal band in a warehouse."  "Metal band in an industrial park."  We just wanted to do a metal video that hadn't been done before.  We dig videos with a bit of a sense of humour, too.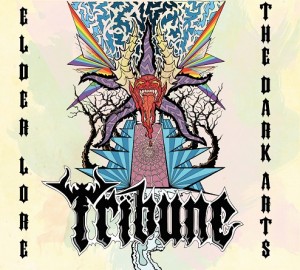 The album features some amazing art, can you tell us a bit about the concept and how it all came together?
The art on the album was all done by Ryan.  He based a number of his pieces of my lyrics, and also had some pieces that were unrelated to my lyrics and that just looked cool.  I think having one person do all the artwork on the album (which had not been the case with our two previous albums) really gave the album a unified look.
Touring wise, what have you got in the pipeline in support of this new album?
We just finished a six week tour of North America, which was awesome.  Now we're going to settle down, do some local shows, and work on material for the next album, some of which is already complete.  We're also planning a shorter West Coast tour of North America in the early part of next year.
Now for those that haven't yet seen you perform before, what five words would someone use after walking out from one of your shows to sum it up?
Different.  Heavy.  Melodic.  Accessible.  Tight.
Now, for a bit of fun, recently at Coachella, we saw Tupac appear as a hologram, if you could have any artist perform on stage with you as a hologram, who would it be and why?
Louis Armstrong, because he made the U.S. Army give him marijuana.  That's badass.
Lastly, with half of 2012 over, here's a chance to gaze into your crystal ball.  By the end of the year, Tribune will have: 
Most of the next album written!
Check out our review of Elder Lore/The Dark Arts here
Essential Information
From: Vancouver, B.C. Canada
Sounds like: A Heavy Metal Melting Pot of Melodic Prog Death Thrash
Band members: Bryan Baker – Vocals, Terry Andersson – Guitar, Jason Brown – Drums, Shawn Culley – Guitar, Ryan O'Shea – Bass
Website: http://www.tribunemetal.com/

Comments
comments