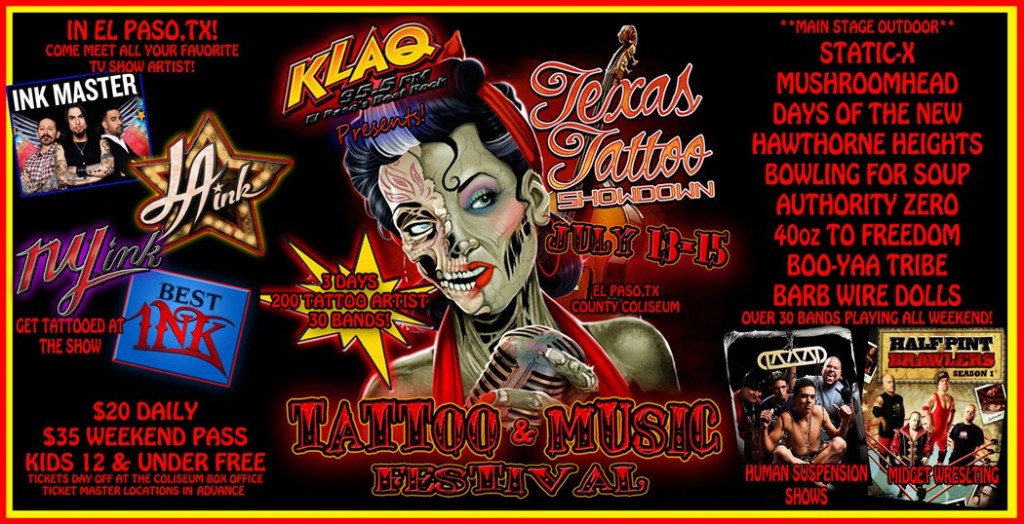 Well rockers, this time next month, at least one half of May The Rock Be With You will be representing over in the USA.  Of course a holiday wouldn't be a holiday without some form of musical entertainment and one such adventure will lead to El Paso, Texas for the Texas Showdown Festival – USA's largest Tattoo and Music festival!
Musically speaking, whilst our excitement is with the appearance of BOWLING FOR SOUP, other bands appearing over the 3 days include Static-X, Hawthorne Heights, Days Of The New, Boo Yaa Tribe, 40oz To Freedom, Authority Zero, Mushroom Head and Barb Wire Dolls.
Over 3 days, 200 tattoo artists will be appearing all under one roof.  Celebrating it's 3rd year, the Texas Showdown is hosted by the world famous House Of Pain Tattoo Studio in El Paso, Texas, capturing the true essence of the body art lifestyle in all forms.
You can get tattooed on the spot by over 200 of the worlds top tattoo artists such as Amy Nicoletto from the hit TV show L.A INK, or the artist from the hit TV show Ink Masters.  These artists will be tattooing all 3 days, starting Friday when the doors open at 12noon and will continue all the way through to Sunday.  So what a chance to get some amazing work from the country's best tattoo artists.
While you're getting tattooed check out the amazing entertainment all weekend like face melting performances from the best local and national bands, midget wrestling, jaw dropping suspension shows, insane pole dancing competition and the countries hottest industry vendors!
Tickets are on sale at all Ticketmaster locations or available on the day(s) at the El Paso Coliseum Door.
$20 DAILY, OR $35 WEEKEND PASS KIDS 12 & UNDER FREE.
For more info, check out the following:
http://texastattooshowdownfestival.com/
http://www.facebook.com/HOUSEOFPAINTATTOO