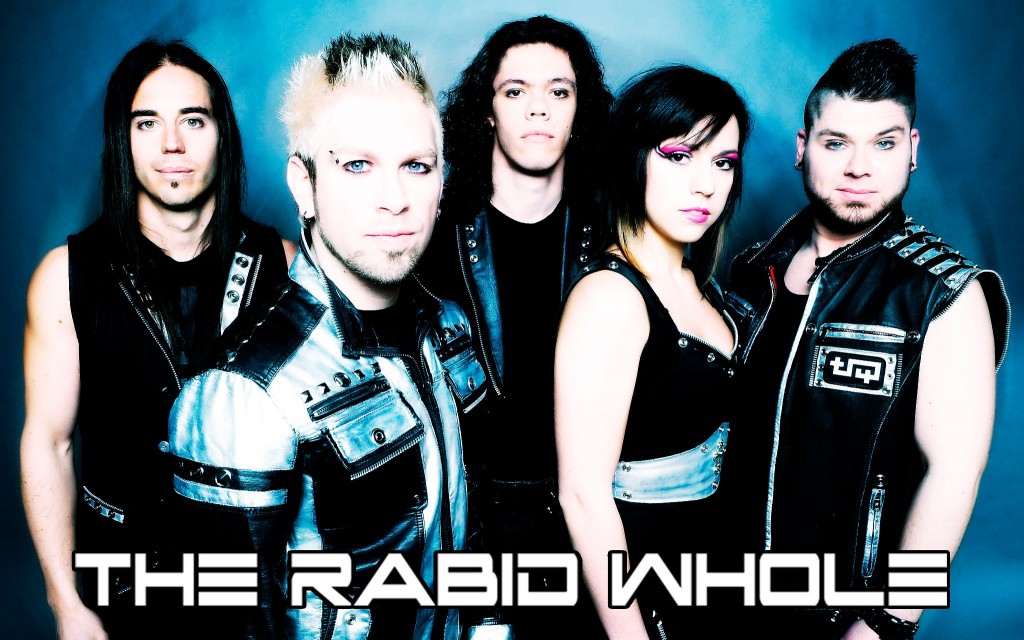 Official band bio: "There's something to be said for fate in the music world. One moment you're left with the skeleton of a band, unsure when you'll be able to follow your calling again, the next you've got a whole new line-up, a brand new home, a stronger, more defined sound and are recording with some of the biggest names in the industry.  This is the tale of The Rabid Whole.
Disenchanted with playing in bands whose music was unchallenging and run of the mill, vocalist/multi-instrumentalist Andreas Weiss set out to remedy his predicament.  Purchasing an arsenal of music and noise-making gadgets, he began writing songs for his own band's 2009 debut album, Autramaton.
Recruiting musicians along the way, the first incarnation of The Rabid Whole was solidified, releasing their first album and touring Canada, sharing the stage with the likes of The Birthday Massacre, Econoline Crush, Hinder, Apoptygma Berzerk, and 16Volt.
But that's when things began to take a turn.  Following the departure of several band members, Weiss decided to leave his hometown of Regina, SK behind, taking a leap of faith and moving to Toronto, ON along with guitarist and founding member George Radutu.  Through some lucky online ads, he discovered drummer JJ Tartaglia and bass guitarist Oscar Anesetti while a Christmas trip back home to Regina put him face-to-face with Chalsey Noelle, a friend of a friend looking for a new career path after quitting her job. Wouldn't you know it – Noelle was a talented keyboardist and vocalist.
Now, the new and improved Rabid Whole is set to release their second album, Refuge, on May 1, 2012. A direct reflection of the emotional and external changes of Weiss' journey, the album deals with relatable themes.  Recorded and produced by Karl Schubach (Misery Signals, Solace), mixed by Dave Ogilvie (Jakalope, Nine Inch Nails, Marilyn Manson) and mastered by Noah Mintz (Broken Social Scene, Death From Above 1979), the finished product delivers rock and electronic elements pushed to the max, a male and female vocal showdown and, as Weiss puts it, showcases "a 21st century, high-energy, electro alternative, orgasmic-punch-in-the-face-rock band."
Isn't it time you fell down the rabid whole?"
As this will be the first time a lot of our Australian based readers have been introduced to The Rabid Whole, let's start with the basics first, when did the first band get together and what was the inspiration behind the band name The Rabid Whole?
ANDREAS: The first incarnation of The Rabid Whole came together as far back as 2007 in a small city called Regina….I had been writing some music and wanted to put together a band to perform it live.  George was the first member on board and only one other than me who's stuck it out 'til now.  We played our first show at the end of 2007 and put out our debut album Autraumaton in 2009 through a Vancouver based label Synthetic Sounds.  We did some touring through Canada and got to play with some amazing artists we really love.  Eventually, we decided we had to quit our day jobs at the time (I was an engineer for a consulting company) and move the band to Toronto if we wanted to really push things.  We lost two members in the process but gained three amazing ones soon after! (Oscar, JJ and Chalsey)  Our live show is more intense and tighter than it's ever been and we've got a kick ass new album that just came out, titled Refuge.
As for the name, I love wordplay…bands like Skinny Puppy are masters of this.  I really wanted people to get the impression that there is more than meets the eye. I never felt we'd be a typical rock band… and we aren't.  I want people to feel they can escape, that they're entering another world, going down 'the rabbit hole' with our music.  At the same time, I feel The Rabid Whole, 'the fanatical entirety'…reflects the passion in the music and all that we do.
Can you introduce each member of the band and give us a rock 'n' roll fact or myth about each?
ANDREAS: I'm the singer/songwriter and I sold my soul for The Rabid Whole.
GEORGE: I'm the guitarist. I'm a video game geek, whose favourite band ever is KMFDM!
CHALSEY: I play the keys and sing every once in awhile.  I have more hair on my arms than George.
OSCAR: My name is Oscar, I slap da Bass, I can write backwards and I'm very good at Minesweeper.
JJ: I'm the drummer.  Rumour has it I play with my cymbals raised higher than anyone else.
You have twenty seconds in an elevator to try and convince someone to listen to your new album 'Refuge, without resorting to threats or violence, what do you tell them?
GEORGE: If you want to listen to music made for this century, then play this fucking record.
CHALSEY: For me?? *bats eyelids* (This will only work on a male or a lesbian).
OSCAR: Hey, can I give you an eargasm?
This is now your 2nd album release, how different was the writing and recording process for the new album, compared to your past release 'Autraumaton'?
ANDREAS: I was definitely more time-rushed than on Autraumaton but at the same time more focused and prepared.  I worked at our personal studio 'TRWHQ' here in Toronto for about 2 months non-stop from the moment I woke up until the moment I fell asleep…the times I actually got to sleep!  I may have left the place 3 times in that entire period.  Once the writing process was 75% done I flew over Karl Schubach (Misery Signals, Solace) for about 3 weeks to re-record the songs and act as producer again as he did on our first album.  Days later I flew over to Vancouver to meet up with the legendary Dave 'Rave' Ogilvie to handle the mixing, and then back to Toronto for Noah Mintz to master the album.  I could not be happier with the way everything worked out, and I have no doubt I had the best team for the job.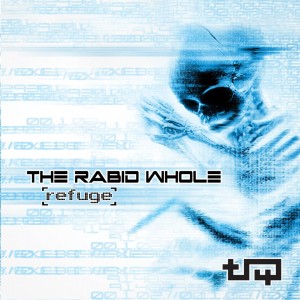 In terms of song writing, what do you consider to be the most important elements that feature in a The Rabid Whole song?
ANDREAS: For me, everything has to be honest, from the heart, genuine.  The moment an idea or song fragment deviates from this, it is scrapped immediately. I find this to be very important because if we don't believe in it, nobody will, you can tell when something doesn't come from the heart.  Of course, I will always love the combination of electronics and guitars.  I write music I would listen to and love.  I try to come up with catchy melodies or hooks, keep it interesting.  I get bored easily and don't have much of an attention span like most people nowadays I guess…
Over the course of the bands evolution, what and/or who have you found inspires and influences your music the most, in both a lyrical and musical sense?
ANDREAS: In a lyrical sense I am definitely inspired by personal experiences, emotions.  I start to get self conscious when the people closest to me hear the lyrics of some of the songs because I'm sure they knew what I was going through at that exact time or who/what I'm referring to in some of the tracks.
In a musical sense a lot comes from me just messing around with the equipment until I hear something I like and then 'go with'.  Nine Inch Nails, Bjork, Smashing Pumpkins and countless other 90's artists I listen to have always been an inspiration both musically and lyrically.  These artists with honest lyrics, genuine emotion and passion that just seeps out of the music.
What were some of the key influences that you feel contributed to what we hear on the new album 'Refuge'?
ANDREAS: The couple of years leading up to this album I was going through a lot of personal changes in my life and Refuge is basically a direct reflection of all this. Refuge is about change and all the emotions and experiences that an individual will pass through in the process and ultimately the search for personal peace of mind at the end of it all.  Another key influence was also the feel of the live touring band, I really wanted to try and capture that on this album.  I wanted people to connect with and feel the energy in the music.
We've picked out 3 songs from the new album – can you give us a bit of background to each song and any important facts you think we should know:
ANDREAS:
1. Serenity Falls: This track features the female vocal side of our band.  Originally I had recorded my own vocals but they didn't seem right, this was also back when Sheenah was still our keyboardist before Chalsey joined TRW.  It was great to have the balance. Lyrically the song is about missing or longing for someone/a time/ a place…
2. Rhythmic Reflection: This is the instrumental track of the album which I felt provides somewhat of a breath of relief or intermission from the listener's 'voyage'.  I had actually recorded this track originally in 2008 and I didn't really know if I would ever use it for anything…I'm glad I kept it!
3. Stargazer: This song actually came together surprisingly quicker than most for me.  I'm pretty sure it took me about 4 hours to put this one together, I was on a roll.  Lyrically it's about thinking that you didn't need someone/something anymore only to realize that you were still and much more dependent on it/them than you thought.  This track was originally meant to be the album's opening track but we changed our mind later on.  Live though, this track is a MONSTER, it's a great opener to the show.
You hail from the Toronto, Canada.  For the benefit of those in galaxies far, far, away, what do you have to say about the rock scene in Toronto at the moment and The Rabid Whole's place within it?
GEORGE: Interesting to say the least. We've met a cast of characters I tells ya… Cool people.
OSCAR: The scene in Toronto is great because there's something for everybody, you can find any type of music to suit any type of person. It is a great challenge to fit in musically in this city only because the people here take only perfection.  To win a Toronto crowd is one of the hardest things to do in my opinion, but it is also the most rewarding.
If you were a person in the crowd at one of your gigs, what five words would you walk away using to describe the performance you just witnessed?
GEORGE: 21st Century Rock as fuck!
CHALSEY: How high were those cymbals?!?
OSCAR: Unique, Rabid, Eargasmic, Eyegasmic and Fun.
Gigs, gigs, gigs…do you have any shows coming up that you wanted to tell the people about, if so here's your chance!
ANDREAS: We're playing the NXNE 2012 festival next week in Toronto at The Bovine Sex Club on Wed, Jun 13th and we are stoked!!  We also have big plans in the works for a 2 month full North American tour with a certain European band… stay tuned for updates!!!
With 2012 already four months down, here's a chance to gaze into your crystal ball. By the end of 2012, The Rabid Whole will have:
GEORGE:
1. Released a kick ass record.
2. Toured.
3. Vomited.
CHALSEY:
1. Toured North America
2. Made plans for a European tour.
3. Survived the end of the world.
Essential Information
From: Toronto, Canada
Sounds like: "21st Century Alternative Rock"
Band members: Andreas Weiss – Writing/Vox/Guitar/Keys/Programming, Chalsey Noelle – Keys/Backup Vox, George Radutu – Guitar/Media, Oscar Anesetti – Bass Guitar, JJ Tartaglia – Drums
Website: www.therabidwhole.com
Latest release: Refuge (1st May 2012, Boonsdale Records)
Comments
comments