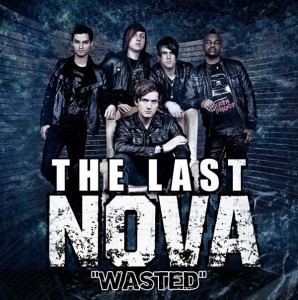 Official Bio: The Last Nova is an American active rock band from San Francisco, California consisting of lead vocalist Gabriel Davy, drummer Rob Bujak, bassist Surge Monroe and guitarists Aaron Goforth and Nick Young.  TLN has been gaining recognition within the industry over the last year, having been featured on the Iron Man 2 video game which has sold more than 3 million units world wide as well as extensive touring all over the U.S with national bands such as Crossfade, Halestorm, Bobaflex, Ashes Divide, Tantric, Flaw, Burn Halo, Emphatic among many others.
The band have finished recording their debut BNP/Polyplat/Universal release with record producer Brett Hestla (Dark, New Day, Framing Hanley, Tantric, Star City Meltdown, Soulicit).  Wasted is the bands first single for U.S release impacting radio May 1st and debuted on Billboard's top 100 hot single sales at #6.  The band is currently out on tour throughout the USA, check their website/Facebook for all the details!
As this will be the first time a lot of our readers may have been introduced to The Last Nova, let's start with the basics first, how and when did the first band get together and how would you describe what The Last Nova is all about musically?
Our current lineup has been together a little over a year, we came together out of other Bay Area California bands.  We have all played the scene together in separate projects over the years and decided to create something new together. Musically we wanted to create something that we were fans of, good heavy groove with melody and mood you can sing with and relate to.
The Last Nova – what was the inspiration behind the band name?
Originally we tossed around the name "Nova", after the birth of a new star, then we had a lineup change and decided that we should be 'the last'.
Can you introduce each member of the band and give us a rock 'n' roll fact or myth about each?
Well theres Aaron on lead guitar, he is rumored to be the inspiration behind Levi's campaign 'goforth'. Then there is Nick on rhythm guitar, he enjoys flying jumbo jets in his spare time and if you are ever in need of a good pilot you needn't look farther. Next we have Rob on drums, myth has it he may or may not be related to a famous 80's hair metal singer.  Surge on bass sends postcards to himself from every location we visit on tour so that when he gets back home he can remember where he's been.  I wear one pair of Gstar jeans for every show we play while on tour in hopes that one day they will give me free pants.  They still have not returned my phone calls.
You have recently released your new single 'Wasted' which sounds like it has been getting a great response so far.  Tell us a little bit about the inspiration behind that song?
That song is about the experience of falling into a pattern with someone who isn't good for you to be around and thinking you can change the situation if you only had another chance.
The single comes from your recent EP release.  Is 'Wasted' a pretty fair representation of what people can expect from the rest of the EP?
Yes and No. Of course it will all have The Last Nova Sound, but what inspires songs varies from political to personal.  Fear, love, disappointment, happiness. Theres a broad spectrum of content in the material.
In terms of song writing, what do you consider to be the most important elements that feature in a The Last Nova song?
Probably groove and melody.
Over the course of the bands evolution, what and/or who have you found inspires and influences your music the most, in both a lyrical and musical sense?
It really is always changing, it depends on the moment, what I need to get out or what emotion the music itself reminds me of.
You hail from the San Francisco in California.  For the benefit of those in galaxies far, far, away…what do you have to say about the rock scene in San Francisco at the moment and The Last Nova's place within it?
The scene is there, maybe not the 'thrash' hey day scene that the bay area is famous for, but there's always a place anywhere at anytime for good music, and even if there is no scene, if your music is inspiring enough, you can create it.
If you were a person in the crowd at one of your gigs, what five words would you walk away using to describe the performance you just witnessed?
Awake, shocked, hungry, hot, alive
You guys are currently out on tour right now, how has that been going so far and how have the crowds responded to The Last Nova?
We always love being out and playing live, it is what we do best. People have been amazing, inspiring.  We can't wait to get over to Australia and bring the noise.
What do you typically see when you are up on stage looking out into the crowd each night?
Eyes and smiles, drinks and hands in the air. Maybe a boob or 3 if Surge has his way.
Here you are sitting down finishing off these questions for an Australian based rock webzine, how aware are you of international interest in the band so far?
We hear the distant drums beating, beckoning us to cross the pond.
With 2012 already five months down, here's a chance to gaze into your crystal ball.  By the end of 2012, The Last Nova, will have:
1. Food in our fridge
2. Clothes on our backs
3. A tour bus without any ants
Essential Information
From: San Francisco, USA
Sounds like: Active Rock
Band members: Gabriel Davy – Vocals, Aaron Goforth – Guitars and vocals, Nick Young – Guitars, Rob Bujak – Drums, Surge Monroe – Bass
Website: www.thelastnova.com
Latest release: Wasted (Single – 1st May 2012)
Comments
comments