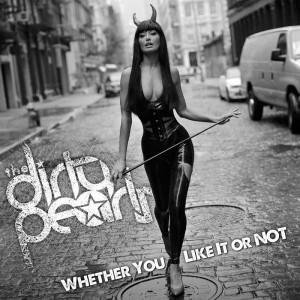 Official Bio: "Straight from Rivington Street in the lower east side of New York City, The Dirty Pearls tell their stories about sex, drugs and rock n' roll.  They deliver rock anthems that will make you roll down your car window, turn the stereo all the way up and just drive!
The Dirty Pearls have supported such acts as KISS, Scot Weiland, Motley Crue, Bret Michaels, Jet, New York Dolls, Semi Precious Weapons and Andrew WK (to name a few) and perform regularly up and down the east/west coast. Their high-energy live shows make your heart pound, feet stop and if you don't leave singing a 'Pearls song, then you were never there at all.
The band recently released their debut full length album "Whether You Like It Or Not" produced by David Kahne (Sublime, Strokes)
Real rock n' roll has returned, now wipe that smile off your face!"
Read more courtesy of vocalist Tommy London… 
As this will be the first time a lot of our readers may have been introduced to The Dirty Pearls, let's start with the basics first, how long has the band been rocking for so far and any interesting stories on how the band got together?
We've been together for about four years now.  I guess the most interesting story behind the start of the band is that when I formed it I started it with a drummer!  Most singers who form a band start with a guitar player so they can start the writing process and then present songs to the other members to show them what the band sounds like, the musical direction, etc.  But I knew that Marty E. was the guy from the start so why mess around!  I figured I would get Marty on board and we would go after the rest of the guys together.  I think Marty knew it was fate when he was giving me a run around with an answer and then answered an ad online for a band seeking a drummer….and it was MY AD!!!  We still laugh about that today!
The Dirty Pearls – so what was the inspiration behind the band name?
I was seeking a band name that sounded like it was a gang out of the film, "The Warriors".  Bring back that rock n roll gang mentality that I feel has been missing for so long in rock n roll like The Stones, Motley Crue, Guns N Roses…etc..I think we achieved it…don't you?
Can you introduce each member of the band and give us a rock 'n' roll fact or myth about each?
Tommy Mokas: Secret Weapon
Sunny Climbs: Final piece to our puzzle
Doug Wright: Silent…but deadly
Marty E: Rock n Roll Dean Martin
You have just released your debut album 'Whether You Like It Or Not'…so tell us what you think makes this album so great?
The album was recorded with Grammy award winning producer David Kahne (Sublime, Strokes, Paul McCartney).  He really pushed us to become better musicians and songwriters.  He brought out the best in the band and it's members.  I strongly feel that we have put together a solid rock n roll album that hasn't been achieved in a long time.  Every song will have you singing…guaranteed!
In terms of song writing, what do you consider to be the most important elements that feature in a The Dirty Pearls song?
Melody, riff and lyrics that tell a story.  And of course a groove that the guys can shake their fists and the girls can shake their ass to!
We've picked out a few songs from the album and we want you to tell us about them, so fire away…
Caffeine And Gasoline: Story about an old hot rod and it's rock n roll radio.
Sucker for a Sequel: It's about going back to your significant other after a harsh breakup.
New York City Is A Drug: Our hometown anthem!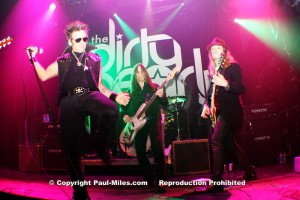 When you think back now to the writing and recording sessions for the album, what are some of the immediate thoughts/memories that pop into your head?
Writing the songs at Mokas' studio and the first day in the recording studio with David Kahne was just a really special day.  We worked with him for a month or so on the arrangements and it was just a surreal moment to be in the studio and finally laying it all down on tape and watching the songs come to life.
Over the course of the bands musical evolution, what and/or who have you found inspires and influences your music the most?
New York City is the inspiration for everything from our attitude to our clothes, to where we hang out, to the music we make.  The city is just electrifying, energizing and so inspirational.
You hail from New York City, For the benefit of those in galaxies far, far, away, what do you have to say about the rock scene in NYC at the moment and The Dirty Pearls place within it?
I was just talking about this the other day with someone.  The rock scene in NYC is really alive right now.  I mean, what makes it so great is that all the bands have a different look and sound but yet can somehow gel together and share an audience.  It's really amazing!  It boggles my mind though that no one writes about it.  I mean you have bands teaming up and selling out 650+ seaters in NYC…and no one writes about it?  Doesn't make any sense.  But on the other side, I guess that makes it even cooler to be a part of it.
Spending a bit of time on your website etc, a number of references to "Rivington" pop up, so tell us the legend of the Rivington Street and Rivington Records etc…
The history of Rivington street is pretty fascinating actually.  Through time the street has been the birth place for artists, writers, musicians, dancers and even gangsters! LOL  I started my own record label, "Rivington Records", and named it after the street just due to the inspiration it has had on the band and myself.  I've made the closest friends for life on that street.  I drink, hang out and rehearse on that street.  Hell…I even live right off of Rivington Street!  'Nuff said!
If you were a person in the crowd at one of your gigs, what five words would you walk away using to describe the performance you just witnessed?
Energetic, Powerful, Entertaining, Inspiring, Melodic
Now throwing that last question on its head, what do you typically see when you look out into the crowd during a The Dirty Pearls gig?
The BEST fans any band could ask for!  They wear their DP shirts and sing along to every song….it's amazing!
You have certainly performed with a wide variety of bands in your history, do you have a most memorable live moment that sticks out above the rest, whether it be good, bad, or evil!?
Hands down it's when KISS closed for us! HAHAHA!  Just kidding, of course I mean when we opened for KISS.  We're all huge KISS fans so that was just such a surreal moment.  Especially when Gene approached the band (in full KISS costume) asking "How did everything go tonight?"
With 2012 nearly six months down, here's a chance to gaze into your crystal ball.  By the end of 2012, The Dirty Pearls, will have:
1. Big Tour
2. Hit Single
3.New Boots
Essential Information
From: New York City, USA
Sounds like: "Real" rock 'n' roll!
Band members: Tommy London: Vocals, Sunny Climbs: Guitar, Tommy Mokas: Guitar, Dougie Wright: Bass, Marty E.: Drums
Website: www.thedirtypearls.com
Latest release: Whether You Like It Or Not (2012)
Comments
comments