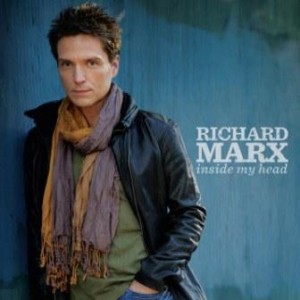 "From seriously the most dependable artist in my entire collection, I applaud Richard Marx for yet another exceptional release."
Whilst this observation hasn't been completely lost on me over the years, sitting down to write this review, I was reminded that when it comes to albums I've owned, Marx's bazillion selling Repeat Offender album would sit somewhere amongst the first 10 I owned.  You see, Richard and I go way, way back and he's someone I haven't lost contact with over the years, whether it be owning every one of his ten plus CD releases or seeing him perform live when he toured Australia back in 2006 with Rick Price, or even seeing him last year at Royal Albert Hall in London.  Ok, so I'm not big noting myself here, I'm just proving a point that whilst for many, the name Richard Marx may have been long forgotten, but for those that have stayed true like myself, there's been 20 years worth of amazing music delivered by one of the greatest ever singers and songwriters, at least most definitely of my time.
So here in 2012, we have a new album in the form of Inside My Head released on Italian record label Frontiers Records.  With a bunch of these songs already familiar to me from his 2008 releases Emotional Remains and Sundown, for the majority, this will be an entirely new Richard Marx from what they were probably familiar.  You see, the Richard Marx of today writes edgy modern rock songs, bursting with energy, melody, searing guitars and topped off with that unmistakable voice that I could happily listen to days on end.   Oh I forgot to mention songwriting too didn't I, oh yeah, Marx sure knows how to write a song, that is stating the obvious, I mean who can argue with over 30 million album sales and 13 number 1 singles?  But the Richard Marx of today is an artist content with writing and recording the music that obviously gives him greatest satisfaction, whether it be recording those songs himself, or being used by others, for which there has been a countless and diverse range of artists over recent years.
Ok, onto the new album.  The Jason Wade (Lifehouse) and Chris Daughtry (Daughtry) penned Had Enough kicks off proceedings and slowly builds with a melody that will be stuck in your head for days.  If it sounds instantly familiar and you are a Lifehouse fan, you would know if from their last album, Smoke & Mirrors.  The single Wouldn't Let Me Love You is as great an introduction to Richard Marx in 2012, as any song on this album, wait till the 2nd chorus for the song to really kick in, then once it's time for the guitar solo, buckle up, as the song really blasts off.  Ballads are what Marx is most commonly known for and this album has a couple, Like Heaven and the piano led Through My Veins.  The latter has been a song I've been familiar from Marx's Emotional Remains release and is undoubtedly one of my favourite ever Richard Marx songs, a song that was written about his father, where the lyrics really take the fore.  Speaking of favourite songs the scorching final track Part Of Me also originally from Emotional Remains sees Marx at his musically heaviest.  Incidentally, this was a song that was recorded by the Harry Hess (Harem Scarem) fronted First Signal a few years ago.  From melodic rock, harder edged modern rock, emotive ballads through to funkier, bluesier, groovier type numbers such as Scars and Come Running, this is one exceptional release.  Hell, there's even an absolute monsterous slab of POWER POP with All Over Me, is there no style of song that this guy can't deliver?
This release also comes with a bonus disc, featuring the re-recordings of twelve of his "greatest hits" in many cases instilling those much loved classics with the energy and grittier edge with which Marx now performs these tracks live.  There is no better example of this than Should've Known Better, which now packs far more punch, followed closely by the revamped guitar riff that is now all over Satisfied.  But rest assured, all the recognisable and familiar elements of these classic songs are still there, with Marx's vocals still so amazingly good.
From seriously the most dependable artist in my entire collection, I applaud Richard Marx for yet another exceptional release and may he continue to be a "repeat offender" and grace my ears with much more music in the years to come.  As for returning to Australian shores for some performances, if you are reading this Richard, we are here "right here waiting" and what better place for a "paid vacation" than sunny Australia.  Ok, review ended before I go one too far  🙂
Essential Information
For fans of: Richard Marx and exceptional music
Release date:   1st June 2012
Label: Frontiers Records/Riot! Entertainment (Australia)
Website: www.richardmarx.com