PAPA ROACH TO MAKE MAJOR ANNOUNCEMENT;
 FIVE FINGER DEATH PUNCH AND KILLSWITCH ENGAGE DISCUSS METAL HAMMER TRESPASS AMERICA FESTIVAL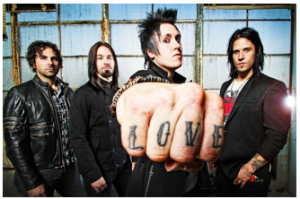 PAPA ROACH: Rock berserkers and multi hit-makers Papa Roach have announced a special live chat with fans for a "major announcement" this Thursday, June 14th at 3pm PST. Frontman Jacoby Shaddix, guitarist Jerry Horton, bassist Tobin Esperance and drummer Tony Palermo will make the special announcement as well as interact and chat with Roach fans. For information on where to tune in, please visit www.facebook.com/paparoach. The announcement follows the band's ruthless canvassing of the globe in support of their highly acclaimed Time For Annihilation…On The Record and On The Road, which New York Post proclaimed "Papa's On Fire" and hailed as one of the "most appealing concept albums of the year."
Known for their electrifying and explosive live shows, Papa Roach have become the common denominator for some of the most successful rock tours in recent years and have critics worldwide hailing them as "the best live band." With their feet firmly planted in over 10 years of multi-format success, Papa Roach's Time For Annihilation…On the Record and On the Road (Eleven Seven Music, August 2010) debuted as the #1 Independent Rock, #23 Top 200, #4 Hard Rock and #5 Alternative Album on Billboard's charts. The album's lead single, "Kick in the Teeth" remained in the Top 10 at the active rock radio format for over 4-weeks straight, joining 8 additional Top 10 hits throughout the band's career with songs such as "Last Resort" and "Scars."
@paparoach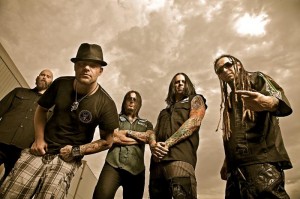 FIVE FINGER DEATH PUNCH & KILLSWITCH ENGAGE:
Metal Hammer Tresspass America Festival tourmates Jason Hook of Five Finger Death Punchand Adam Dutkiewicz of Killswitch Engage will be hosting a live chat tomorrow, June 14th onTrespassamerica.com at 3PM EST/12 NOON PST.  The guitarists will address previously submitted fan questions as well as chat live with fans.
The power-packed Metal Hammer Trespass America Festival is a newly minted music festival set on revitalizing the metal scene with some of the most current and credible bands in hard rock/metal.  Headlined by Five Finger Death Punch, the 31-date festival also features Killswitch Engage, Trivium, Pop Evil, Emmure, God Forbid, and Battlecross.  The tour kicks off July 13 at the 1st Bank Center in Broomfield, Colorado, and will cover 31 cities in two months between July and August across the United States. The tour has also pledged a donation of $1.00 for every ticket sold to The National Suicide Prevention Lifeline.
ABOUT FIVE FINGER DEATH PUNCH:
Releasing their first album in 2007, Five Finger Death Punch – Zoltan Bathory, guitars; Ivan Moody, vocals; Jason Hook, guitars; Chris Kael, bass; Jeremy Spencer, drums – attained prominence at supersonic speed.  The band's aggressive sound is best summed up by co-founder Bathory:  "Plain and simple, we are a melodic heavy metal band that's walking the golden middle road between raw musical aggression and catchy melodies.  We believe in old school songwriting with a new school sound.  At the end of the day, it is still about the songs, and the connection you build between you and the fans.
Striking with the powerful force of songs like "The Bleeding," "Bad Company," and "Hard To See," Five Finger Death Punch's first and second albums, The Way of The Fist and War Is the Answer both achieved GOLD status. Their third and most recent album, American Capitalist, (released in October 2011) was #3 on the Billboard Top 200, selling 90K in its' first week, #1 on Billboard's Top Independent chart, #2 Top Rock, Top Hard Rock and Top Digital Albums charts. Two of their singles "Under and Over It" and "Remember Everything" have been Top 10 tracks on Billboard's Rock Songs charts; with an impressive nine tracks on Billboard's Rock Songs chart overall.
The energy and excitement of the music of Five Finger Death Punch has reached a large and diverse audience.  Besides your typical moshpit-warrior concert goer crowd, you will find nine-year-old kids and their rock show veteran fathers, even their grandfathers, in the audience.  It's more than just the music.  The band has developed a special relationship with its fans, many of whom are in the U.S. Military.  Bathory explains, "We have a very specific message, a very specific attitude.  We always felt that success in every walk of life is about standing your ground in adversity.  It's about not giving up on your dreams, no matter how impossible they may seem.  Life is 'not fair,' and if only the strong survive, you have to become strong both physically and mentally, you have to become both a social and a literal survivalist, a modern day warrior, if you will.  As many of our lyrics reflect those ideals, of course we are going to draw the people who share the same principals.
ABOUT KILLSWITCH ENGAGE:
For their upcoming sixth album, Massachusetts metal pioneers Killswitch Engage reunited with original singer Jesse Leach. Leach's vocals and lyrics on 2002's landmark Alive or Just Breathing are fan-favorite qualities and part of what helped put KsE on the map as one of the most important bands of the '00s metal revival. Leach's return to the fold is welcomed and anticipated by all involved, from the band members themselves to the fans. KsE burst onto the scene with the genre-defining Alive or Just Breathing, notching a Grammy nomination­­ in 2005 for the title track from 2004's Gold-certified The End of Heartache and following up that landmark album with the Gold-selling As Daylight Dies and an appearance on "Jimmy Kimmel Live" along with gracing the covers of countless metal and rock magazines around the world. Through the '00s, KsE adopted a versatile, non-stop touring schedule. The band's road history includes two treks on Ozzfest, stints on Warped Tour and Taste of Chaos, as they have that rare ability to straddle the line between the metal and alternative scenes by touring with Slayer and Mastodon as easily as My Chemical Romance and Underoath. The band's DVD Set This World Ablaze also enjoyed Gold status, proving that KsE have the metallic Midas touch. They established themselves as one of the most successful bands to emerge from the so-called New Wave of American metal. 
FIVE FINGER DEATH PUNCH
Official Site:  www.fivefingerdeathpunch.com
Facebook: facebook.com/fivefingerdeathpunch
Twitter: twitter.com/ffdp
KILLSWITCH ENGAGE
Official Site: www.killswitchengage.com/
Facebook: facebook.com/killswitchengage
Twitter: twitter.com/#!/kseofficial