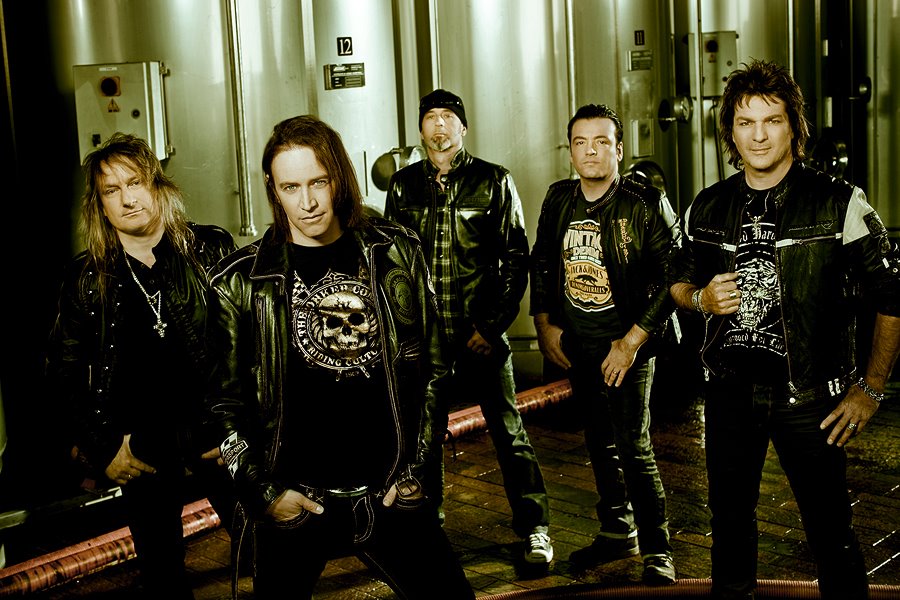 "I was just welcomed amazingly by the fans, you just do your best and put it out there and hope that people get it, hopefully things will happen like it did for the first song.  That's all we can hope for you know."
The sudden and unfortunate passing of original Gotthard vocalist Steve Lee in 2010 left a void in the hard rock community, but persistent to continue, the members of Gotthard started the process of finding a new singer to enable them to continue to make and share their music.  Enter Nic Maeder.  With a new album 'Firebirth' out today and a dedicated fan base awaiting its release, we know that Gotthard are back in a big way.
We spoke to Nic Maeder who has taken on the vocal duties for Gotthard all about how he got the job, the new album and why he may need to buy a fake moustache when he wants to buy milk from the store…
Welcome to Gotthard Nic…
One of the last performances we personally witnessed of you in Australia, was going back to fronting the Bruce Kulick band and some would be familiar with you from Maeder, so for those reading this who aren't fully aware of your background here in Australia, give us a quick little snapshot of Nic Maeder.
Yeah, born in Switzerland, migrated with my parents to Australia when I was about two years old and grew up going back and forth between both countries and just sort of at thirteen started playing guitar and a couple of years later started singing and just, sort of like everyone else really had different bands and stuff and just never really stopped doing it.  Last few years had in Australia had a band called 'Dry' before 'Maeder' which was a sort of Mushroom band and everything, then 'Maeder' and then really didn't do anything after 'Maeder' for a year and now I'm doing the 'Gotthard' thing.
Being of Swiss origin yourself, how familiar were you with Gotthard prior to putting your name forward to audition as the lead singer?
Yeah actually, I mean if you've lived in Switzerland, anyone that's lived in Switzerland would know Gotthard, but even back in '94 I was in Switzerland and the band I had at the time played at the same festival they did, we were opening the festival and they were headlining it, and that was going back to '94, so really aware of the band.
Obviously given the passing of Steve, deciding to put your name forward to step into the position of lead singer in one of the greatest ever rock bands from Europe, couldn't have been an easy decision – not to mention the high regard Steve is held by many for his vocal abilities.  So let's walk through the process of you eventually becoming the new singer of Gotthard.  Was there much hesitation initially in putting your hat in the ring?
No I mean there's never hesitation to just give it a go and just say 'oh well, I'll just see what happens' sort of later on when you start to realise that it may actually happen that you start to go 'oh, let me have a really good think about this' ha ha ha.  It was a really long process as well, it started at the start of last year, through a common friend that linked us up, really they just sent me three of their old songs to put my vocals to and sort of sent that back to them and eventually it wasn't before April last year that I came to Switzerland to meet the guys which I've still got a lot of my family there so I thought, oh yeah, it might be time to come and visit the family I think ha ha.  I just sort of told the guys I'm coming over so if you want to have a go at the rehearsal room, we spent a couple of days together and really just came back and asked me to learn some more stuff and seeing as I was already in Switzerland, they said come back next week and have another go with them and then just come back to Australia you know.
About a month later I came back again, they wanted to spend a couple of weeks together to do some song writing together, they wanted to see how it would sound and what the new Gotthard would sound like with me if I got the job and went back to Australia again and then finally got the call you know.  So it was a really long process the whole thing and obviously all sorts f things go through your mind, but for me as soon as I met the guys it just clicked, everything was just easy, they such easy going guys and good fun to be around.  Any pressure I thought I'd feel was just gone straight away, and I think it wasn't until the second time that I'd spent time with them again that I sort of said to them 'I'd definitely be in to it' and let them know that for me it was all go for me 100%
I am sure you and the guys have probably spoken about this one since you have joined the band – from their point of view, was there a defining moment where they knew you were the right person?
Um… there was a combination of a few things.  As I said before, the second time I came back to have a play with them, they sent me off to learn a few songs, I'd noticed hanging around at Leo's house, he has a grand piano and I play a little piano, I'm not very good or anything, I can play chords and sing along and that sort of thing.  I'd sat down at this piano and just played a little bit and he said 'oh, you play piano, you reckon you could play in one of our songs, a bit of piano?' I said 'yeah maybe I don't know, yeah.'  So I sort of had that in mind and when I went away to learn some more songs I actually did a song called 'One Life One Soul' and I learnt that on the piano and I learnt that over and over again so I thought I'll sing that at rehearsal and I finally did it in front of them.  That was a song that had a real meaning to them and was a really emotional moment there and that was something they say a lot that was a big turning point for them.  Then later when we got together and spent the two weeks writing together, the first one we did was 'Remember It's Me' which was a song that I'd brought to the table and we sort of finished writing together and ended up being the first song we came out with as the introduction to the new singer.  Once we finished that song, it was the one. That was it.
What was your first thought when they told you that you had the job?
I'd been doing some cover gigs with my old drummer Cam McGlinchey, we were at the Doulton Bar in St Kilda just doing acoustics and singing with Cameron on the drums and I'd been doing that for a year. I'd just finished a gig and I was coming out of the pub at 3 or 4 in the morning, just packing my guitar away in the car and sat down and got the call, had the whole band on speaker phone and they sort of said to me 'what are you doing for the next few years?' It was just like 'Fuck', you know? There was a lot of screaming on the phone and it ended the night well, so yeah ha ha.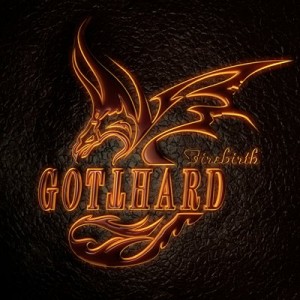 Let's talk about the album, which we've heard and it's amazing, the title itself; 'Firebirth' is easily representative of the phoenix rising from the ashes and that kind of symbolism.  What was the intention behind the name itself?
Well man, that was exactly it, you just said it.  At one point we were tossing up, there were a lot of names that were thrown up on the table and the idea of the phoenix came out as well and the word fire was getting thrown a lot around for some reason, and we just made up a word really and yeah…
The song writing for the album, you mentioned bringing 'Remember It's Me' to them, but can you walk us through the song writing for the new album – was it a highly collaborative effort?
Yeah absolutely.  Usually Leo, Freddy and myself, we sit down and someone brings an idea in and then we just pick it to bits and get all the musical side done and melodies and all that sort of stuff. Once we've done all that I go off and put lyrics to it, that's generally how things work.  There were a few ideas that they already had, unfinished things they had as well and a lot of unfinished things I had too, and we just sort of pieced it together that way.  It was done really, really quickly, we had so many ideas that at one point we had a deadline when we had to actually start recording the album and so we really just had to stop writing and there were so many ideas that we wanted to just keep going on but we just had to stop.  There will be a lot of things already for the next one…
Are you in any way nervous in the way the album is going to be received?
From the beginning, even doing the first song and doing the video clip and sending it out and seeing the reaction and all that, which was September I think we sent everything out.  The best way I thought was to just focus on every step you know and not think about that too much you know?  You can get really caught up in thinking about that sort of stuff and stressing about that and I just consciously try not to think about it and just focus on every little phase that we're doing.  Luckily the response from 'Remember It's Me' was absolutely amazing you know, I was just welcomed amazingly by the fans, you just do your best and put it out there and hope that people get it, hopefully things will happen like it did for the first song.  That's all we can hope for you know.
Gotthard albums have always offered some diversity and different flavours – for those out there who have heard 'Remember It's Me' and the first single 'Starlight' – how would you say it compares to the material on the album in general? 
I'd say that they're all pretty different again, I mean there's just such a diversity of genres and that's one of the things that I was really attracted to, the fact that you can do a whole lot of different things and it's a band that's known for doing this.  Particularly a song like 'Starlight' is very different to me, the only thing I would say in terms of the sounds, 'Starlight' has got that rock groove and you get a sense of the guitar sound and everything and that's one of the things that we really wanted to do and were really conscious of, to have a really raw sounding album and really going back to the basics, going back to the earlier days in a lot of ways, the early sort of Gotthard days, even the guitars, the amps, the Marshalls, it was the old stuff that was on the older albums, those actual things.
What has been some of the greatest pieces of advice the other guys in the band have given you, as far as now being part of that Gotthard family and the potential expectations?
Well one thing I didn't actually expect, before it was publically known that I'd joined, a lot of it was dealing with them saying to me 'you won't be able to walk down the street' and all this sort of stuff, this is the way it's going to happen.  Just the whole fame side of it which I really didn't expect at all, I was like 'yeah, yeah, whatever, it won't be that much' and I suppose at that point I didn't realise how big the band was in Switzerland and when it was announced and we put out the video and they hey this is our new singer I sort of really woke up one morning and was in every newspaper and the next few weeks I had to go into TV and was doing interviews all the time.  The media around this band is huge and has been really ever since.  That's one thing I really wasn't prepared for and I got a lot of advice from them and still do.  Trying to keep your private life private, just things I never thought of ha ha ha.
Of the existing Gotthard songs, what have been some of your favourite songs to perform/sing?
'Anytime Anywhere' I love to sing that one, it just seems to work well and I feel really comfortable singing that and it was actually the first one that I put my voice to and thought this could work, so it's got a bit of a special meaning to me I suppose.
You pretty much have 2012 filled up with touring commitments, including some of Europe's biggest summer festivals – Sweden Rock, Bang Your Head, Grasspop – obviously these will be your first as a performer, but are these also your first experience at these festivals as even a punter?
Absolutely that'll be the first time for me; I've never done anything this big ever.  I'm really looking forward to it.
And are you going to come home and see us?
We were talking about it actually, we really want to, we've got Japan in September so the talk was 'we're pretty close, so what do you reckon?' so we need to talk to management a bit, so it's being talked about and everyone would love to do it, but at this point, the costs for a band that wouldn't really probably pull crowds, it may not be that big… I've got a lot of contacts in Australia as well, and the guys would be really excited to come down to Australia as well as none of them have ever been to Australia, it's definitely talked about, it'd be great to come home ha ha ha.
Essential Information
From: Switzerland
Band members: Nic Maeder – Vocals, Leo Leoni – Guitars, Marc Lynn – Bass, Hena Habegger – Drums, Freddy Scherer – Guitars
Website: http://www.gotthard.com
Latest release: Firebirth (June 1 – Nuclear Blast Records / Riot! Entertainment)