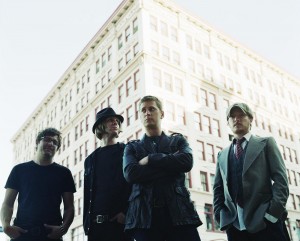 MATCHBOX TWENTY HEAD NORTH WITH NEW ALBUM
MULTI-PLATINUM POP-ROCK SUPERSTARS RETURN ON FIRST ALL-NEW COLLECTION IN TEN YEARS
ALBUM TO BE HERALDED BY THRILLING NEW SINGLE SHE'S SO MEAN AT AUSTRALIAN RADIO THIS WEEK
 Matchbox Twenty has announced the release of their hugely-anticipated new album scheduled to arrive on Friday 31 August.
 North marks Matchbox Twenty's fourth full-length studio recording and first all-new album in a decade.  "The title refers to us finding our way," says Matchbox Twenty's Paul Doucette.  "We went into this record with a lot of material. Many different songs that could have taken us in many different directions.  It sort of overwhelmed us for a bit. But, at a certain point, we figured it out. We figured out where North was."  Kyle Cook and Paul Doucette will be in Sydney this week to unveil the electrifying new single She's So Mean to media.
 North sees Matchbox Twenty driving their pop-rock sound further forward; magnifying the indelible melodies, crafty lyricism, and glorious hooks that have always defined their multi-platinum body of work. The band – Rob Thomas, Paul Doucette, Kyle Cook and Brian Yale, lived together last summer in a house in Nashville where they all collaborated on the new material before once again joining forces with the Grammy Award-winning producer Matt Serletic at his Emblem Studios in Calabasas, California.  The result of their labors stands among Matchbox Twenty's finest, with songs like Overjoyed and Put Your Hands Up marked by the band's instantly identifiable sonic approach and unadulterated high spirits.
 The new album follows Matchbox Twenty's most recent release, 2007's triple platinum selling Exile On Mainstream.  In addition to compiling such classic hits as Push, Bent, and Unwell, the album featured six new tracks, including still another smash single, the Steve Lillywhite-produced How Far We've Come,  which is the band's biggest selling single to date. The group also did a global tour in support of Exile On Mainstream playing in front of their largest crowds ever in the USA, Canada, United Kingdom, Europe, Australia and New Zealand.
 Matchbox Twenty immediately established themselves as one of modern pop-rock's most popular and talented new bands with the arrival of their blockbuster debut album, 1996's Yourself Or Someone Like You.  The album generated five extraordinary hit singles – including Long Day, Back 2 Good, and 3 am – on its way to RIAA Diamond Award certification for total US sales now exceeding 12 million.  Two further multi-platinum albums followed, with 2000's Mad Season and 2002's More Than You Think You Are each spawning a steady stream of hugely successful singles, including such chart-topping favorites as If You're Gone, Disease, and Bright Lights.
 In addition to more than 30 million records sold worldwide, Matchbox Twenty has also earned countless accolades, including five Grammy nominations, four American Music Award nods, and the 2004 People's Choice Award for "Favorite Musical Group."  What's more, Rob Thomas has proven one of the most highly decorated artists of recent years, receiving three Grammy Awards, 11 BMI Awards, and two Billboard "Songwriter of the Year" honors for both his chart-topping solo work as well as collaborations with such legends as Santana, Mick Jagger, and Willie Nelson. Thomas' collaboration with Carlos Santana on Smooth was also named the #2 Most Popular Song Ever on Billboard's List of the 100 Most Popular songs behind The Twist. He was also named to Billboard's Top 20 List of Hot 100 Songwriters 2000-2011 at #5 and was the top ranking artist/songwriter on the list.
www.facebook.com/matchboxtwenty