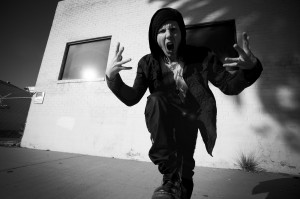 From Bio:  International rock artist Manafest (real name: Chris Greenwood) knows the saying well; his uphill climb began at age five when his father committed suicide. Years of childhood insecurity and fear gave way to a promising skateboarding career, but then an injury took that away, too. Music soon filled the void, and it would prove to be a perfect fit. Putting words to driving rhythms gave Chris a way to be a visible light ("manifest") for other people wrestling with their own junk: strained relationships, betrayals, loss, broken dreams. He knew plenty about getting through the past and working toward the future. "I'm always there to give you the don't-give-up message," he says in a quiet offstage voice that balances out his amped up live presence. Since 2001, Manafest has battled his way into the business—playing a thousand shows in nine countries, winning an armload of industry awards, and gaining recent victories like his first No. 1 hit, "Bring the Ruckus." 2010's The Chase blew up in Japan, quadrupling sales of previous efforts, but it looks like 2012's Fighter is going to be the real knockout.
This stuff is good… Manafest's new album 'Fighter' is killer and one for you to definitely check out.  Easily one of our newest Best Things You've Never Heard, we had Manafest answer some questions for us.
Let's start with the basics first – for those that aren't aware of Manafest, can you please introduce yourself and give us the inspiration behind the name?
The concept of Manafest is all about being a light in a dark place, and with my music I always wanted to be positive and explosive, especially when I hit the stage with my band.
You have twenty seconds in an elevator to try and convince someone to listen to your new album 'Fighter', what do you tell them without resorting to threats or violence?
Bribes are always good, but if I didn't have any money, I'd say my friend downstairs dared me to ask everyone that enters this elevator to listen to my new album Fighter, can you help me out and take a few seconds to listen to one song?
It's been out now for a couple of months, how has the reaction been to it?
The reaction has been amazing, it feels like 'Fighter' has been out a year, and that's because I've had the songs for a while. Best response to an album so far and we've already got 4 music videos shot for it.
The album itself is a truly great sounding rock release; with a few albums under your belt already, what if anything did you do differently this time around compared to your previous releases?
The way I wrote songs with producers is different, I had a lot more input into the tracks as well. I'm singing a ton more, so that was a huge stretch for me, which was good.
In terms of your song writing, what do you consider to be the most important ingredients that make up a Manafest song?
Content, melody, and production are my top 3.
Both lyrically and musically, what or who inspires/influences your music the most?
Lyrically, one of my favorite records is Meteora by Linkin Park. Production-wise I really dig the new Foster The People record right now, as well as Lana Del Ray's album.
It seems the album takes on a very powerful, heartfelt effort with a range of topics taking us on the ride, but I wanted to ask specifically if there was a story behind the title track 'Fighter' that you can share with us?
Yeah that song partially talks about my upbringing losing my Dad to suicide as well the journey I've been on over the past few years. Sometimes you want to quit because of all the junk that goes on in this industry but it's when you give it a little more that you have a breakthrough finding your second wind. I've only just begun…
Touring wise, what have you got in the pipeline in support of this new album?
I've already been to Japan, China, US, Canada and Singapore… another US tour, Canada dates plus Germany and maybe Sweden are in the pipeline.
It seems you've been just about everywhere except for Australia; do you have any plans to tour here in the near future?
I'm trying, I've been there once many years ago to Sydney, I'm a big fan of Australia!!
Now for those that haven't yet seen you perform before, what can people expect from one of your live shows?
If the stage is big enough and I have my skateboard then that's how I make my entrance, the rest of us freaking out on stage, we don't like to just stand around, we love crowd participation.
Now, for a bit of fun, recently at Coachella, we saw Tupac appear as a hologram, if you could have any artist perform on stage with you as a hologram, who would it be and why?
Michael Jackson, I would love to rock some covers of his tunes.
Lastly, here's a chance to gaze into your magic mirror.  In the next year, Manafest will have:
1. A six pack (on his stomach, not beer)
2. Millions of dollars
3. The skills to play the guitar
Essential Information
From: Pickering, Canada
Sounds like:  Linkin Park, P.O.D, Papa Roach, Three Days Grace
Band members: Chris Greenwood
Website: http://www.manafest.net
Comments
comments