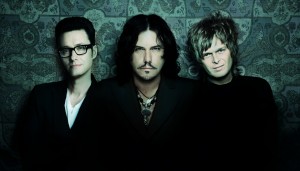 It seems that fans of Canadian rock act 
THE TEA PARTY 
can't wait for some new material from the recently reformed trio.
With a catalogue consisting of eight releases in The Tea Party's career so far (their last release was in 2004), fans on the band's Facebook page & at recent live shows have shown an increasing amount of interest in a new or live recording.  Of course there's an Australian National Tour in July and Canadian Tour through August this year to get through first, so a new studio recording will have to wait!  In the interim, a live album recorded during their upcoming Australian Tour wouldn't at all be out of the question!
However, to make it all happen, the band will need the support from their fans! Here is where you come in … kicking off on June 1st (Australia June 2nd), you can go to www.pledgemusic.com/projects/theteapartylive to pledge your support and get the wheels in motion.  With a deadline of 60 days to meet the target, if the target isn't met, you will be reimbursed and no record is made.
"We've always wanted to do a proper live record, and the opportunity to capture the band in front of a passionate Australian audience has presented itself to us.  The fans can join us and together we bring this record to life via Pledgemusic.com.  With Pledgemusic, our fans are able to tell us exactly what they want by pledging.  This might be the future of the music business, or perhaps one of the futures." – Stuart Chatwood (bass/keys/vox)
So there you have it Tea Party fans…let's make it happen!
For more info, go to:
http://www.pledgemusic.com/projects/theteapartylive
http://www.facebook.com/theteapartyofficial

CATCH THE TEA PARTY LIVE IN AUSTRALIA – JULY 2012
* Presented by Fasterlouder *
TICKETS ON SALE: NOW
MELBOURNE – Palais Theatre – Saturday 14 July
Ticketmaster.com.au or phone 136 100
BRISBANE – The Tivoli – Tuesday 17 July
Ticketek.com.au or phone 132 849
SYDNEY – Hordern Pavilion – Saturday 21 July
Ticketek.com.au or phone 132 849
ADELAIDE – Thebarton Theatre – Tuesday 24 July
Venuetix.com.au or phone 08 8225 8888
PERTH – Metro City – Thursday 26 July
Oztix.com.au and oztix Retail Outlets or phone 1300 762 545