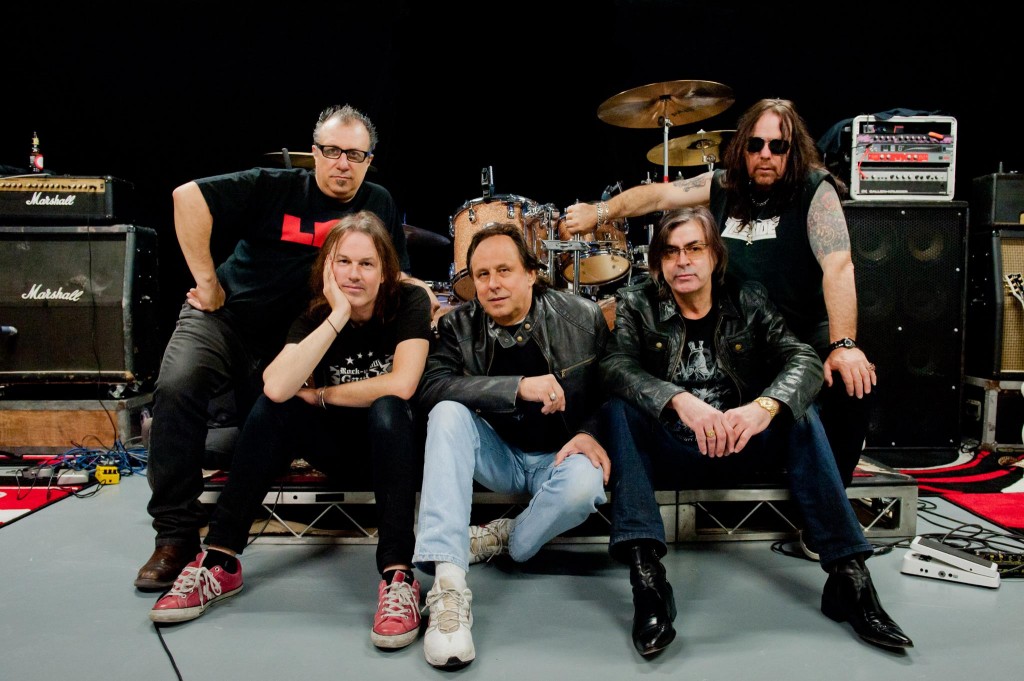 Heaven – so who out there reading this thought they would be seeing a reformation of these Aussie rock legends in 2012?  Well as many of you are well aware, it's happening and it's happening in less than two weeks from today with the Heaven Twenty Twelve Tour!  Whilst 2001 saw a lineup of Heaven support Judas Priest, significantly you need to go right back to the bands very beginnings and first album Twilight Of Mischief when specifically this lineup of Allan Fryer, John Haese, Laurie Marlow and Joe Turtur were together.  Rounding out the lineup is the addition of legendary guitarist Rowan Robertson, best known for his past work with Dio and currently with Los Angeles based "megarock" band DC4
With their roots well and truly steeped in the traditions of Aussie rock, by the time of their demise around 1985 following on from their third release Knockin On Heaven's Door, Heaven had established themselves internationally and had toured with the likes of Judas Priest, Motley Crue, KISS and many other international acts throughout the USA.
With the USA based Allan Fryer and Rowan Robertson having now arrived in Australia, the guys have already blasted their way through a couple of rehearsals and fold backs,and will well and truly be ready to hit the stage and kick off the first of the shows in Geelong on June 21st.  We chatted with a very pumped up Joe Turtur about the upcoming shows and what lies ahead for Heaven and Heaven fans worldwide!  "Heaven is alive and back and about to kick some serious ass…."
Hey Joe, thanks for taking the time to do this interview!  Ok, so first things first, it's 2012, this lineup of Heaven is back and about to play a bunch of shows, so what, or maybe I should ask who, was the catalyst that got this happening?
It really started when we had a benefit concert for Mick Cocks a few years ago and I was the stage manager for that show.  Laurie basically said to me that he would love to get the band back together again and I just said Laurie, look its just hard and a logistical nightmare.  Allan's in America, we didn't know what was happening with Mick, who later died about 6 months after the benefit and I think it was the death of Mick that really brought us all back together as a unit again, because he was just like a brother.  Even for John who Mick replaced, John and Mick were great friends.  We were all at Mick's funeral, which was a real emotional day for us and I guess we realized that any one of us could be in this situation and we just thought that there's three of us still around and healthy and capable of doing this again.  We've always had a strong passion for the songs we wrote back in the 80's.  They just seemed to have held up, they are like these classic structured songs that were really quite simple and basic, but had melody and a sense of rock and pop. We were just always thrown into that metal category as far as that rock, sort of Eddie Van Halen sounding guitar that Kelly did.  Also, the disappearance of Kelly was a mystery to us.  We didn't ever know what happened to him, he just disappeared off the face of the earth.  We found out about five years ago that he died of aids, which was only from him shooting up needles in the early days.  Kelly was a bit of a loner and kept to himself and didn't say too much.  We didn't know that Kelly had died until a year later.  So going back to this latest lineup, it was really who was going to do the guitar spot. Allan had been living in Dallas, Texas for years and years.
It really started to take shape in the latter part of last year when I really started to talk seriously to Laurie about it.  I was turning 50 and my one dream was to play in Heaven again.  I joined the band when I was 18, I did my first album when I was 19 and I turned 21 in Texas on the road.  It's just such a vivid memory for me and my youth, so many events that happened back then.  There was also a strong push from fans over recent years again with social media sites and really wanting to see Heaven play again.  We had a talk to a few managers and agents, but none were really interested.  But as time went on, a lot of people started talking and one thing led to another and I flew to Sydney and had a meeting with Tony Grace of the Harbour Agency and he said OK, let's do this.  We really wanted to have Mitch Perry in this lineup who did that third album, but he was undecided whether he would be able to get away because at the time he was a fully fledged producer in L.A.  But then some typical L.A promises kind of fell through and he turned around and said I'll do it.  Mitch always wanted to play with this rhythm section, which he thought was the best rhythm section Heaven had ever had.  That all came together and of course Allan had agreed to it.  But then unfortunately Mitch was offered the tour with Lita Ford.  Mitch and Rowan Robertson were friends and Rowan checked out the Heaven material and loved it and we checked out Rowan via YouTube who we weren't really familiar with and we were like shit, this guys a legend, let's do it.  So it's all worked out absolutely perfectly.  Rowan is an amazing guy and it's an honour to have him playing with us.
Obviously with the exception of Rowan who as we just discussed is new to the lineup – when was the last time that you four guys actually played together in any capacity, or should I say, were even in a room together?
Well, with this lineup specifically, I think it was in the 90's when the band did a reunion tour, I personally got up as a guest and did a couple of songs.  They had another drummer for that tour and I was pretty tied up with a marriage and a restaurant at the time and just couldn't get away to do the whole tour.  But then as a band it would go right back to 1983.  With John on guitar who did the first album, then Mick Cocks did the second, then the third album was virtually a full American lineup with Mitch Perry and what not.  It's been a while, but from the very first rehearsal we had back in March as a rhythm section it was like hopping back on a bike, it just fitted like a glove.  Laurie and I as a rhythm section, we've always locked in tight and I think that's the core of this band, the rhythm section and getting that rock hard solid, then all the other bits are the frilly bits with the vocals and lead guitar work which always comes in over the top.  But the core rhythm, it's just sounding amazing, I've been playing in the years since, Laurie has been playing since, we've all been doing other bits and pieces in the 30 year gap and we've obviously developed as players.  I was in my 20's back in those days and I suppose I was just a young drummer with a handful of fucking piss and the other hand full of chicks and I was just having a wow of a time (laughs)!
So for you personally, with the first show in about what, 10 days, has it fully hit you will be back behind the drums again playing those classic Heaven songs again?
You know, back in 81 and 82 when I had first joined the band, we did around 300 shows in a year.  And here we are 30 years later and it was literally just like hopping on the bike.  It just all came back to me.  I didn't really have to think about what it was I was playing, my body just naturally performed the movements I did 30 years ago, and it all automatically clicked.  It's so bizarre and words just can't really explain it, it's not a spiritual thing, it's just something within you that comes out that's like, this is what I'm meant to do, it just becomes such a natural instinct for us.  Especially the first two albums, which I recorded, same for Laurie and John probably had to rehearse a little more because he didn't do the second album and we are doing some stuff off the third album that none of us did which we've been listening too, then there's a new song that's been written which we all love.  So it's all coming together in a really easy, natural way.
As you mentioned, your initial tenure in Heaven came to an end around that 2nd album, and obviously hindsight is a great thing, but looking back now, what are your thoughts on both your own time in Heaven ending, and for that matter, the overall success of Heaven in general?
I've always had this belief that we should have been a lot bigger than we actually got.  It's quite amazing that the first show we ever did in L.A, I'll never forget this, the L.A Times wrote this big headline "Heaven is going to be the next AC/DC out of Australia".  We were so close and on the verge of cracking that market to do the arenas, to do the stadiums and I think it was the instability of the lineup and the changes and the record company losing faith and egos getting in the way and a whole bunch of shit that went down.  We were young, I was really busy taking drugs, drinking piss and rooting women and I didn't really care.  I didn't think I had a problem with my job…. until I was replaced!! Then I was like oops (laughs)…  So it's just bizarre that here we are 30 years later it's kind of fallen back into place.
I guess the real exciting prospect here in 2012 is the new fans likely to be awaiting you at these shows, maybe children of original fans or rockers who obviously weren't even born when the band first started!
That's exactly right!  Our loyal fans are all in their 40's and stuff and they all have kids and brought up their kids with Heaven records.  It's quite interesting with social media these days that you can see the demographic and see the interest in the band.  We've probably got about a 15% interest in the age 25 to 35 and that's a market that wasn't even born when we were out there doing gigs or releasing albums.  Things like even YouTube these days, over the years there's been footage popping up on YouTube that I've been like, where the hell did that come from, who filmed that?  There's like live footage from gigs at Selinas and obviously people were out there filming.  We were just so unaware because we were so caught up in the band and media promotion point of view.  We did a lot of press and TV back then, we did Countdown and Hey Hey It's Saturday and Sounds and those rock shows that were around back in that day.  Radio was the one aspect of media that didn't like us, they just never played our songs in radio. Every now and again though when they did play a song of ours we would get blown away.  To this day if you go onto the Countdown website, you can find a Heaven clip there.  There's just so much out there that we did.  Back then we worked really damn hard, it was an era when live entertainment was just really full on.
The other night I was watching the Bikie Wars on Channel 10 and there was a scene in a pub and on the wall there was poster advertising the Bexley North and it had Heaven on it, and The Radiators and the Sunnyboys.  The shot kept featuring this poster and it was just so bizarre, here we are 30 years down the track and there's a TV show on prime time Channel 10 featuring this poster, just as we are a few weeks away from going back out in the road.  The timing of it was just insane!  They have recreated this poster and who of that production company would have known to recreate this poster with us on it?  Just shit like that which is spooky in a way, but real in the sense that now is our time I think.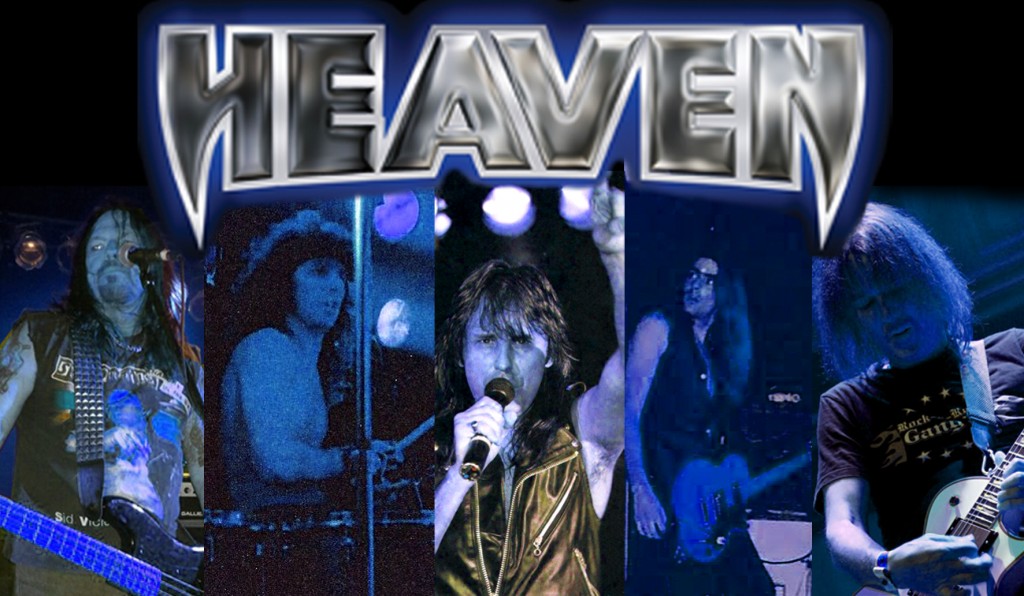 With the international status of the band, I've seen some mention of the prospect of shows in the USA and even Europe after these Australian dates.  How real is this, is there stuff already booked in, or is that all still being worked through?
Obviously Allan's got some really good connections in America and with Rowan in the band, he's got some really good connections in Europe and now it's just a matter of finalizing it all.  It all comes down to money you know, we just can't tour with an endless pile of money, there's got to be money offered for us to do shows and money put behind something like a tour to the US or Europe.  I think what people are doing is waiting to see what reactions we get from these Australian shows and then take it the next step further.  There are some things in the pipeline but I don't want to say anything, as if it doesn't come through I'll look like a dickhead you know (laughs).  But we've got new material as well that's been written which we want to record.  We're also looking for really good management and that I believe was one of the big failures of this band, the mismanagement of this band.  No disrespect to Michael Browning, but he managed AC/DC who left his camp to go onto bigger and better management.  To get AC/DC to where they are today, Michael just wasn't capable of doing it and now he doesn't do band management anymore, he sells bloody furniture.  To get someone to believe in you is a real struggle in itself.  At the moment we are talking with Andrew McManus.  He and I have been friends for many years, I've worked with The Divinyls in the past, Andrew managed The Divinyls, he's one of those guys who's a real achiever and he's also a battler.  He often keeps falling off the perch, but he keeps getting back up again.  At the moment he's not feeling the best and we're just waiting till he gets over some health issues he's got and hopefully he will kick in as a manager.  I really do trust Andrew, he's got real strong determination and he's brought some amazing shows out to this country.  This industry is so full of hype and talk, but we are determined with this, this isn't a reunion, this is a reformation.
Given you guys are also writing new material as well, also backs up that last comment that you aren't just seeing this as a bunch of reunion shows and that will be it.  What is the feeling like to be writing new material for Heaven, it must be a strange, but good feeling?
Everyone has had 30 odd years to do their own thing, but we've obviously all been writing stuff during that time and we've come up with some great ideas that I think are really current with today's sound.  Let's face it, AC/DC are still up there as the biggest achievers in Australian music around the world. I was watching a DVD the other day called Let There Be Rock, which was the last thing that Bon Scott ever did.  To watch Angus back in the 70's and to watch him today, he hasn't changed anything.  He hasn't changed the way he plays, or changed the way he looks, it's just the progression of time that has passed where they've obviously gone its not broken, let's not fix it.
For you guys specifically, in many ways you must be almost right back to where the band started.  Here you are about to go out and play a bunch of shows, with possibly international tours on the horizon and the prospect of writing and recording brand new material, does it feel like a brand new beginning as such?
I think there's definitely a rock revival happening in the music world right now.  I think a lot of the new music today is just rubbish, a lot of the independent stuff is crap, but no disrespect to the bands out there doing it.  Rock music to me is what I've always listened to and loved and played and I love the fact that there's a website out there called May The ROCK Be With You.  I've only just recently discovered your website, and looking at it, you are writing about the ROCK, not about all this arty, farty, indie shit you know.  Of course there is so much variety out there under the genre of rock.  Heaven was always called a metal band and I don't think we were ever really a metal band, I always think we were a hard rock, Aussie pub rock band.  That's fine, you always get labelled, but you don't fight, it's all about recognition really and acceptance and what the fans want and keeping the fans happy.
Right now, the vibe out there is awesome, anything we write on Facebook, there are reactions straight away.  We've all tried to be really interactive with the fans.  We've got this one guy who is coming out from Slovakia.  He's flying out to Australia to specifically come and see us live, he's obviously seen our stuff on YouTube and online and it's just so amazing that here's this guy who has made that commitment to come see us play.  He's only in his 20's, I mean how did he find out about us, how did it happen?  We've been in contact with him and it's just so amazing that he's doing this.  So it's a real honour to have these fans coming out to see us, it's a real buzz for us, as much as it is them and we're giving them what they want.  I honestly think people are going to be surprised how great us 50 yo's sound!  It's just so exciting to think there's a whole new generation of fans out there who have never seen us play before.  We're just really excited to be playing something like even the Back In The Day gig because it's likely to be in front of a much younger audience.  We're just really chuffed we've been able to schedule at Back In The Day, Deans been such a massive fan of the band over the years and just such a passionate person about music.
Well Joe, it's been great chatting and all the best for the shows and what lies ahead for Heaven and Heaven fans both here in Australia and scattered around the world!
We just can't wait.  The band is sounding great so far and we've got a really good taste of 2012 in it.  That's why we called it 2012, it's just got some really exciting stuff happening with the material now.  We've got people flying in from overseas, interstate and all over the place and it's looking really, really promising.  It's been great chatting with you Scott and we just can't wait to get out there and do this live.  We are really passionate about this and I think there's really exciting times ahead!
Essential Information
From: Australia
Band members 2012 Australian Tour: Allan Fryer: Vocals, John Haese: Guitar, Laurie Marlow: Bass, Joe Turtur: Drums, Rowan Robertson: Lead Guitar
Website:
Tour dates:
THURSDAY JUNE 21
NATIONAL HOTEL, GEELONG
FRIDAY JUNE 22
THE EVELYN, MELBOURNE
SATURDAY JUNE 23
BACK IN THE DAY, MELBOURNE
WEDNESDAY JUNE 27
GOVERNOR HINDMARSH, ADELAIDE
FRIDAY JUNE 29
ANNANDALE HOTEL, SYDNEY
SATURDAY JUNE 30
ANNANDALE HOTEL, SYDNEY
SUNDAY JULY 1
WAVES NIGHTCLUB, WOLLONGONG