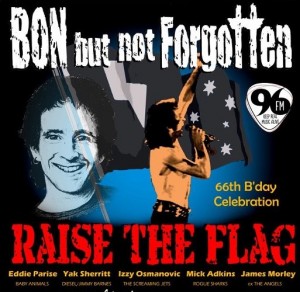 Press release: Australian rockers Raise The Flag, return on their 'Bon But Not Forgotten' Celebration to the No. 1 rocker in the world Bon Scott. On what would have been Bon's 66th Birthday they pay homage to the legend singer.
On the rhythm section, Izzy Osmanovic, (Screaming Jets), and Rogue Shark Mick Adkins splitting the twin Marshall stacks and taking on the big task of laying down those standout Angus solos.   The pair delivering these songs in true 'Young' fashion.  Eddie Parise, (Baby Animals), in the engine room with Yak Sherrit (Diesel/Barnsey), just pump out the hits.
This all-star line-up drives a mean set with (The Angels), James Morley on throat (vocals).  On the standout set list songs featured were written, co written or sung to fame by Bon.  They include many of the classic anthems punters have made their own such as: 'Jailbreak', 'Long Way To The Top', 'Whole Lotta Rosie', and 'If You Want Blood'.
Bon Scott gave so much to so many people around the world and is fondly remembered around this time every year.  Fans if you never got to see Bon perform see Raise The Flag as they celebrate their 'Bon But Not Forgotten' to a true rock god."
We spoke with James Morley about the Raise The Flag concept and the influence of the great man, Bon Scott on his evolution as a musician.
James, thanks for taking the time to have a chat about Raise The Flag.  Firstly, can you give a bit of background to 'Raise The Flag', this is something that's been going a little while now hasn't it, who is the driver so to speak, is that yourself as one of the key ones?
Actually it's myself and Mick Adkins are the two founding members.  It basically originated from chatting about other people in different bands that we knew like the Choirboys and The Screaming Jets and how we never really get to jam with those guys because of one reason or another.  Whether it be because we're all off touring or whatever, so it's basically a case of saying lets nail down some of the guys who are doing gigs and that sort of thing and let's see if we can string some shows together.  So it was basically just born out of wanting to play with friends we've known for years and years but never get the chance to jam with.
It's certainly been a pretty impressive cast of rockers that have appeared in past lineups, have you been finding that you've actually been getting people coming to you, wanting to be involved in the lineup?
I guess it's a case of we will do a show and then some old friends we haven't seen for years will come up and say something like "the band was great give us a bell if you need someone next time"… Us muso's grew up on the same kind of music, so it's an excuse for us to have a jam, but like you say it has come to a point where we've caught up with people we haven't seen for years and years who've got in contact and wanted to play, even if it's only a couple of songs.
So most importantly, coming up in July you have Bon, But Not Forgotten to celebrate what would have been the 66th birthday of Bon.  Now you did one last year, didn't you…how did that one go?
We did one last year and we managed to get Simon Wright to play with us and of course Mark Evans as well.  For me I've been an AC/DC fan since I was a kid so it was a real buzz to be playing on stage with two of the guys who were in AC/DC. It's something I'll never forget that's for sure!
What do you deliver as far as the set goes, is it a fair mix of classics, whilst also delving deep into some obscurities?
Of course we do the classics and if we didn't do the classics there would be a riot (laughs).  There are a few tunes in there that diehard fans will love.  One of my favourite albums is Powerage and there's a track on that called 'Gone Shootin' which is my favourite ACDC track of all time.  It wasn't their best selling album and unless you're a real fan, some people probably aren't even aware if that album.  To me that album is just the bee's knees of AC/DC.  We make sure we mix it up a bit.
So this year will see yourself stepping up to the mic for vocal duties, so what do you find the most challenging –  performing the vocals of Bon or the guitars of Angus, which you did last year?
Well last year I was actually playing Malcolm's part, the best rhythm guitar player on the planet!  That suits very much my kind of playing, I'm very much a meat and potatoes kind of guy when it comes to guitar.  Singing Bon is no walk in the park that's for sure, but I'll give it everything I've got.
I imagine that these Raise The Flag shows would get a pretty diverse crowd base, with a real mix of young and old rockers?  Is that what you have noticed?
Absolutely, AC/DC just transcend all boundaries and generations of people you know.  Last year there were some kids down the front who were 18/19 or whatever and they're singing along to songs like Sin City and that's a real buzz, it just speaks volumes you know.  Everything from young kids to 70yo's with Acca Dacca shirts they probably bought back in 1975 and they certainly smell like it (laughs).  It certainly is a real mix, which is great to see.
They are one of the few surviving bands in the world that still have that ability to still transcend generations.  A band like the Rolling Stones, you won't see hardly any kids with a Stones shirt, but there's plenty of kids with Acca Dacca shirts.  No disrespect to the Stones though of course as they're bloody brilliant!
Now let's talk a little of AC/DC, can you remember your own very first AC/DC experience, when you heard them for the very first time?
Yes absolutely.  It was a friend of mine from school, his old man was a rep, I guess it would have been for Atlantic Records.  Any way he used to drive around in this van and drop off stock to the shops and he would give us stuff every now and again.  I remember at football training one day he had his van there and I was like "what ya got, what ya got"?  He gave me a copy of If You Want Blood and I went home and put it on and it was like "Jesus Christ, this is awesome….".  So then I went out and bought High Voltage next and I was hooked.
For you personally, when you think of the legacy of Bon Scott, what are some of your most overwhelming thoughts?
I guess the fact that Bon has been gone for so long, but people still revere him as one of the best ever.  His song writing, the double entendres, his humour and ability to tell a story as well as his ability to sing really well and the stage presence he also had, having all those ingredients in one person is very rare.  I think that's why he is always on people's minds when you think about music and rock n roll, all those facets that he had to him is what makes him so amazing, the man that he was and the man that he is.
So James, outside of Raise The Flag, what keeps you busy musically?
I'm non stop, I do a lot of shows here in Perth as a soloist, or a duo, I've got a band also with Chris Murphy who was on Aus Idol and is a great rock singer and also Eddie (Parisi) from the Baby Animals, that's a nice little tidy rock n roll thing we do, we got out to mining sites and do shows here and there.  Always doing something and always doing something different!
www.reverbnation.com/raisetheflag