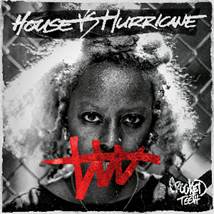 As House Vs Hurricane gear up for the release of their long awaited sophomore album Crooked Teeth and its subsequent capital cities run, the band today release a brand new iPhone app, as well as details of the album package and a massive run of regional tour dates.
It has been confirmed that the first pressing of the album will include a free DVD that features studio diaries, interviews and the Blood Knuckles music video. The package will be a six panel softpak with a huge booklet.
 The band have also just released a free iPhone App. From the 29th June, the band will drip feed tracks from the album right up until release. The app has a bunch of bonus features such as a news feed, tour dates, videos, merchandise discounts and loads of other exclusive content.
Fans in regional areas will be stoked to hear that House Vs Hurricane are not just hitting capital cities this Winter. Immediately following the massive Crooked Teeth Tour, they will commence Crooked Teeth Part II, a regional run that will take in most of the East Coast.
Along for the ride will be Confession, playing their first shows since controversial front man Michael Crafter kicked out the other four members of his band earlier this year. The change made headlines across the country, including a hysterical interview on triple j's Short Fast Loud where Crafter held back on no detail about the events that transpired.
Rounding out the national line-up will be Byron Bay's In Hearts Wake, who are getting ready to release new music as we speak. This tour will be their first major run of 2012.
Crooked Teeth has already started getting the quality reviews you'd expect from a band as established as House Vs Hurricane. Blunt Magazine awarded it, Album Of The Month in the latest issue stating, "HVH 2012: different ingredients, less fat, better taste. Enjoy!"
Three songs from the album are now available online.  "Blood Knuckles", "Get Wrecked" and most recently, "40 Deep".
---
triple j's Short Fast Loud, Kill Your Stereo and UNFD present:
CROOKED TEETH TOUR – PART II
HOUSE VS HURRICANE | CONFESSION | IN HEARTS WAKE
Thursday 10th August – Prince Of Wales, Bunbury, WA 18+
Friday 11th August – Amplifier, Perth, WA 18+
Saturday 12th  August  – HQ, Leederville, WA ALL AGES
Friday 17th August – Pakenham Hall, Pakenham, VIC ALL AGES
Saturday 18th August – Brisbane Hotel, Hobart TAS U18 (Day Show)
Saturday 18th August – Brisbane Hotel, Hobart TAS 18+ (Evening Show)
Wednesday 22nd August – The Plantation Hotel, Coffs Harbour, NSW 18 + *
Thursday 23rd August – The Cambridge Hotel, Newcastle, NSW 18+
Friday 24th August – The Loft, Newcastle, NSW ALL AGES
Saturday 25th August – Masonic Hall, Blacktown, NSW ALL AGES
Sunday 26th  August – Unanderra Youth Centre, Unanderra (Wollongong), NSW ALL AGES
Wednesday 29th  August – The Basement, Canberra, ACT 18+ **
Thursday 30th August – The Bended Elbow, Geelong, VIC ALL AGES **
Friday 31st August – Ferntree Gully Hotel, Ferntree Gully, VIC 18+ **
Saturday 1st September – The Pier Live, Frankston, VIC **
Saturday 1st September – The Pier Live, Frankston, VIC ALL AGES – Day Show **
 * Confession Not Appearing
** In Hearts Wake Not Appearing
Tickets will be on sale next Tuesday 3rd July via housevshurricane.oztix.com.au