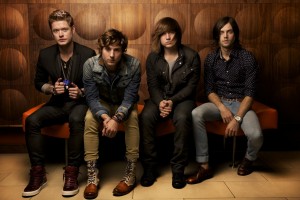 Dynamic four-piece HOT CHELLE RAE , winners of the 2011 American Music Award for Best New Artist, make a triumphant return to Australian shores this October.  The band announced themselves as a force to be reckoned with as avid audiences soaked up their special guest performances throughout Taylor Swift's sold-out national tour earlier this year.  This time Hot Chelle Rae bring with them one of the UK's hottest new talents, special guest Cher Lloyd .
Tickets for Hot Chelle Rae's 'Whatever World Tour', with special guest Cher Lloyd, go on sale Friday July 6. For further ticketing and pre-sale details, go to www.livenation.com.au.
Hot Chelle Rae – lead vocalist and guitarist Ryan Keith Follese, guitarist Nash Overstreet, drummer Jamie Follese, and bassist Ian Keaggy – released their stellar 2009 debut 'Lovesick Electric', an album which introduced them into the market as ones to watch, featuring the energetic 'I Like to Dance' and ballad 'Bleed'.
In 2011 the band followed up with their highly anticipated and hugely successful sophomore album 'Whatever'.  Playful, stylish and radio friendly, it features the highly infectious, ARIA triple-platinum smash hit 'Tonight Tonight' and double-platinum 'I Like It Like That'.  Other album highlights include 'Why Don't You Love Me', with guest vocalist Demi Lovato, finger-snapper 'Radio' (with rising rapper Bei Maejor), be-yourself anthem 'Beautiful Freaks', and the title track, the "three in the air and you just don't care" anthem for the now generation 'Whatever'.  'Whatever' will be the third track to be lifted from the album – the video featuring footage shot in Australia during their tour with Taylor Swift.
CHER LLOYD  joins Hot Chelle Rae at all shows of their Australian tour.  Rapper, singer and songwriter, Cher Lloyd, has emerged as one of London's freshest young talents.  Coming to attention on Britain's The X-Factor  with her version of 'Turn My Swag On' followed by a diverse range of songs taking her into the finals.  Taken under the wing of Simon Cowell, the confident, versatile vocalist released her debut single 'Swagger Jagger' mid-2011 and took it all the way to the top of the UK charts.  Locally Cher's 2011 single release 'With Ur Love' featuring Mike Posner, has been well received hitting Gold. Radio is currently lapping up her smash 'Want U Back'.  Cher's 2011 UK debut album of street-wise pop gems, 'Sticks & Stones', currently not released locally, shot to #4 in the UK album charts.
Don't miss one of the hottest shows of 2012 – Hot Chelle Rae, with special guest Cher Lloyd.
'WHATEVER WORLD TOUR 2012' AUSTRALIAN DATES:
SYDNEY HORDERN PAVILION MONDAY OCTOBER 22
BRISBANE CONVENTION CENTRE TUESDAY OCTOBER 23
MELBOURNE FESTIVAL HALL FRIDAY OCTOBER 26
CANBERRA ROYAL THEATRE SUNDAY OCTOBER 28
ADELAIDE AEC THEATRE TUESDAY OCTOBER 30
PERTH CHALLENGE STADIUM THURSDAY NOVEMBER 1
TICKETS ON SALE 9AM, FRIDAY JULY 6
For complete tour and ticket information, visit: www.hotchellerae.com , www.cherlloyd.com  and
www.livenation.com.au
About Live Nation Entertainment: Live Nation Entertainment is the world's leading live entertainment and eCommerce company, comprised of four market leaders: Ticketmaster.com , Live Nation Concerts, Front Line Management Group and Live Nation Network. Ticketmaster.com  is the global event ticketing leader and one of the world's top five eCommerce sites, with over 26 million monthly unique visitors. Live Nation Concerts produces over 20,000 shows annually for more than 2,000 artists globally. Front Line is the world's top artist management company, representing over 250 artists. These businesses power Live Nation Network, the leading provider of entertainment marketing solutions, enabling over 800 advertisers to tap into the 200 million consumers Live Nation delivers annually through its live event and digital platforms. For additional information, visit www.livenation.com/investors .