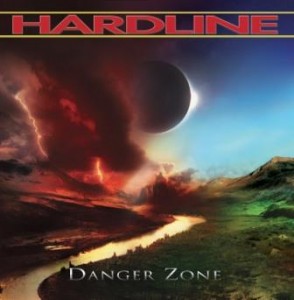 "Dominated by melodic rock right to the very end, this is the album that many Hardline fans have most likely been waiting for since Double Eclipse."
Whilst the lineup of Hardline has changed much over the course of the bands 20 odd year history and 4 albums, there has been one constant – the unmistakable vocals of Johnny Gioeli, surely possessing one of the most distinctive voices in ROCK, whether it be with Hardline or the more metallic Axel Rudi Pell.  With Hardline's debut album Double Eclipse universally hailed as one of the absolute classic melodic rock records, new album Danger Zone sees Hardline hitting back with 12 songs of pure melodic rock, after heading into a more "modern" direction on their past two releases.
As if almost making a deliberate statement, opening track Fever Dreams kicks off the record with 10 seconds of keyboards, before that powerful Hardline guitar crunch so integral to the Double Eclipse album kicks in.  Then it's time for those trademark vocals of Gioeli to soar all over this fist pumping anthemic rocker. .  10,000 Reasons drops the intensity back ever so slightly, but is an out and out melodic rocker with a gigantic chorus.  Title track Danger Zone is the albums epic  track clocking in at over 6 minutes with some searing guitar work, but  somewhat saps the intensity built up by the opening two tracks.  What I'd Like however picks things back up again.
At the core of this album is Alessandro Del Vecchio (Edge Of Forever, Edens Curse, Lionville) who handled the key songwriting, production and keyboard duties.  As producer and as detailed in the EPK video below, Alessandro's key aim for this album in those roles was to really bring out the best vocal performance possible in Gioeli.  For me, there's no better example on this album than the powerful ballad'esque Stronger Than Me that has moments where it really reminds me of a Winger Rainbow In The Rose type vibe.  But it's the emotion and power of those vocals that are the tracks centrepiece.  Never Too Late For Love and Stay are killer AOR songs, whereas Show Me Your Love would have been the perfect third track for the album, huge intensity, even huger gang vocals with some storming guitar riffs in the vein of say Whitesnake and Dokken at their heaviest.
Dominated by melodic rock right to the very last moment, this is the album that many Hardline fans have most likely been waiting for since that cracking debut.  Simply superb stuff and an album that is bound to feature in many top album lists for the year.
Essential Information
For fans of: Melodic rock and of course Johnny Gioeli and Hardline
Release date: 18 May 2012
Record label: Frontiers Records/Riot! Entertainment (Australia)
Produced by: Alessandro Del Vecchio
Track listing:
Fever Dreams
10000 Reasons
Danger Zone
What I'd Like
Stronger Than Me
Never Too Late For Love
Stay
I Don't Want To Break Away
Look At You Now
Please Have Faith In Me
Show Me Your Love
The Only One