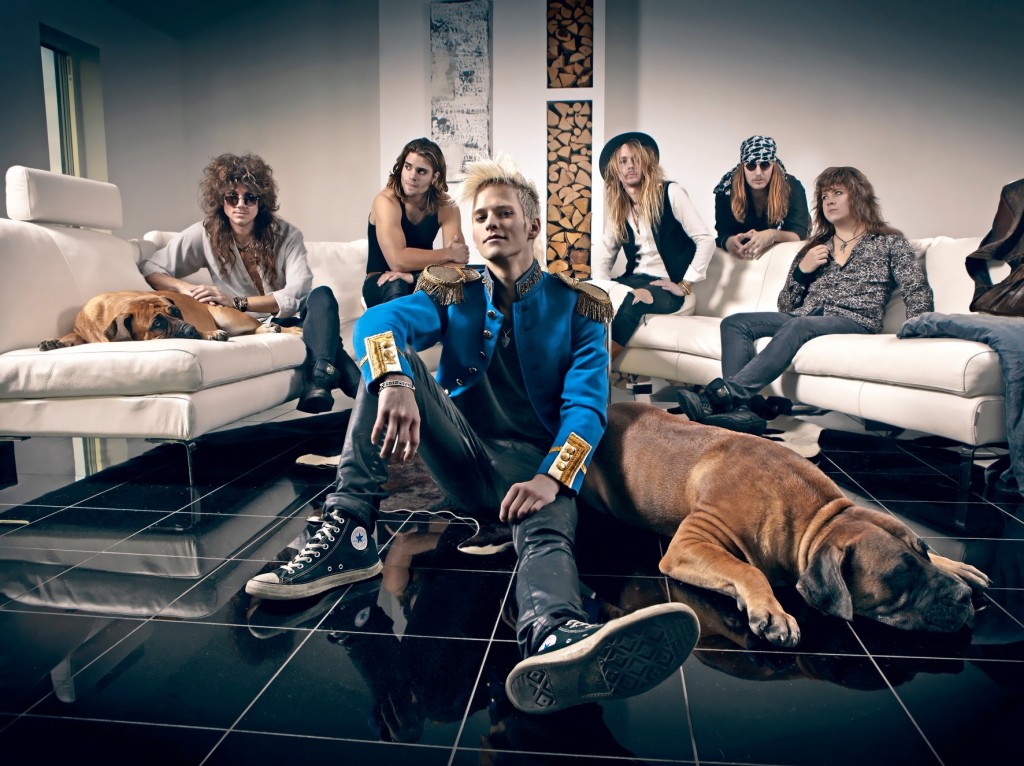 "It's not a very cool thing today to really have saxophone on an album and we were like is it "legal" to have a saxophone on the album, but me and Dave love stuff like Michael Bolton so we were like we have to have saxophone on this song."
When I first discovered Swedish melodic rockers H.E.A.T back in 2008 on the back of their self titled, debut release, there was something so magical for me personally in what H.E.A.T delivered with that album, it was one of those moments where after 30 odd years of listening to music, I had finally found my 'utopia'.  Sure, there have been many bands that have come close, very close, but H.E.A.T just had that unexplainable something extra and I have to say the imagery of sunsets, palm trees and airport runways might have just been that extra additional element?
Fast forward to 2012 and on the back of big expectations with new singer Erik Gronwall, with Address The Nation, H.E.A.T have delivered an album that is once again pure musical perfection to my ears.  Tracking down guitarist Eric Rivers in H.E.A.T's hometown of Upplands Vasby in Stockholm, Sweden we chatted about new album Address The Nation, the impact new singer Erik Gronwall has had on the band and breaking all the rules with saxophone!
Hey Eric, thanks for chatting.  So here we are, about to address the nation, this time it's Australia's turn!  New album Address The Nation seems to have taken H.E.A.T further into a more infectious and magical AOR sound, when you sat down to write the songs, is this what you were intending?
We didn't really discuss it that much actually.  Erik was new in the band and we wondered do we go in a new direction, but we decided to just write a lot of songs and we had a lot of time to do it.  So we took our time and didn't really have any pressure to put an album out quickly, so we wrote lots of songs and lots of different songs and chose from about 30 to 35 songs, the 10 songs that made the album.  Everyone was really inspired with Erik in the band, there was a new spark and we were writing lots of songs and whatever came out we went with really.
Was the way that you write songs different with Erik now in the band?
Its a little bit different, given he was such a big part of the songwriting on this album.  He has some other influences and everyone in the band was more involved in the songwriting this time around.  I think just having a new guy in the band brought a positive vibe to everybody and inspired us to write.
First single is Living On The Run, aside from being a totally awesome track and one of my favourite from the album, what was the decision to put that out as first single?
That was mainly the label who chose that.  We had been having discussions, but you know, six guys trying to come up with a lead single, we would have come up with six different choices!  We trusted the label to choose and I think they made the right choice.
The video looked like lots of fun to make, which was also your very first video clip as well!
We recorded that at a hotel here in Upplands Vasby, which has the biggest hotel suite in Northern Europe I think it is.  It costs like 25,000 kronor just to rent it for a night, but we have a good relationship with the people so we didn't have to pay that much for it.  So we just gathered a lot of people and shot the video that you now see.  When you have such a great location like that it was a great vibe on the set and everybody had as much fun making it as it does appear when watching the video!
A song that is certainly something different is the closing track, Downtown, what can you tell me about that song?
That's very much a Jimmy Jay song.  He came to us with pretty much the entire song and everybody felt that it was almost like a masterpiece you know, but it was like something we hadn't really done before. We were like can we have this song on the album you know, because it was so different to the other songs.  It's almost like a song that should be on a movie soundtrack or something like that.  The record company felt that it should definitely be on the album and after we recorded the song listened to it as part of the album, it definitely felt great.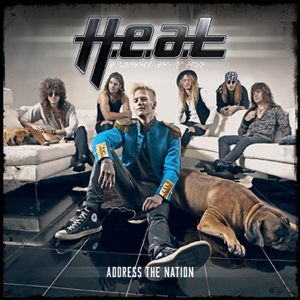 In And Out Of Trouble is another track I wanted to ask about which features saxophone and lot's of it, well done for bringing back the sax!
Ahhh, the saxophone (laughs).  It was me and Dave actually jamming in our studio and we started to write that song and we felt that the intro needed something, we tried some guitar and synthesizers but then Dave was fooling around on the keyboard and found a saxophone sound on there.  That is when we knew we are going to have saxophone on this song.  It's not a very cool thing today to really have saxophone on an album and we were like is it "legal" to have a saxophone on the album, but me and Dave love stuff like Michael Bolton so we were like we have to have saxophone on this song.  The record company was like "are you really sure about the saxophone guys" and we were like YEAH!  It was kind of a big step for us to take, but you don't know how people are going to react to it, but we felt if we like it, then hopefully our fans will too.
You also used a variety of outside songwriters for this album, which would have been an interesting experience for you guys?
It was great.  For all those songs we sat down with the other people to write, we weren't just given finished songs, we wanted to be part of the songwriting.  We felt that if we were to have cowriters then at least someone from the band should also be a cowriter of that song, it was only 1,000 Miles that was the big exception to that.  So it was a very cool experience to sit down and write with other people. It was an inspiration thing too you know, you get inspired by each other.  Everyone has a different melody sense and lyric sense and it's lots of fun and inspiring to write that way and we will be doing more of that from now on.
You recorded the album using Tobias Lindell who is well and truly known to me with his past work with Europe and Hardcore Superstar and Mustach for example.  How was it working with Tobias? That has probably also been the most amount of keyboards and saxophone he has ever recorded!
(Laughs).  It was great working with him, he knew what we were all about before we entered the studio.  When we had our first meeting with him, he's a very calm and relaxed guy and it's all about the atmosphere you know and he's all about having a good time and letting us play our songs, because that's what you do best.  It was all very relaxing, we had a few beers with him almost every day and we lived in that studio for about five weeks.  It was the first album we've recorded with everybody together in a live room.  We just sat in this big room in a big luxury studio and recorded everything together.  I think you can hear it on this album, there's a bit more energy and rawness.
Going back to your last album Freedom Rock, had the relationship with your former sing Kenny already started to deteriorate whilst you were making that album, as things seemed to really go downhill not long after?
That was a bit of a dark period for us you know.  We were in that competition the Melodifestivalen and after that, we had tonnes of shows and it just seemed like we were touring forever.  When the tour ended, the record label and management was like "ok guys, just enter the studio now and record your second album".  We were like oh fuck, we don't really have any songs.  It was kind of a hectic period and there was a bit of tension and it was stressful having the pressure of writing the songs.  It wasn't a very good recording in the sense we also wrote most if the songs in the studio, which wasn't good because you don't want to spend money on studio time to write songs.  Between tension amongst ourselves and the label and management nagging us, it just wasn't a good time really.  But I think Freedom Rock has some great songs on it, I think it was just bad timing of it all.
You have a bunch of Swedish shows coming up, including notably Sweden Rock Festival.  What plans outside of that do you currently have for touring outside of Sweden for the rest of 2012?
Oh yeah, we've got lots of shows on the horizon in and around Sweden and hopefully we will then head out on tour for some shows around Europe and hopefully Japan again.  But we don't really know you know, we just write the songs and record them and then the other guys take care of the business things.  But definitely we want to tour a lot on this album.  We have a very good relationship now with our record label and management, which is all new as well, so we feel like we have a big support behind us now to go tour and have fun!
Check out our review of Address The Nation right here…
Essential Information
From: Upplands Vasby, Sweden
Band members: Erik Grönwall: Vocals, Dave Dalone: Guitars, Eric Rivers: Guitars, Jona Tee: Keyboards, Jimmy Jay: Bass, Crash: Drums
Latest release: Address The Nation (March 2012, earMusic)
Website: www.heatsweden.com