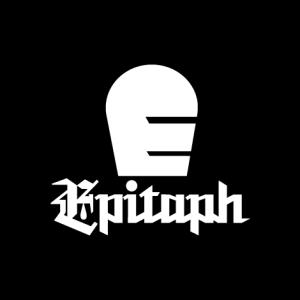 EPITAPH GETS WARPED

Punk's Leading Label Represents at Vans Warped Tour with performances by Falling In Reverse, New Found Glory, Every Time I Die, The Ghost Inside and Skip The Foreplay
New 2012 Epitaph Mixtape Sampler Out Soon
Epitaph Records will be in full force on Vans Warped Tour '12 with standout performances from Falling In Reverse, New Found Glory, Every Time I Die, The Ghost Inside and Skip The Foreplay. In celebration, Epitaph will be release its annual Mixtape Sampler featuring noteworthy Epitaph artists.  Celebrating its 18th anniversary, America's longest-running touring festival, Warped Tour will kick off on June 16 in Salt Lake City, UT and wrap-up August 5 in Portland, OR.  The complete line-up and routing can be found at www.warpedtour.com.
Falling In Reverse (Entire Tour – Main Stage)
After attracting exceptionally large and fervent crowds at last years Warped Tour, charismatic singer Ronnie Radke and his energetic new rock 'n' roll band Falling In Reverse are back for their second time on the traveling festival.  Playing songs from their fan favourited debut album, The Drug In Me Is You, Falling In Reverse are poised to be one of Warped Tours biggest attractions. Check out the music video for "I Am Not A Vampire" here: http://www.youtube.com/watch?v=ODhMdujZeEY
New Found Glory (Entire Tour – Main Stage)
Touring in support of their latest album Radiosurgery, beloved melodic punk outfit New Found Glory are no strangers to the Vans Warped Tour. The band's seventh studio album Radiosurgery continues the band's high energy musical journey while simultaneously paying homage to the bands that inspired them to first pick up instruments as teenagers back in Coral Springs Florida. Check out "Radiosurgery" from their latest album in stores now: http://www.youtube.com/watch?v=BNYgeSKu8gQ
The Ghost Inside (Entire Tour – Advent Stage)
Los Angeles based heavy melodic hardcore band The Ghost Inside will release their Epitaph debut, Get What You Give on June 22nd. The album, produced by Jeremy Mckinnon of A Day To Remember, is nothing short of the band's most dynamic and explosive material to date, embracing The Ghost Inside's  powerful and affecting sound that merges insightful and introspective lyrics with charging drums, lightning fast riffs and devastating breakdowns. Check out "Slipping Away" off Get What You Give out June 22 here: http://soundcloud.com/epitaph-records/slipping-away.
Every Time I Die (Entire Tour – Advent Stage)
Buffalo's magnificently brutal heavy rock ensemble Every Time I Die will spend the coming months unleashing their revered punk infused metallic mayhem upon audiences on the annual Van's Warped Tour. The adrenaline-charged rockers will be out supporting their powerful and critically acclaimed album, Ex Lives which hit 25 on Nielsen Sounscan this past March. The Warped Tour vets are excited to bring their high energy, intense live shows to a city near you. Check out "Revival Mode" by Every Time I Die from Ex Lives, out now: http://www.youtube.com/watch?v=AEp-Owhqbr0.
Skip The Foreplay (Entire Tour – Kevin Says Stage)
The ground-breaking party metal band out of Montreal, Skip The Foreplay have perfected a unique and exhilarating new high energy sound that merges the heaviness of metal, earth-shaking hardcore breakdowns and the massive irresistible beats of electronic dance music that include elements of dub-step, hip-hop and house. The groups Epitaph debut, Nightlife is available now. Get ready for a wild show, Skip The Foreplay is sure to bring the party all summer long. Check out the music video for "DJ": http://youtu.be/wyGfoeFPpjk.
Epitaph Mixtape 2012 – Track Listing
Good Girls Bad Guys – Falling In Reverse
DJ – Skip The Foreplay
Engine 45 – The Ghost Inside
Revival Mode – Every Time I Die
The Obituaries – The Menzingers
Summer Fling Don't Mean A Thing – New Found Glory
True Romance – Motion City Soundtrack
Let Us Hear Your Voice – Pennywise
Only Right Now – Set Your Goals
Liberate Me – Our Last Night
Lullaby Of The Crucified – Alesana
Muther – letlive.
Carry You – Millencolin