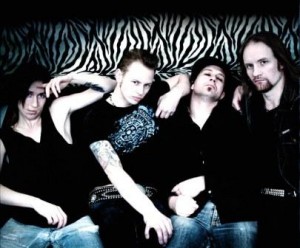 Swedish Hard Rockers' ECLIPSE anticipated new album "Bleed And Scream" out in August on Frontiers
Frontiers Records is pleased to announce the release of the anticipated ECLIPSE fourth studio album entitled "Bleed and Scream" on August 24th in Europe andAugust 28th in North America.
"Bleed and Scream" marks the return from the Swedish Hard Rockers 4 years after the acclaimed album "Are You Ready to Rock", which gained the band a solid reputation and a steady following, thanks also to their live appearances which culminated with dates as opening act for Deep Purple and a Firefest show in 2009.
Besides this, Eclipse singer Erik Martensson has been busy producing and writing a number of successful songs and records for such artists as: W.E.T, Toby Hitchcock, Giant, Jimi Jamison just to name a few. Erik and Eclipse guitarist Magnus Henriksson also wrote the song "Brothers in Arms" (originally an Eclipse-track) which was voted as # 1 for best song of the year in Melodicrock.com awards for 2009.
In 2011 Eclipse teamed up again to write what was to become their latest effort "Bleed and Scream". The bar was set high and the initial goal was to top their latest album. "We knew we had to do everything better on this album. If we couldn't have achieved that we never would have released it! But boy did it turn out well! When it was taking shape we realized this was to be a monster of an album", says guitarist Magnus Henriksson.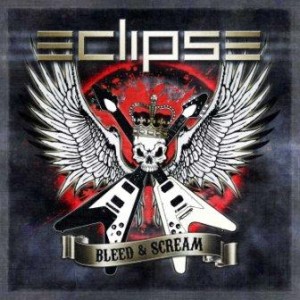 "With Eclipse we never think of what other people want or expect from us. We write for ourselves and make the music we love to listen to. If I'd think of a perfect album this is how it will sound! And once the album was written the recording process went pretty smooth as we knew exactly what goal we aimed for. I'd say it's our own pimped version of the classic hard rock we grew up listening to", adds guitarist/singer Erik Martensson.
"Every song has qualities as a single. Erik´s vocals are way better than ever. The guitar-sound is just awesome! The whole production is just in your face. It has something for everyone in it! We worked so hard at making this record that it drove us nearly nuts and made us wanna scream, but now it's your turn to bleed & scream", concludes Magnus.
"Bleed and Scream" tracklisting includes: Wake Me Up; Bleed And Scream; Ain't Dead Yet; Battlegrounds; A Bitter Taste; Falling Down; S.O.S.; Take Back The Fear; The Unspoken Heroes; About To Break; After The End Of The World.
The first single "Bleed And Scream" will be exclusively distributed in Sweden through Sweden Rock Magazine in the issue that will hit the streets on July 17th. This special release will include two exclusive bonus tracks (unavailable elsewhere) : "Come Hell or High Water" and "Into The Fire". You can stream the song on the Frontiers Records webradio (www.frontiers.it/webradio) or listen to a sample following the link via Melodicrock.com : http://www.melodicrock.com/audio/Eclipse02.mp3 
Weblinks: www.eclipsemania.com / www.frontiers.it 
ECLIPSE
Erik Martensson – Bleeding vocals, guitar & bass
Magnus Henriksson – Screaming lead guitar
Robban Bäck – Roaring drums
Johan Berlin – Epic synthesisers