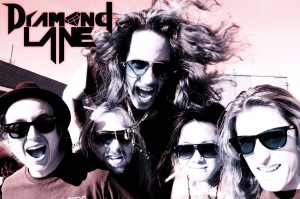 Official Bio: "Wreaking havoc from the Bay area to the Hollywood hills, the Los Angeles band Diamond Lane delivers an infectious blend of rock and roll along with a mesmerizing stage presence.
Since their Hollywood debut in 2009 to a sold out crowd at The Viper Room, this California quintet has ballooned into the next mammoth rock phenomenon. Their third body of work, World Without Heroes, was recently released in May 2011 to yet another sold out crowd, this time being played at The Roxy Theatre.
World Without Heroes is one of the bands most impressive and adventurous endeavors to date. Front man Brandon Baumann leads the straight forward rock unit, supported by Jarret Reis and Frankie Lindia on guitar, Ray Zhang playing bass, and Jonah Nimoy holding down the drums and percussion. Their presence throughout California continues to grow, landing them back to back performances at the Sunset Strip Music Festival as well as in nearly every iconic venue throughout the Golden State, including opening slots for worldwide behemoths such as Aerosmith and ZZ Top.  Capable of inking everything from hard driving rock to radio friendly singles, Diamond Lane keeps the tunes flowing and the party shaking everywhere they turn up.
World Without Heroes sees the band growing and maturing, while still remaining true to their heavy roots and influences, utilizing everything from thunderous double bass drumming to ear searing guitar solos.
World Without Heroes is available now from digital retailers such as iTunes and Amazon, and fans can stream or download songs from the album via the group's Bandcamp, Facebook, or ReverbNation pages.
http://diamondlane.bandcamp.com/"
Let's start with the basics first, how would you describe what Diamond Lane are all about, both musically and visually?
We are an American hard rock band, plain and simple.  Musically, we're not trying to reinvent the wheel, just bridge the gap between what truly rocks and what music is supposed to sound like in 2012.  Too many bands are jumping on trends and trying to play what they "think" is going to get them someplace. That's a defeatist mentality, because you need to play and write what moves YOU.  If you're not sold on it, no one else is going to be.  Honest and natural is the best approach.  That being said, we play straight up hard rock and have a ruthless blue-collar work ethic.  Nothing in life is free.  As far as visuals are concerned, we certainly aim to bring aesthetically pleasing action to our live shows, be it walls of Marshall stack, antics, crowd involvement, bikini girls, gorillas, beer slamming competitions….we treat our shows like a vacation, not only for us, but for the audience.  It also doesn't hurt that we are a group of young lady-killers!
Can you introduce each member of the band and give us a rock 'n' roll fact or myth about each?
Facts or Myth? I'm going to list off a few "myths" that have been spread around the scene for sometime.  For some reason, we've been donned "The Most Interesting Men in Rock n Roll…" I cannot vouch for their validity or if they are accurate, but this is what I've heard…
Brandon – He can keep one eye on the past while looking into the future…
Jarret – Once while sailing around the world, he discovered a short cut…
Ray – If he were to wish you good luck, you had better go and play the lottery…
Frankie – Even his tree houses have finished basements…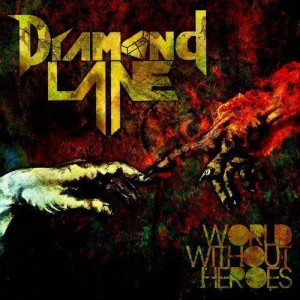 You have just released your new album 'World Without Heroes', so tell us why this is the greatest thing you have released so far?
Releasing an album is a really representative thing, meaning, it essentially takes a snapshot of where we are as people and writers at the time that was created. It's not just the songs, but also the years of work before to obtain the ability, wherewithal and capability to deliver such a body of work.  It's the greatest thing we've released so far because it's a complete body of work that shakes the rafters, shakes the hips and makes you want to crank up the volume!
Ok, so whilst we are speaking of heroes, when it comes to Diamond Lane, who are some of the band's biggest heroes/influences?
I would say that individually we have many different personal heroes, and we don't so much as say have particular artists that influence the entire package and drive the sound, but more an overwhelming respect for talent and those who have put in a lifetime of commitment before us.  Metallica to KISS to Alice In Chains to Guns 'n' Roses, Aerosmith, Van Halen, Ozzy —- the list goes on and on.  I truly feel that music that inspires you and touches a place inside your soul is wildly influential in its' ability to CONNECT.  At the end of the day, that's what it's all about, the connection.
We've picked out a couple of our favourite songs from the album, now it's your turn to tell us a little bit about each song:
I really enjoy hearing what people gravitate towards from the record.  We really set out to create a well-rounded body of work that could carry its weight across the whole gambit.  I do believe we achieved that, because while there are certainly parallels and common songs, the answers are generally varied.  That being said, here's a little insight to these:
City Of Sin – After more than a couple completely out of hand band trips to Vegas, the song pretty much wrote itself.  Truth be told though, I think the idea that certain experiences can shape your perspective and more or less influences your forward thinking, can be applied to any city really.  The neon lights have a way of casting a little spell on you no matter where you are.
Sundress City – Back up in the Bay Area, Jarret and I worked in catering that was on a college campus.  Not only was that its own little microcosm of a city, always people coming and going, but the scenery was gorgeous….and when spring rolled into summer, that place was and always will be Sundress City!
Heaven's Falling – I love the riffs on this one, lots of intensity that is a great pairing for the melodic vocal approach.  It's about being reliable.  Having a friends back.  Sometimes things in life get shitty, and it's a nice feeling to know that there's someone else on your team.
When you think back to the recording sessions for the album, what 3 things/memories that most immediately come to mind?
The most prominent thing was that we had a damn great time.  Creating this album was a huge learning experience, and we all had a common goal and idea on what we were trying to accomplish.  We demoed a ton and ton of songs, around 50, and shaved it down as needed.  We essentially lived in the damn studio, so upon the hundreds and hundreds of Budweisers consumed, taking the studio dogs for morning walks, or the all out rush of sprinting into the booth to lay down an idea that was spilling out of my mouth….it's all the little moments and memories that paint the big picture.  I can't wait to apply everything that has been learned since then into now and do it all again.
One of the most striking things about the new album is the cover artwork.  What's the concept and story behind how that came together?
Our good friend from back in San Jose, Kelley Stevens, whom from now I'll refer to as "The Belly", came up with the initial concept after a night of brainstorming (drinking) with Jarret during the recording process.  The band had been toying with several concepts at that point, so it was a welcome phone call the next day to hear how The Belly came up with this rad idea and had rough illustrations to share.  That night laid the foundation for what you currently see.  After toying with different variations of the cover, Mike Diva worked his magic and brought the hand drawings to life.  He really took it over the top….I'm definitely a fan of what the both did.
The artwork idea was essentially inspired by Michelangelo's chapel ceiling painting "The Creation Of Adam" – his painting is such a world renowned iconic piece of art that had never really been incorporated into something like this.  In this instance, it's more of the evil reaching out and influencing mankind.  We're living in a world without heroes for certain, with so much in a state of limbo, no clear cut direction, no right answers, no true heir to the musical thrones…the imagery felt appropriate.
In terms of your song writing, what do you consider to be the most important ingredients that need to feature in a Diamond Lane song?
I think we as individuals are the most important ingredients.  Our perspective, experience and expectations shape the songs that we write and all play a role. There isn't necessarily a formula that we need to follow or something that needs to be the focus.  Honesty is a feature.  We need to do what moves us, what gets a reaction from us, because the bottom line is, if we're not sold on it, no one else will care.  That's why it's important to shoot it from the hip and do what feels right.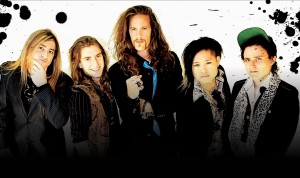 If you were a person in the crowd at one of your gigs, what five words would you walk away using to describe the performance you just witnessed?
Take my car keys please!
Throwing that last question on it's head…what do you usually see when you look out into the crowd at a Diamond Lane gig?
Excitement!  It's impossible to ignore!! And I'm not just stroking ourselves here, it really is a treat for us.  It seems like people are letting loose and enjoying themselves to the maximum…which is what it's all about.  Concerts are supposed to provide an escape from the redundancy and honestly, lots of women! There are certainly no complaints within the camp, that's for SURE!!
For the benefit of those reading this in galaxies far, far, away, how would you describe the current music scene in Los Angeles and Diamond Lane's place within it?
The music scene out in a vast concrete jungle like LA and Hollywood is most certainly a peculiar one.  There are so many little subsets and circles where particular bands have a cult following so to speak, and are reliable in their reach and delivery.  As far as a unified theme entirely, that's really not the case.  There is a severe lack of a united front.  There's always an influx of new people wanting to check out what's hot and a good time, but in my opinion not enough bands that truly deliver the goods and kick serious ass.
As far as our place, we pride ourselves in our live presentation and bringing people together.  We like to make our shows an EVENT, not just a band playing another set. There are 500 bands playing out on any given night in LA county, so you have to ask yourself, "why choose Diamond Lane?" —- the answer? Consistent and memorable great experiences — time and time again, we unite, we entertain, and we have a damn good time!  The more people we can turn on at any given show seems to spread and grow to the next. And believe me, the pleasure is all ours….keeps us hungry and always wanting to deliver more for the fans — at the end of the day, that's what it's all about.  They deserve greatness. They deserve packed shows.  They deserve everything and more they put up their hard earned dollars for.
With 2012 half way through, here's a chance to gaze into your crystal ball.  By the end of 2012, Diamond Lane will have:
1. New music — we just started kicking around ideas for a new EP that is going to see us growing and CRUSHING!
2. We'll roll out this chapter with new visuals, merch and the whole lot to accompany
3. A firm gameplan of 2013….can't just look at today or next week….gotta go long term if you're in it for the long haul.  We will leave our mark. Go big or go home. Every new year has to be a more monumental year than the last or we haven't done our job properly.
Essential Information
From: Hollywood, USA
Sounds like: Hard Rock!
Band members: Brandon Baumann (Lead Vocals), Jarret Reis (Lead Guitar), Ray Zhang (Lead Bass), Jonah Nimoy (Lead Drums), Frankie Lindia (Lead Guitar Dos)
Website: www.diamondlanerocks.com
Latest release: World Without Heroes (2012)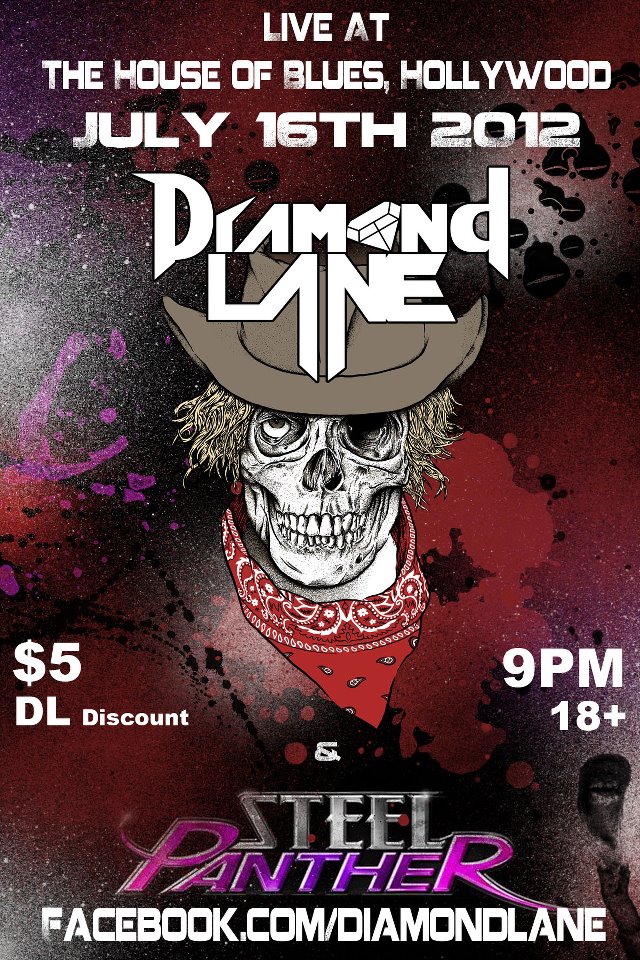 Comments
comments