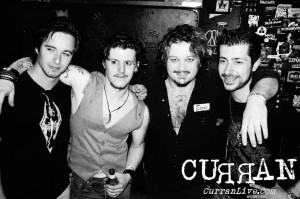 From Bio: In an era of Talent Show winners and disposable pop stars, MARK CURRAN stands out from the rest, not only as a singer/songwriter, but as a bona fide Rock Star. Born in Ireland, and raised in the working class state of New Jersey, Mark was surrounded, and influenced by a plethora of Rock N Rolls finest. He spent most of his early years playing up and down the East Coast, honing and learning his craft. Mark has returned to the live stage with his new band CURRAN…blending hard rock hooks with pop melodies, Curran are bringing back a much needed excitement to Rock N Roll. Building upon great and honest song writing…Mark and the boys leave their hearts on the stage every time…. "Whether its 50 people, or 5000 people, we just want to be great!" "We're just 4 guys trying to play honest Rock N Roll and entertain you!! All we're asking for is a chance, come see us. I promise you won't forget us!"
We love bands from New Jersey so thought Curran were a worth addition to be one of our Best Things You've Never Heard.  We got main man Mark Curran to answer some questions for us.
Let's start with the basics first – for those that aren't aware of the band, what brought the band together and what is the inspiration behind the band name?
I took some time off the last couple years to start a family…..When the time came to consider going back out on the road I started making some calls to see who was available!!  It was really important to me to put a BAND together, as opposed to hired guns! Through a mutual friend I found Matt Anthony, our guitar player, who in turn knew Kris Rich our drummer.  We initially started rehearsing as a 3 piece because we couldn't find a bass player anywhere.  At the 11th hour, I think 2 nights before our first gig another friend put Enrico in touch with me…he came to the studio for a rehearsal, and the chemistry was magic…and CURRAN was born!!!  As far as the name goes…I wanted to capitalize on some of the things I've done in the past and thought if I started under a brand new name, the preverbal red tape might double…someone suggested my last name and it just seemed to fit!!!
You have twenty seconds in an elevator to try and convince someone to listen to your music, what do you tell them?
If you're tired of the talent show, karaoke crap that's been offered up as real music these days, and long for the days when Bands wrote albums, not singles, and miss being entertained visually as well as aurally, then give CURRAN a spin….or your money back, and we'll even through in a fee pizza!
Can you introduce each member of your band and give us a rock 'n' roll fact or myth about each of them?
First up is Matt Anthony (Lead Guitar and BV)…..Next is Kris Rich (Drummer), and Enrico Terella (Bass and BV)… and as far as Rock N Roll facts go. We're the best kept secret in Rock N Roll!!
In terms of your song writing, what do you consider to be the most important ingredients that make up a Curran song?
Honesty……I think it's very important for the listener to see themselves in the lyrics…..I try to write in a way, that the listener has to make the lyrics their own, and in turn the song…if that can happen, it's a magical thing.  I still hear songs today that take me right back to certain moments in my life, good and bad……If you can achieve that, you've done something right.
Both lyrically and musically, what or who inspires/influences your music the most?
Well its life that inspires the music, the trials and tribulations of everyday living….as far as influences go….Jon Bon Jovi made me wanna pick up a guitar….Phill Lynot and Bruce Springsteen also!!! Those are the 3 I still listen to today, and will always have on my ipod!!
So, when do you think we can we expect an album from Curran?
Well as it turns out…we're gonna be shooting into the studio very soon actually, in the hopes of having a 5 track EP ready for November…and then hopefully a full length next year!!
Being raised in New Jersey, how has that musical culture helped to shape you as the musician you now are?
In every sense…I was lucky enough to experience the tail end of the great Jersey shore scene….I remember seeing Winger at the Fastlane in Asbury park when I was 10, and meeting Johnny Cash around the same time at the State Theater.  Growing up in Jersey has def shaped the performer I am today…you learned quickly that when you walked out on a stage, you had to kick ass.. you'd get your ass kicked, and I've carried that with me to this day!
Now for those that haven't yet seen you perform before, what can people expect from one of your live shows?
Part Circus, Part Political rally, Part spiritual meeting, Part dance party…..we're just a big Bar Band!
You've supported a number of bands in your time together including Aerosmith, Iron Maiden, SR-71, Bret Michaels, Dio and even Fleetwood Mac and Whitney Houston. When you open for such big names, do you get any tips from these guys or are you actually the ones out there showing them how it should be done?
A lot of times, you very rarely get to interact with the headliners….but I watched every single one of them from the side of the stage and the biggest lesson or tip i took away from each of those tours was that those artists were where they were through sheer talent and hard work….the amount of work that goes into those shows and performances are monumental…..and you can't learn that on a talent show, or some reality programme!!  You learn your craft…you put it into practise, and hopefully when you get your shot…all the hard work shows and pays off!!
What have you got in the pipeline touring wise for the foreseeable future?
This has been a bad year for touring, for a lot of bands, with the economy and stuff…. so we've decided to focus on the EP and writing and rehearsing.  We got a few shows in the pipeline between now and the end of the year, support slots for major acts as well as one or two of our own headlinig shows,  one of which we're doing on the 27th of July in London and shooting a video!! All details will be on the website!
What, if any, is the best piece of advice you've been given from an artist that has stuck with you?
Learn how to write a song!!!! Learn my craft…..cause without a great song, nothing else matters!!!
Now, recently at Coachella, we saw Tupac appear as a hologram, if you could have any artist perform on stage with you as a hologram, who would it be and why?
That's a tough one….cause obviously the live element is not there, the spontaneity…..BUT, if i had to pick…..It would have to be Phil Lynott!!
Lastly, here's a chance to gaze into your crystal ball.  In the next year, Curran will have:
1. A new EP
2. More Fans
3.A worldwide reputation
Thanx Troy and MTRBWY………..
Essential Information
From: New Jersey, USA
Sounds like: Rock
Band members: Mark Curran – L.Vocals, Mat Anthony – L.Guitar, Enrico Terella – Bass, Kris Rich – Drums
Website: http://www.curranlive.com
Comments
comments