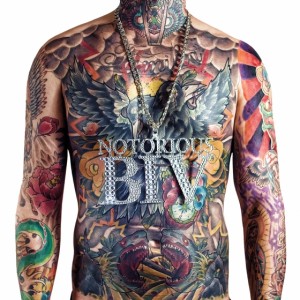 Third albums are generally an interesting enough prospect in themselves for both band and fan, but combine that with some lineup changes, releasing said third album via a new record label and on the back of all six band members making the commitment to basically drop everything and head to Sweden with the determination to come back with a career defining album, then you've well and truly got yourself a case of GAME ON.  The result – Notorious, an album which in it's first week of release, debuted at #20 on the ARIA album chart and one that is sure to challenge everything you might have previously known Buried In Verona to be.
The first taste of the album comes spewing forth the vitriol Maybe Next Time, a song "dedicated to the person who tried to fuck up our lives and tried to end our fucking careers and tried to fuck everyone around us….".  Ok, so this is no love song dedication, it's a song filled with hate, and brings the first obvious difference with the Buried In Verona we hear on Notorious and that's delivering aggression vocally in a far more emotive fashion. I mean I could understand every single word being sung, get what I'm saying?  Four Years fleets between punishing guitars and the aggression of the opening track, but hits you with a highly melodic chorus.  Miles Away kicks off with a big searing guitar riff and delivers a chorus with hooks galore and similarly, Can't Let It Go featuring guest Ahren Stringer from The Amity Affliction follows a similar style.  LionHeart on the other hand is the slickest song on the album and basically just a straight ahead rock meets pop song, but with a pretty understated chorus, it's not a song that comes across as an attempt to crack the mainstream so to speak.  Couldn't Give 34 Fucks will no doubt become an instant live favourite, the most instant song on the album.  Perceptions with its musical layers, melodies and hefty dose of programming certainly brings in the production talents of the renowned Frederik Nordstrom.  At just shy of 44 minutes and with a lot of twists and turns and shifts in intensity, it's an album that flies by damn quickly.
"So here we go, on a mission to find ourselves…" that's the message on Forget What You Know and that's clearly the bands message to everyone with this song and ultimately, album.  The accessibility of Notorious will undoubtedly bring Buried In Verona a new audience and let's hope existing fans see this as the album of a band in control of their mission finding themselves musically, as opposed to one suffering an identity crisis.  As for me, this album has me hooked with a bunch of memorable songs and when it comes down to it, that's primarily what I seek from the music which I listen!
Essential Information
For fans of: Buried In Verona and heavy but melodic music!
Release date: 1st June 2012
Record label: UNFD/Warner
Producer: Frederik Nordstrom
Website: www.buriedinverona.com
Tracklisting:
1. Maybe Next Time
2. Four Years
3. Miles Away
4. Can't Let It Go
5. LionHeart
6. Couldn't Give 34 Fucks
7. Perceptions
8. The Decent
9. Forget What You Know
10. Finders Keepers
11. Last Words
12. Ivory