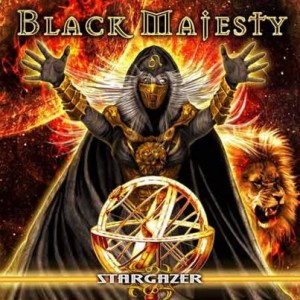 Rockstar Records is delighted to announce the signing of a license deal with Limb Music Germany for the release of Black Majesty's extraordinarily stunning and intensely melodic new album 'Stargazer' for Australia.
Undoubtedly Australia's premier melodic Power Metal band, Black Majesty re-aligns the genre with their fifth album 'Stargazer'. Black Majesty has had the uncanny ability to mesmerise the melodic powermetal scene with all their releases. 'In Your Honour' (2010) was a smashing album with melodic twists and turns which many pundits thought was the band's best material. The progressivelytinged 'Sands of Time' (2003), thecritically acclaimed power metal opus 'Silent Company'(2005) along with'Tomorrowland' (2007) has enabled the band to performat some of the world's biggest renowned Heavy Metal festivals such as Masters of RockCzech Republic, Metal Universe Slovakiaand Wacken OpenAir Germany. 'Stefan Belik'of 'Bright Eyes Wacken' review team stated that "Black Majesty shared unbelievable guitar work and one of the most impressive voices of the 2007 Wacken Open Air festival".
'Stargazer' is simply breathtaking! There is so much emotion, so much feeling, so much melody, so much energy and power in this album that any listener will be spellbound.
The new album features excellent cover artwork, great sing along choruses, emotive musical expression, impressive vocal workfrom arguably one of the best vocalists worldwide in the Heavy Metal industry; John Cavaliere, ultra melodic and mesmerising soaring dual guitar solos and rhythms from guitarists Stevie Janevski and Hanny Mohamed, pounding bass from Evan Harris and fantastic, energy packed, and thundering power drumming from Pavel Konvalinka.'Stargazer'will be an INSTANT power metal hit and an INSTANT power metal landmark; it's just stunning!
Australian fans will be blessed with the Australian release.  Australia will have an EXCLUSIVE bonus track. The bonus track is one rocking Power Metal single in its own right and it will NOT be on the European release which will only have an acoustic track. As there is no European digipak or limited release on offer, Australia will more or less have the one and only limited edition release of Black Majesty's 'Stargazer'!
'Stargazer' will be released worldwide on the 20th of July 2012.
www.blackmajesty.com
www.limb-music.com
www.rockstarrecordsau.com